User experience initiatives informing online course design at the Vet School
User experience initiatives informing online course design at the Vet School
We have recently completed a short collaboration with the Royal (Dick) School of Veterinary Studies to better understand the needs of students of online postgraduate courses. The findings may help us understand the differing needs of students online compared to on-campus.
Nick Daniels, an E-Learning Developer with the Digital Education Unit at the Vet School, approached us to collaborate this user experience initiative. Nick used to be part of the Website and Communications team and continues to pursue his interest in user-centred approaches. For this project, he secured funding from the Principal's Teaching Award Scheme. This enabled us to work together on the project.
Principal's Teaching Award Scheme
We were keen to be involved, not just for the opportunity to work again with Nick, but also because it presented an opportunity to complement our comprehensive programme of user research in support of the Learn Foundations project, which was focused on what were on-campus courses (before the coronavirus outbreak).
Summary of our work with Learn Foundations
What we did
Top tasks survey
We supported the Vet School in planning a top tasks survey. Top tasks is a methodology we use frequently. This approach helps you identify the tasks that really matter to your users.
Top tasks management – how to continuously measure your website's success
Almost always, users are only truly interested in a small handful of tasks — the "long neck". These are what we call top tasks. Organisations often don't know what these are.
We brought together stakeholders in the Vet School to agree a list of items to be included in the survey.
The top tasks survey was also a key method we used in the Learn Foundations project as a first step in helping us design the new template. This enables us to compare and contrast the results.
We were able to use the top tasks survey developed for Learn Foundations as a starting point for this. But it was here that I began to understand some of the differences in the way an online course needs to be presented compared to an on-campus course.
For example, students of online courses don't access lecture recordings — they are accessing the lecture itself (presented in this survey as "lecture with combined audio and slides").
Qualitative research and journey mapping
In addition, Nick carried out ten interviews with online students. Participants shared their screens and talked about which tasks are easy to complete, and which ones are frustrating. At the end of each interview, Nick recorded a short usability test.
I then supported an activity to analyse these outputs by working together with the Vet School's Digital Education unit on a journey map. We found common themes, and began to identify ways of improving the course template based on the findings.
Top tasks results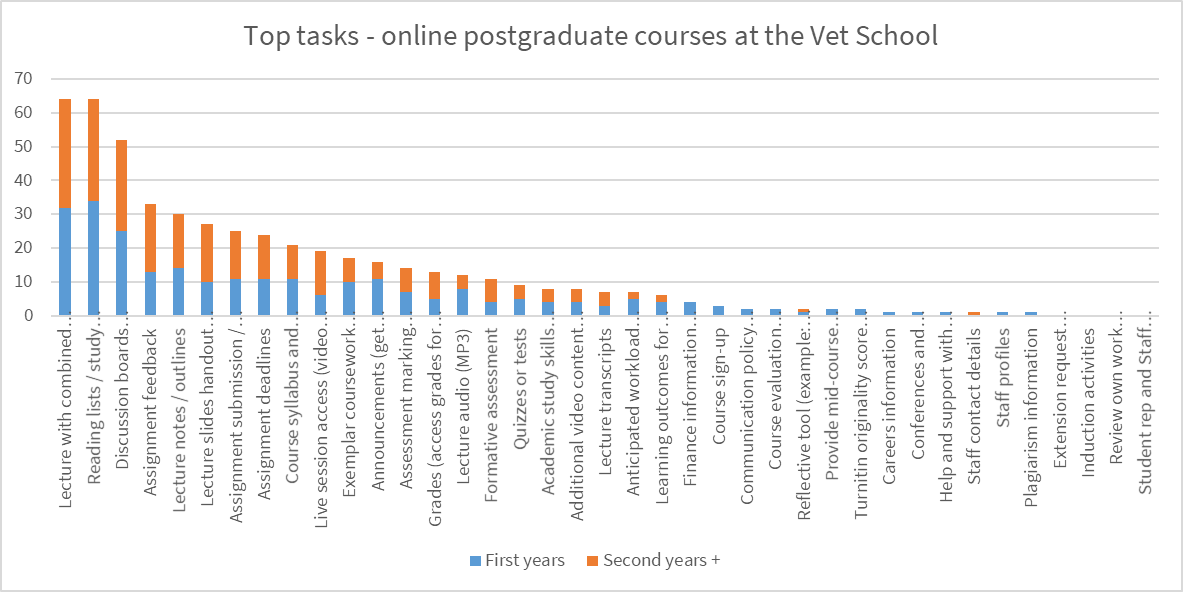 As always with top tasks results, we saw a "long neck". Out of 39 tasks, two took up a quarter of all the votes. These are:
Lecture with combined audio and slides (12.5%)
Reading lists / study resources (12.5%)
The next four top tasks take us up to more than 50% of the votes:
Discussion boards (10.2%)
Assignment feedback (6.5%)
Lecture notes / outlines (5.9%)
Lectures slides PDF (5.3%)
Four tasks attracted zero votes. Overall, the bottom 28 tasks took up as many votes as the top two.
Comparison with on-campus courses
These results make for an interesting and useful comparison to the similar survey for Learn Foundations:
Top tasks surveys have identified what really matters to students using Learn — summary of findings from our top tasks survey for Learn Foundations
Items directly related to lectures feature highly on both lists. But the online delivery leads to a slightly different balance of priority.
For on-campus courses, lecture slides, lecture notes and lecture recordings are the top three items, taking up more than a quarter of the votes.
For the Vet School's online postgraduate courses, lecture notes and slides are still among the top six items, but not the top three. This reflects on the format of the online lecture itself, which includes the slides already.
Reading lists come slightly higher among students' priorities online, attracting more than double the proportion of votes that it did in the Learn Foundations survey for on-campus courses. However, this may be more of a function of the fact that these are postgraduate courses, rather than their online delivery. Reading lists also came out high for taught postgraduate students when we surveyed them for Learn Foundations.
Discussion boards are much more important for these online courses, as the fourth top task, taking up 10% of the votes. For on-campus courses, only 1% of students selected this among their top tasks, and it came firmly in the bottom half of students' priorities. Discussion boards have long been a common feature of many on-campus courses. But this result indicates that they may be particularly important in a remote or hybrid context.
Benefits of user experience research to the Vet School
I would recommend this type of research to others at the University who build and support online courses. In particular, watching a student as they navigate through Learn provides useful insight into the effectiveness of how we structure of our online courses. The findings from this project have been a useful complement to the other feedback we receive via Course Evaluations and Student Staff Liaison Committees.
— Nick Daniels, E-Learning Developer, Digital Education Unit, Royal (Dick) School of Veterinary Studies
From my perspective, this project always had the potential to provide us with some useful new information about online learning to complement the large amount of research we had conducted around on-campus courses.
The coronavirus outbreak has given us a further reason to read these results carefully. While these results only cover online postgraduate courses for one School, they do provide us with clues as to how online course provision may need to change in an remote or hybrid context.
Find out more
Further details on this research and our findings are being presented as part of the Learning and Teaching Conference:
Using UX research methods to inform online course design at Royal (Dick) School of Veterinary Studies — Learning and Teaching Conference
Learn more about user experience and read case studies of our other projects: