Interviews with students to understand users' needs and contexts around Learn
Interviews with students to understand users' needs and contexts around Learn
This academic year the User Experience Service has been collaborating with the Learn Foundations project to undertake a programme of user research. I summarised all of the work we've been doing in a previous blog post:
Overview of our user research into the needs of students and staff using Learn
This blog post will focus on one particular strand: interviews with students.
Why we interviewed students
Our research began with open interviews with students. This was to build a greater understanding of our users' contexts, behaviours, attitudes and needs surrounding accessing course materials digitally.
We wanted to understand what key tasks students are trying to achieve through Learn. But we also wanted to build a picture of how students access course materials online generally, not just through Learn, and understand how this fits into the wider context of their studies.
In this phase of research, we spoke to 14 students who were enrolled on courses from 14 different Schools. This was a diverse range of students. We spoke to undergraduates of all years, and students from each College, many of whom were studying joint degrees. In addition, we spoke to postgraduates, visiting students and mature students.
This mix was crucial to understanding more about the differences students experience from course to course, and the differences they experience depending on their circumstances. In turn, this enabled us to understand more about what students mean when they talk about inconsistencies, and how we might improve courses in Learn to better meet students' needs.
Avoiding bias when interviewing users – advice from Senior User Experience Consultant Nicola Dobiecka
A semester in the life of students using Learn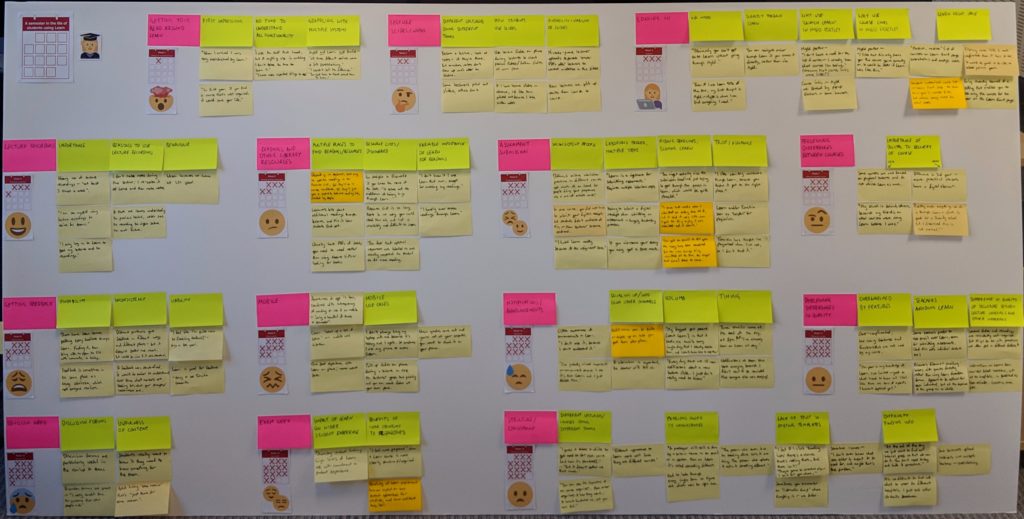 After analysing and synthesising the insights gathered through the interviews, we built up a picture of how and why students' experience with Learn varies throughout the year as students attempt to complete different tasks. This is presented as a semester in the life of students using Learn.
There is a lot of detail in this picture, so I'm going to zoom in on some of the key findings.
Key findings
Getting your head around Learn

When students first arrive at University they are often, in the words of one student, "very overwhelmed by Learn". This is compounded by the fact that at the same time, students also have to get to grips with numerous other systems, and understand what these different systems are for.
In first year, if you find a course that's well organised, it would save your life.

— Quote about Learn from a student we interviewed
Assignment submission

Students often expressed frustration around the assignment submission process, with some pinpointing this specifically as their "biggest bugbear" with Learn. But the frustrations are only partially due to Learn itself. As important are the variable processes that different Schools have adopted. Submission processes vary greatly from School to School, and sometimes even from course to course within a School.
Students bemoaned the multiple steps they have to go through to submit an assignment. No-one we spoke to understood why they have to submit a digital receipt for some assignments.
I hated Learn mostly because of the assignment issue.

— Quote about Learn from a student we interviewed
Getting feedback

For similar reasons, students identified issues around feedback. Different professors give feedback in different ways and in different places – and not always through a virtual learning environment. These inconsistencies can make it difficult for students to build an understanding of their strengths and weaknesses by comparing their feedback for different assignments.
Finding the feedback in the first place is also a challenge. Many students don't understand that feedback is often found in the same place as the original essay submission.
Volume of notifications

Students feel bombarded by notifications from Learn. They are often emailed every time a new file is uploaded, and students don't know how to switch this off. As a result, students often miss truly important announcements. They expect to be emailed or physically told about important information.
My biggest pet peeve [about Learn] is that it sends me emails every single day, and I instantly delete them, and I don't know how to stop them.
Every day there are 15 new notifications about a new lecture slide. I just don't really need to know.

— Quotes about Learn from students we interviewed
The timing of some emails was also an issue for some. One person talked about how they would spend all day in Learn, log off to relax for the evening, only to receive an email at 8pm telling them what's new on Learn. Multiple students talked about notifications making them feel guilty for not studying while they were taking a break.
Lack of trust in existing templates

We saw some distrust in the structure of existing Learn courses. Some people talked about 'information dumps', where all the files would be randomly organised in one folder. But even where structure existed, students lacked confidence in them.
I bet if I click 'Reading lists' there's a chance there's nothing there… [click]… And there isn't! They're gonna be somewhere else. I can't tell you where…

— Student demonstrating that she would struggle to find reading lists in one of her courses
Students also exhibited a poor understanding of why courses were structured the way they were.
I don't even know what each folder is meant to be used for, and maybe that's the problem.

— Quote about Learn from a student we interviewed
Powerful footage
Video clips of students showing us how they use Learn have also proved powerful. There is nothing like directly observing users of our services. These videos have given us a wealth of insight into what students like about Learn, and what could be better.
The students we interviewed gave us consent to share these videos within the University. So if you're a staff member you can view some of these clips on the Learn Foundations wiki:
What our students think (EASE login required)
What we've done
Our findings about students accessing course materials digitally have driven the subsequent strands of user research for the Learn Foundations project. It helped shape the interviews that have taken place with staff, to help us understand what's driving some of what students are experiencing. We have also run a series of quantitative studies that have given us a clearer picture of what students and staff really need to use Learn for.
The findings from these other strands will be the subject of upcoming blog posts.
Emoji graphics from Twemoji, licensed under CC-BY 4.0