Usability testing EdWeb CMS with an audience
Usability testing EdWeb CMS with an audience
Yesterday I ran a series of usability testing sessions that were observed by nearly 30 colleagues, most of whom are customers of our service. Some teams would want to do this in private, but not us! We're happy to have our customers help us identify where we can improve.
Plus, we've more usability sessions in the next few weeks to showcase our new service, so read on to find out more and come along to the next one.
The session was actually just the same format as an open usability testing session I ran a while back, also looking at EdWeb. So I'll not run through the whole process here, as I've covered this previously.
Making usability agile – my previous blog post on how to run sessions like this
This time though, as well as providing a training opportunity to colleagues, I was promoting our new Usability Testing Service.
Basically, the message is: Pay us, and we'll do this for you only without a crowd of strangers watching. Minimum effort, maximum insight.
Introducing the Usability Testing Service – my previous blog post
The turnout for today's session was great; 28 colleagues joining 7 members of the University Website Programme. It's the first in a series over the next few weeks, promoting the service.
Although to be fair promotion doesn't seem to be an issue as I have a list of interested parties in dialogue already, including schools and support units, e-commerce sites and software development projects.
Session introduction slides
You can get a flavour of the session from these slides (hosted on Slideshare), and also access all the resources I use.
Session output
The one resource I've realised I don't mention in my slides, is a really nifty post-it note digitisation app called Post-It Plus.
At the end of the session, I had a load of usability issues we'd logged and prioritised noted on post-its and stuck on the wall. Instead of just taking a photo and bringing them back to the office to type up, I used the app to convert each note into a digital artifact which I can then manipulate and organise. Really handy and best of all, free.
Photos from the session
Watching a video playback of an EdWeb usability testing session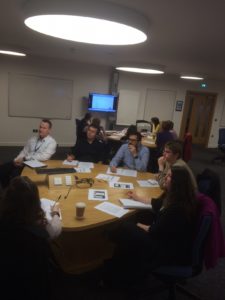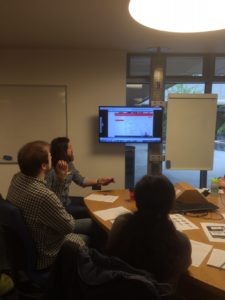 Discussing usability issues logged after watching a test session video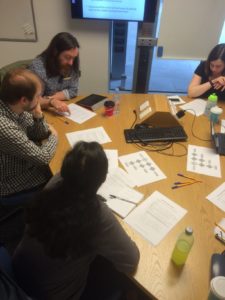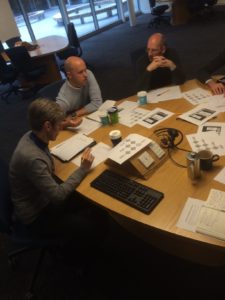 Find out more
The next session – free to attend for University staff – happens on 14 June
Session details including how to book
How to run a session yourself – guide to agile usability sessions
Let's talk
If you think you might like us to run a session like this for your team, get in touch with me
Neil Allison's contact details
If you attended this session
Leave a comment on this post, and tell the University community what you thought. Thank you!