Three highlights from Service Design in Government 2020
Three highlights from Service Design in Government 2020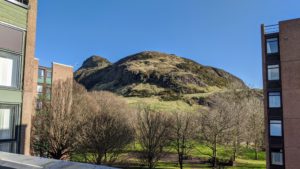 Last week I attended the Service Design in Government conference, held here in Edinburgh.
Service Design in Government 2020
This event brings together design practitioners from across the public sector and beyond, from across the UK and beyond.
It was great to catch up with familiar faces, including the Head of Prospective Student Web Content, Neil Allison, and colleagues from Moray House School of Education and Sport.
As anticipated, it turned out to be a hugely thought-provoking event. Almost every session I attended was excellent, sparking new ideas and thoughts that I am still getting to grips with almost a week on.
There is way too much for me to share here. So here I am featuring three key highlights that made me reflect on our practice here at the University of Edinburgh.
Bringing unsexy back: Fixing the plumbing of government — Carrie Bishop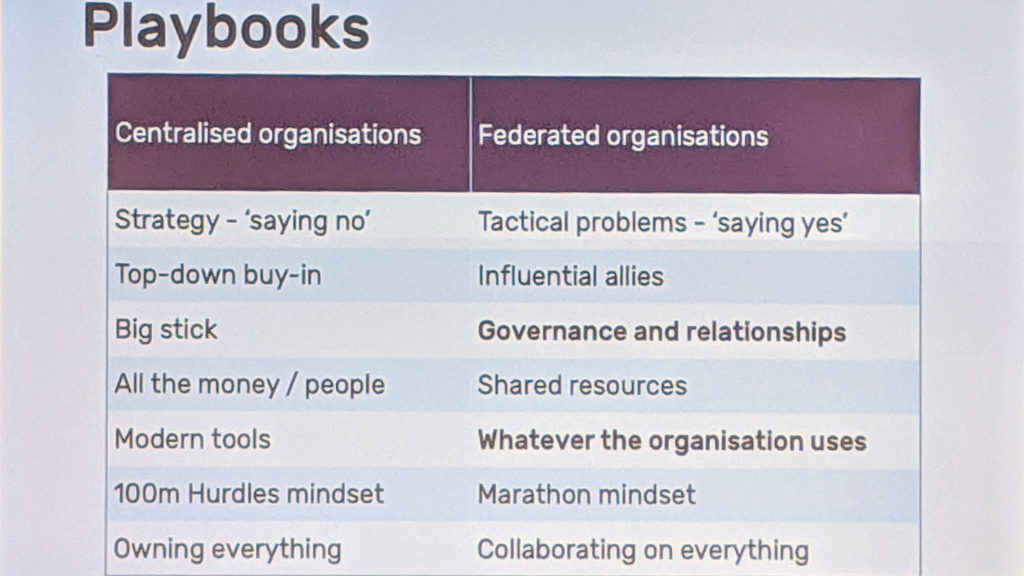 The conference kicked off with a keynote from San Francisco's Chief Digital Services Officer, Carrie Bishop. While she spoke about her experiences in local government, the challenges she described resonated strongly with our experience in higher education.
She drew a distinction between centralised organisations and federated organisations (like the City and County of San Francisco, and the University of Edinburgh).
She painted a picture of having to be pragmatic in a more decentralised environment. So instead of having a strategic approach of saying no, Carrie Bishop says that a more tactical approach of saying yes to smaller problems can be more beneficial.
Decentralised organisations are slow-moving by nature. Top-down initiatives fall flat. Carrie Bishop argued that by delivering a quality solution to an "unsexy" problem, we can gain more traction.
In other words, we can't fix everything, so we should pick our battles.
Session description: Bringing unsexy back: Fixing the plumbing of government
The undercover service designer: Bringing service design to a traditional NHS role — Sarah Josefsberg and Emma McAuley
This was one of my favourite sessions of the conference. It described the challenges of working with service design approaches around cancer services in the NHS.
Sarah Josefsberg, who spent 15 years working as an occupational therapist, spoke about how discovering she had breast cancer changed her perspective of health services. As a patient, she noticed health workers who "just didn't get it — and I thought, that was me — I was that person". This experience brought her to service design.
She described how systems containing multiple actors work. The actors should be working to lift the system up, but the end up actually pushing against each other. But ideally the patient, not the system, should be at the centre of our efforts.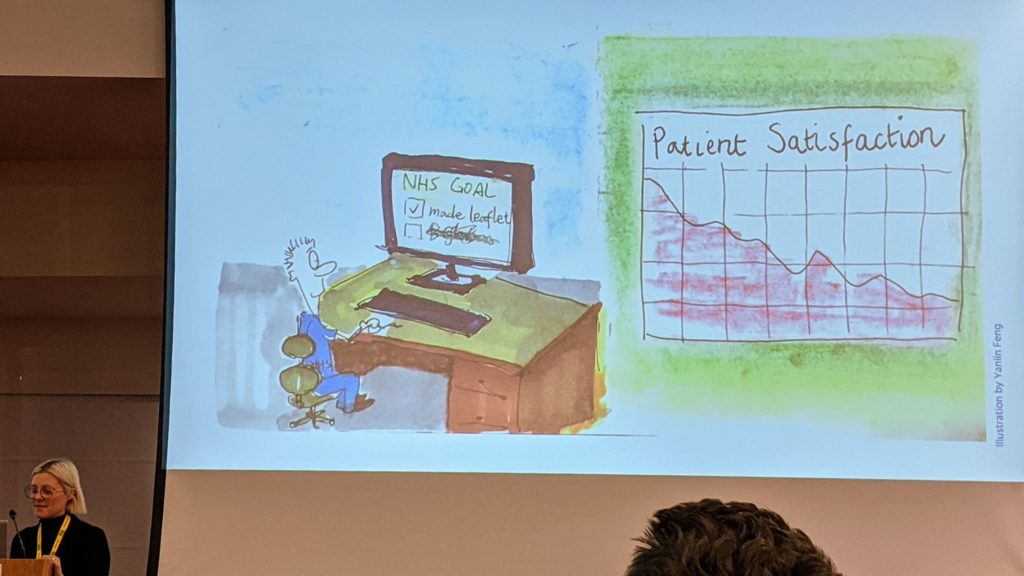 It was also impossible not to feel a familiar sense of dread as she described a culture where the solution to a problem was seen as continually redesigning leaflets: "Another leaflet is born and binned every day." Meanwhile, patient satisfaction decreases.
I also laughed out loud when Sarah mentioned how she had "inherited some seriously evil quant" — data that is statistically significant, but doesn't help us solve the problem. Stakeholders often feel safety in large sample sizes, but they are very often useless if there is no meaning in this data.
I was also struck by Emma McAuley's description of an awkward encounter where she asked cancer patient if they wanted to participate in a co-design activity, only to be told no because they had just been diagnosed that day. Involving our most important users in the right way remains one of our greatest challenges.
They outlined the strategies that worked, which they noted is not rocket science to designers, but tends to blow other people's minds:
Make it visual
Use video content to bring users' voices into the room
Use workshops for teaching and learning, not just information gathering
Use journey mapping — it works
Keep people involved throughout
Ensure staff feed in so that they feel empowered
"With us, not to us."
From my experience, I wholeheartedly agree with this list.
A video of their talk is available on YouTube.
Session description: The undercover service designer: Bringing service design to a traditional NHS role
Liberating Structures for service design — Mike Press and Hazel White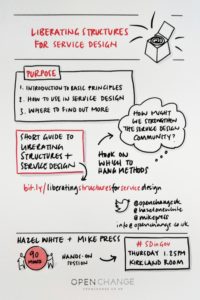 I was very excited to participate in this workshop for two key reasons. Firstly, I have heard a lot about Mike Press and Hazel White from the Dundee-based design agency Open Change.
Open Change on Liberating Structures
I have benefited greatly from their work — they helped develop the Service Design Academy, where I studied to attain a PDA in Service Design, in its early stages.
Reflections on studying with the Service Design Academy
I was keen to see Mike Press and Hazel White run a workshop in person, and to if I pick up a few tips along the way!
But I was also keen to learn more about Liberating Structures, which I'd heard a bit about but hadn't experienced before.
Liberating Structures is similar in concept to Gamestorming. It is a set of workshop tools and techniques designed to include everyone and generate innovative ideas.
We already follow a lot of these principles in our workshop designs. But this refreshed set of tools once again shows the power of well-structured activities to generate a large number of ideas, and quickly identify the best ones, all while including as many people as possible.
All meetings should be designed this way!
As expected, this session was enjoyable and enlightening in equal measure. I already started re-planning future my workshops before this session had even ended!
Session description: Liberating Structures for service design
More reflections from Service Design in Government
This is just the tip of the iceberg of a fascinating conference. I have written up thoughts on each of the other sessions I enjoyed on my own blog:
View from Service Design in Government 2020 — my further reflections on the conference