Meeting the challenges of collaborating remotely
Meeting the challenges of collaborating remotely
Our current requirement to work remotely brings obvious challenges when it comes to collaboration. But by trying things out and learning quickly, we're figuring out how we can adapt to the new reality while remaining collaborative.
Collaboration has long been a core approach of the Website and Communications team. In particular, workshop techniques help us tackle a wide range of challenges.
Some previous blog posts from a variety of colleagues explain why we find these approaches so valuable:
But the coronavirus outbreak has presented us with obvious challenges to our collaborative working practices.
In April, I wrote about how we are able to conduct user research remotely, and how there are even some advantages to the current situation:
Meeting the challenges of conducting user research remotely
Workshop-style events are undoubtedly more difficult to run remotely. But it is possible for us to continue working together while we have to remain physically apart. Here are some of the lessons we have learned over the past few months.
Digital whiteboards
Workshops often involve physical activities. We commonly make heavy use of sticky notes and wall space to work together. There are a number of products out there that attempt to replicate this physical experience digitally.
Using a digital whiteboard in combination with a video conferencing app like Microsoft Teams is an effective replacement for a physical workshop.
Microsoft has its own tool called simply Whiteboard. It integrates with Microsoft Teams. However, it is rather thin on features. More importantly, it does not yet work on all platforms, making it unsuitable for people using (for example) a Mac.
An alternative popular tool is Mural.
Mural — digital workspace for visual collaboration
However, we have settled on using Miro.
Miro — online collaborative whiteboard
Getting the most out of Miro with an education plan
One of the major advantages of Miro is its education plan. This means that University staff members can access many premium features, for free, for up to 100 users.
To apply, you simply need to provide two pieces of evidence:
Advantages of digital whiteboards
We first used Miro, in the early days of the lockdown, for a simple sticky note sorting exercise within our team. Since it was our first time, not everything ran smoothly.
But it felt hugely promising, and it seemed to me like people enjoyed and appreciated the chance to get stuck in to an interactive event. Most of all, it demonstrated that we are still able to collaborate remotely. We just need to plan the activities in a slightly different way to accommodate the change (more on that below).
One exciting thing is being able to see people's cursors. This helps the board take on a physical-like presence. You can also bring people to your cursor, and if you're talking about your ideas you can see other people's cursors gather round your area. It's amazing how much like a physical workshop this can sometimes feel.
A digital whiteboard also introduces a great amount of flexibility. We aren't limited by the amount of wall space we have, and we aren't restricted just to sticky notes and sharpies. Our only limit is our imaginations. But of course that introduces challenges.
Challenges with digital whiteboards
Because the boards can be infinite in size, they can easily become overwhelming and tricky to navigate. Even when you're familiar with the project, returning to a Miro board after someone else has worked on it can be pretty bewildering.
Just getting to know how to use Miro as a tool itself can be pretty disorientating for people. For people who haven't used it before, it can be a steep learning curve. Moreover, if some people in a workshop are more experienced and confident at using Miro, this can leave others feeling left behind and unable to contribute on an equal footing.
Use warm-up activities for orientation
Just as physical workshops often include warm-up activities to get people into the zone and aware of the rules of engagement, you can set up warm-up activities in Miro that walk people through the basics of how to use Miro.
How to brainstorm with your newly remote team — this blog post by Jen Goertzen includes a warm-up activity you can use to introduce participants to the basics of using Miro.
A warm-up activity like this can help to a degree. But we have also learnt that you can't do enough during a session to help people get familiar with using Miro. It doesn't take long for someone to hit a stumbling block when using a new piece of functionality.
Unfortunately we don't have the time in workshops to give everyone a comprehensive walkthrough of how to use Miro. Knowing how to use it effectively only comes with experience.
Be aware of accessibility issues
Miro also appears to have some accessibility issues, and we run the risk of excluding some people unless we take care to consider alternative ways of enabling everyone to contribute to a session.
Be realistic about timings
Gone are the days of half-day workshops. Video calls are draining, and it is unwise to plan for more than 90 minutes at a time. This is especially problematic given that, because of all the challenges outlined above, it does take longer than a physical workshop. So be realistic about what you can achieve in a given timeframe, and be prepared to cut out activities if you're running out of time.
Using breakout groups
Another challenge with running workshops remotely is how to set up group activities. Thankfully, there are some options available.
Blackboard Collaborate and Zoom both have "breakout room" features that enable you to put people into groups to work on activities together. This functionality is coming to Microsoft Teams later in the year.
In the meantime, there is a workaround to replicate breakout rooms in Microsoft Teams. This involves setting up sub-channels within your team. So in Website and Communications, alongside separate channels for our teams, we have four other channels we can use as breakout rooms, to create up to four groups. For a workshop activity, we can assign people to their groups, and ask them to start a video call in their assigned channel.
In Microsoft Teams, you can have multiple calls open at once. So you can place the main meeting on hold while you go to your breakout room, and switch easily between the two.
Challenges with virtual breakout groups
There are a few things to be aware of as a workshop facilitator.
Firstly, and most disturbingly, you can't as easily check how each group is getting on. You won't be able to tell if they are confused or stuck.
This also means that you need to take care to make the instructions very clear and simple for people to understand — because once they're in their rooms, they are no longer able to hear you, or speak to you (unless you join their group).
Also, in Microsoft Teams you can only have up to four calls running simultaneously. So as a facilitator, if you have more than three groups, you find yourself constantly having to hang up and re-dial calls to switch between groups to check how they're getting on.
What we've done so far collaboratively, remotely
User research synthesis
Our newly-joined content designers, Milo McLaughlin and Emma Horrell, have hit the ground running, conducting user experience work around free short online courses in collaboration with Lauren Johnston-Smith. We conducted a short series of interviews with potential users of short online courses from across the world. The entire project team got involved in analysing the findings using Miro. It made me never want to spend a whole day in a meeting room doing this by myself ever again.
Persona creation
We've used Miro across Website and Communications to begin work on new personas for our web services, building on the user research and co-design activities we have conducted over the past year.
Outcomes of our co-design activities informing future web services
We have also run a similar workshop in support of work around the formation of a digital community.
Sketching as research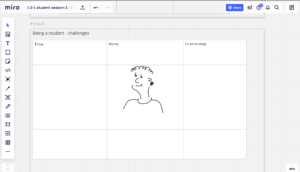 Nicola Dobiecka is currently undertaking some research around student health and wellbeing. Nicola has been asking participants to complete a sketching exercise in Miro. This them people to externalise their experience, making it easier to talk about, and without us having to ask them directly about difficult personal experiences.
Collaborative prototyping
Collaborative sketching is a common exercise that has been used across Website and Communications for a number of years to help generate ideas, while also building consensus.
While it's clearly challenging to get people working in pairs to sketch at the moment, we are finding ways of achieving similar results by adapting the design studio technique. For example, we have started asking people to sketch their ideas on paper, then upload photos of their sketches for others to see. This also helps with some of the accessibility and usability issues around Miro.
Experience mapping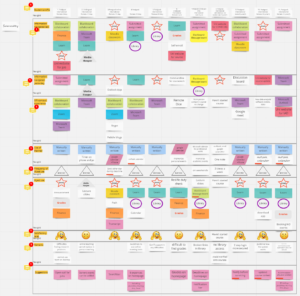 Our User Experience PhD Intern, Tasniva Mumu, has been interviewing students about their use of MyEd, and summarised her findings in a Miro board. She has achieved this all while working from her home in Bangladesh, when she had to fly back at short notice due to the coronavirus outbreak.
Liberating structures
I also ran an experiment at last month's Web Publishing Community around the use of liberating structures remotely. I wrote briefly about liberating structures after I attended the Service Design in Government conference.
Three highlights from Service Design in Government 2020
This experiment will be the subject of another blog post to follow shortly.
Advice from others
We have also been taking inspiration from the advice being published by others:
Not everything we are trying works well. Some things that work face-to-face fall flat digitally. But by trying things out and learning quickly, we're figuring out how we can adapt to the new reality while remaining collaborative.