The hybrid internship
As we are all adapting to the "new normal", working techniques have changed tremendously. I am Tasniva Mumu, and I have been working with the University of Edinburgh Website and Communications team within Information Services for the last 6 months as a user experience intern.
Well in this unprecedented time, "hybrid" is another new term to be added to the "new normal". It is my first job in Edinburgh with an office which provides best possible view of the city — the castle view! As I am an architect, this workplace had an immense influence on me. Unfortunately, that fascination only lasted for two months, because of the abrupt change caused by Covid-19, when I had to fly back to Bangladesh at very short notice. Now I have the view of the back elevation of an adjacent building which is 3 feet away from my window.
At first, I frequently lost connection in between meetings due to electricity and internet issues. Despite working remotely, 5,000 miles away, collaborative work could still be completed due to the tremendous support I got from my line manager and team members. I cannot thank them enough.
We used qualitative research approaches to collect and analyse the user experience data of students and staffs using the University's portal system MyEd, which is used frequently by students and staff. My role was engaged in undertaking user experience work for the digital support systems provided by the University, with a focus on analysing the data of MyEd usage by students and staffs.
Here is a short summary of the work I have carried out during this tenure, starting from the most recent ones:
Interviews — Online and in-person
After moving to working remotely, we started collaboratively carrying out activities online. We has previously carried out pop-up in-person interviews, and now we planned to run the interviews online, remotely interviewing users to understand their experience of using University systems while working off-campus. The methods were like the pop-up in-person interviews, but adding in a few more steps. This method enabled us to conduct online interviews with students all over the world:
Preparing
Inviting volunteers
Confirming participation
Recording content
Carrying out the interview
Transcribing
Mapping responses
Pop-up in-person interviews might sound easier to conduct, as the steps do not include many emails and reminders rather than going physically on site and approaching random participants. But in my experience, I found in-person interviews more difficult to conduct, as well as less informative than online interviews.
User experience interviews need more attention of the interviewee to bring out the true experience. When a participant is discussing her experience on an issue, she needs to have a comfortable setup and surrounding as an observer's role creates a change of behaviour. During in person interviews, students were in a hurry and not entirely concentrated on the questions. But during the online interviews, the time slot was dedicated for the interview, and students were more comfortable talking about their user experience.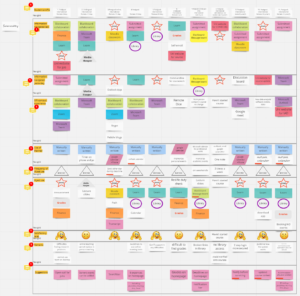 Students' experience in using University systems and MyEd in this challenging time is incredibly optimistic. Very few complaints came out, and this shows that MyEd is a successful portal system for the University. Students' fast learning also played an important role to make the online system work. The key points of online interviews are interpreted in an experience map.
Meanwhile, from an in-person survey, students often raised a suggestion of a mobile app.
Quantitative analysis — Top tasks and Google Analytics
The Website and Communications team continuously give their effort to improve the user experience of students and staff. Google Analytics data gives a clear view of MyEd usage. This portal is heavily used by staff members and students of the University. I analysed the data from top tasks surveys to get a clear idea of which portlets need to be most easily accessible. We have used these findings to make changes to the home page of MyEd for staff.
MyEd: improving the staff experience
Another important finding was the use of various devices. Comparison of portlet use from different user groups demonstrates the wide range of needs the MyEd portal needs to fulfil among staff (for example, academic vs non-academic group, college vs service group). The need and frequency of portlet use changed with the users. I prepared a report on staff data analysis and a presentation highlighting the most commonly-used portlets, considering both Google Analytics, and top tasks data. This can be used for future modifications.
Notification bar and mobile usage
I also worked on research supporting the Notifications Service. After interviewing students, I got to know that many students do not know of or use the notification bar which can be very helpful in finding information. I prepared a report on notification bar usage, researching on the use and patterns of other portals on different university portals, and social media sites (Facebook, Twitter, Instagram, LinkedIn).
I also created a graphical prototype of a mobile interface version, highlighting the most commonly used portlets on mobile to reflect differences in mobile behaviour.
Making hybrid working work
The difficulties of coping with the new normal are outweighed by the success we had. I truly believe the University and all its staff are trying their best even more than before to make this hybrid system work. Though I miss in person meetings, the delightful workplace, and colleagues, I still discovered my adaptability in this difficult time by working as a "hybrid intern". I absolutely enjoyed working here with the most supportive team possible, and I'm looking forward to seeing my contribution to MyEd coming to reality.