Reflections on service design and sharing knowledge across silos — user focused lunchtime meetup write-up
Reflections on service design and sharing knowledge across silos — user focused lunchtime meetup write-up
At this week's user-focused meetup, around 20 people came to hear me speak about my reflections on studying for a PDA in Service Design with the Service Design Academy.
Service Design Academy website
This was a more in-depth presentation version of my previous blog post:
Developing service design capability: reflections on studying with the Service Design Academy
In this event I introduced some basic concepts around service design, compared it to user experience, and reflected on the value of studying further.
Following my positive experience, I now know of at least four people from across the University who will be studying the same course next year. It's exciting that there is so much interest in service design developing in the University, and that so many people will be building these increasingly important skills.
View the slides from the session
Rip and mix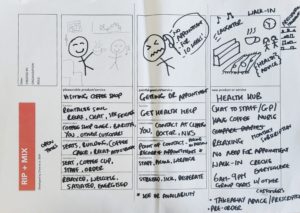 I also ran the rip and mix workshopping activity to give attendees hands-on experience of one of the tools I learned on the course.
Rip and mix described by Open Change, who created the technique
With rip and mix, you take a good product or service and analyse what makes it pleasurable to use. You then compare this to a pain point in a current service. Elements of the pleasurable service are then mixed with elements of the pain point, to create a hypothetical new service.
In just 15 minutes, we came up with new ideas to help us think differently about how to creatively solve problems.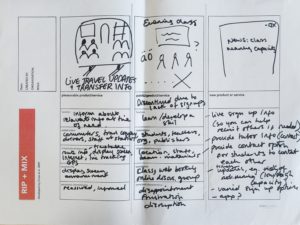 Among the ideas generated were:
Live sign-up info for evening classes — after mixing the frustration of having classes cancelled due to lack of sign-ups with the positive experience of live travel updates.
A walk-in health hub — mixing the frustration of trying to get a doctor's appointment with a visit to a coffee shop.
We had a great conversation about the value of this new technique. While the solutions you generate are not always the most practical, rip and mix is a great technique that can help you think more creatively about how you might solve problems.
Lean coffee discussion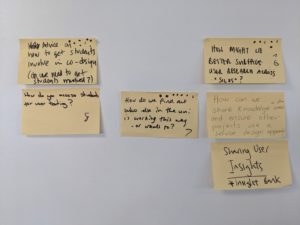 Following my presentation, the discussion was opened out to the floor using the lean coffee technique. Through this, the group agrees an agenda by generating topics and then voting for the most important ones.
Democratising the agenda with lean coffee
The top-voted topic was around how to involve students in co-design and user research activities. User experience practitioners from across the University shared their experiences and advice on how best to engage students.
The other running theme was a set of questions around working this way across silos: how we find out who else is working this way, or wants to; and how we might better surface user research insights across silos. This is particularly pertinent now that we have a growing community of user experience practitioners across the University.
Find out more
If you'd like to learn more about service design or user experience, please get in touch with us.
Contact the User Experience Service
You can also join the user experience mailing list to link up with like-minded colleagues:
Join the UX mailing list (EASE login required)
The next user experience lunchtime meetup will be promoted here shortly, so keep an eye on this blog for further details.