OpenUK Events Launch in the House of Parliament
OpenUK Events Launch in the House of Parliament
On the 3rd of September, while most of the country was eagerly waiting to hear about the results from the parliamentary vote, OpenUK was having its events launch in the Thames Pavillion only a few yards away from all the action.
Pete Wishart, MP, chair of the Parliamentary All Parties Intellectual Property Group was personally present at the event and welcomed all the attendees. Mr. Wishart spoke about how he is aware that the UK public sector and Parliament has a lot of work to do around adopting and implementing "Open" software and hardware, "I welcome the opportunity to hear more from this community and to understand better how we can support more adoption of open source in the UK, allowing the UK public sector to better take advantage of it." was what he had to say.
This was followed by a short break allowing for some lovely conversations with an equally beautiful view of the Thames.
Simon Wardley, considered as one of the world's top ten Open Source speakers then delivered a keynote about his time with Ubuntu when they went from 3% to 70% of the cloud market space highlighting how Open Source companies can be profitable and influential in the industry.
We were then told us that the OpenUK awards would be returning for another year and would be in London on June 2020 as a part of the London Tech Week and there would be even more categories added, namely – Open Hardware and Open Data.
The rest of the evening was spent having dinner and talking about possible future projects and the direction of everything "Open" in the UK.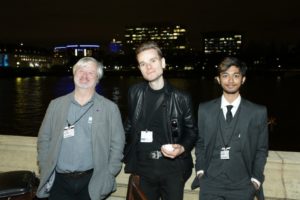 The two UK based Directors of the OSI, Chris Lamb and Simon Phipps with Edinburgh University Open Source Rep Ritwik Sarkar
A few weeks later, the University of Edinburgh had its Open Edinburgh event celebrating Open Source. To read more about that follow the link:
Open Edinburgh: Putting open source in your hands
OpenUK are an organisation who support Free & Open Source software, hardware and data:
OpenUK – representing the open source, open hardware and open data business communities across the UK