Learn usability testing showcase comes to King's Buildings
Learn usability testing showcase comes to King's Buildings
The next iteration of our monthly Learn usability testing showcase is taking place at the James Clerk Maxwell Building on Thursday 25 April.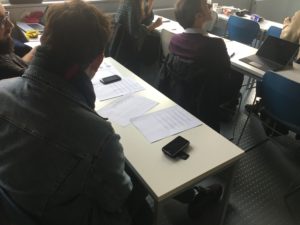 Every month this academic year, the User Experience Service is collaborating with a different School to undertake usability testing in Learn. This is in support of the Learn Foundations project, with the aim of finding out what's working well, and what's working not so well, for your users in different Learn course environments.
In April, we are working with the School of GeoSciences. For the first time, we will also be using the new template that has been developed by the Learn Foundations project.
Come along to find out more about the Learn Foundations project, see the new template being put to the test with real students, and learn how we can use usability testing to improve it further using our tried and tested technique.
Together, we will watch users undertaking common, representative tasks in Learn. Attendees will then identify all the usability issues witnessed in the videos, and everyone in the room will collaborate to prioritise those issues from critical to low.
 Our vision on the Learn Foundations project is to ensure that courses on Learn are accessible, and relevant information is easy to find by students, and that staff find Learn easy to use, and are well supported to make and deliver rich courses online.

The cycle of usability testing has been invaluable in helping us ensure that our design is reflective of our users' needs.

— Lee-Ann Simpson, Project Manager, Learn Foundations
Our previous session, with the School of Philosophy, Psychology & Language Sciences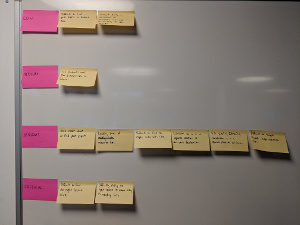 For our previous showcase session, we worked with PPLS to use the same technique with an existing PPLS Learn course environment. Attendees watched four students complete four important tasks in Learn.
Blog post promoting last month's event with PPLS
As always, we had a diverse range of attendees. This enabled us to get a broad perspective. Using the prioritisation technique we promote, everyone in the room reached a consensus on the seriousness of each usability issue we observed.
Having watched four videos, totaling over an hour's worth of footage of students using Learn, 20 people individually chose three key usability issues from each video. We boiled this down to 11 issues across the room, with two issues in particular identified as critical issues to be solved.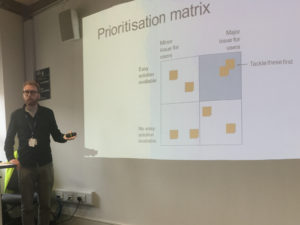 Since the showcase session, PPLS have gone on to complete our recommended next step, which is to produce an impact/effort matrix to identify which major issues have an easy solution.
The School of Philosophy, Psychology & Language Sciences have used its own standardised Learn template for a few years now. We were happy to undertake usability testing see how easy and intuitive students find it to navigate. The feedback we received was positive and constructive. The workshop provided some useful action points to help us move forward and fine-tune the template.

— Natalie Chisholm and Simon Fokt, Learning Technologists, School of Philosophy, Psychology & Language Sciences
Book your place on our next session
Time: Thursday 25 April, 9.30am to 12.30pm
Venue: James Clerk Maxwell Building, 4325C
Find out more
For February's session, we worked with the School of Informatics. Their Learning Technologist, Alex Burford, has written about how this session went from their point of view:
I thoroughly enjoyed working with Duncan Stephen on this mini project. The feedback was informative, encouraging, and a call to action. I'm looking forward to embedding similar practice across the School for alternative platforms for content delivery.

— Alex Burford, Learning Technologist, School of Informatics
Even more