Improving the experience of staff and students using Learn — usability testing showcase
Improving the experience of staff and students using Learn — usability testing showcase
Following on from our series of sessions looking at what works well (and not so well) for students using Learn courses, we are now turning our attention to the experiences of staff members.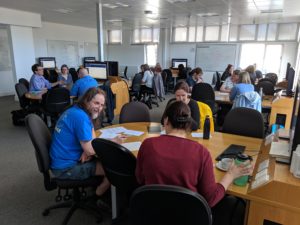 Throughout this academic year, the User Experience Service has been supporting the Learn Foundations project. As part of this, we are collaborating with a number of Schools to undertake usability testing, with the aim of finding out what's working well, and not so well, for your users in different Learn course environments.
This month, for the first time, we are focusing on usability for staff members in Learn. In collaboration with Edinburgh Law School, we have undertaken usability research that will help the School further enhance their staff Learn course experience.
Come along to Old College on 20 June. You will watch real staff members undertake representative tasks in Edinburgh Law School's award-winning Learn course environment. You will also find out more about the Learn Foundations project, and learn how you can use usability testing to improve your own Learn courses using our tried and tested technique.
Our previous session, with the School of GeoSciences
In our previous showcase session, we worked with the School of GeoSciences. We used the same techniques to put to the test the new template that has been developed by the Learn Foundations project. We set real students some common, representative tasks in a real course that had been redesigned to adhere to a prototype version of the new template.
Blog post promoting the previous session with GeoSciences
In the showcase session, we brought together a wide range of people with an interest in understanding more about usability and Learn. Our prioritisation technique allowed everyone to collaborate and reach consensus on the usability issues observed.
We had the opportunity to explore how students interact with finding content in the new Learn template to complete and submit an assessment. This usability testing gave us insights that we would not have been able to gather in other ways and will change how we organise content and the information that we provide to students as we move all our courses to the new Learn Foundations template.

— Meredith Corey — E-Learning Developer, School of GeoSciences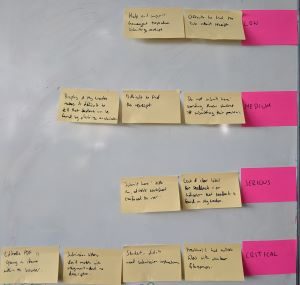 Attendees found 11 different issues across four videos of students completing the same three tasks. As we discussed each issue in turn, we worked them through a flowchart to assess their order of priority.
Of the 11 issues, four of them were found to be critical issues, with a further two serious ones. These were mostly caused by the use of unclear or confusingly-worded content.
This highlights how the Learn Foundations template is only part of the solution. Clear and effective digital content is also fundamental to ensuring students can complete the tasks they need to complete within Learn.
Usability testing helps us uncover such areas in any Learn course that need to be improved.
This is also why we are now conducting usability testing with staff — to help the Learn Foundations project understand how the template can be improved to support staff members to create great courses.
We are looking to update a number of aspects across our Learn pages and carrying out this usability testing with Duncan was a really valuable and informative process that we are hoping to embed across the School and the upcoming projects we are undertaking.

— Emma Forrest — Student Services Project Officer, School of GeoSciences
Book your place on the next session
Time: Thursday 20 June, 13:30 to 16:30
Venue: Old College, Teaching Room 07
Further information