Postgraduate degree finder refresh: Common mistakes and how to fix them
Postgraduate degree finder refresh: Common mistakes and how to fix them
If you are an editor for the postgraduate degree finder, you'll know that our team is currently in the process of updating the 2024 edition. With the deadline for editing just around the corner (15 September), I would strongly encourage editors to make all necessary changes as soon as they can.  
This is my second postgraduate refresh project, and I would like to share some tips for refreshing your postgraduate degree finder programmes.  
This blog isn't a comprehensive guide, it is just a couple of things to keep in mind as you update your programme content.  
My top tips for refreshing your postgraduate degree finder programmes
1: Get to grips with the markdown formatting 
The most common mistake we see is incorrect formatting markdowns on the admin system.  
If you do not format these markdowns correctly, the text will not display in the right way on the published degree finder page. Read our guide to markdown:   
Formatting text (postgraduate degree finder admin)  
2: Watch out for dates throughout your content
Providing accurate information within our content is very important and unfortunately updating key dates and deadlines is an area that is often missed. 
The most common section where we tend to find incorrect dates is Applying. Having a quick scan through this section and updating any deadlines and making sure all the content is accurate is all that is needed.  
If you don't know what your deadlines are at this stage, you will still need to remove the 2023 deadlines and leave this section blank until you have this information. 
3: Edit the edition for the correct year
It is very important to edit the correct year of the degree finder. 
When you log into the PG admin system, check the top right-hand corner of the screen to make sure it is appearing as '2024 Entry' and not '2023 Entry'.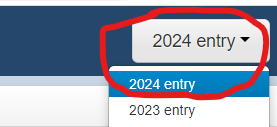 4: Brush up on writing for the web
We are writing for very smart people who can cope with dense academic text, but they're still human. We all skim-read. We all find screen reading more tiring on the eye than reading from print. We're all in a hurry with many competing priorities and distractions.  
Plus, some of our readers will have dyslexia and many more will have English as a second language. So, make your content as easy to read online as possible. 
The University has an excellent online course – Effective Digital Content – which you've probably seen before, but it's well worth returning to for a refresher. 
Effective Digital Content: Engaging your online audiences 
If you do nothing else, please: 
Chunk your content

. Stick to one idea per paragraph and make sure the opening sentence is front-loaded with the key information. If your paragraph is only one sentence, that's fine.




 

Use descriptive link text

. Make sure the reader knows exactly what they're going to get should they choose to stop reading and follow the link. Again, front load with keywords for the scanning eye.




 

Create lists with bullet points

instead of in a paragraph. We scan down the left side of the page, so bullets are great for a list you need your reader to pay attention to. And, once again, front load the bullet points with keywords.

 
(Notice how my top web writing tips stand out more because they're bulleted, and the most important advice is in the first few words of each one). 
5: Don't leave it all till the end (especially if you're adding new programmes)
I know that at this time of year, it's very difficult to get anything done with the pressure of the end of term and then everyone taking holidays. 
It's not the ideal time to be asking you to review and update programme entries, but unfortunately, we're stuck with the academic cycle. 
My suggestion would be to plan out time in your week to make a start on your edits. You can make changes throughout the year, so, just making a start and reviewing your current content is a step in the right direction.    
New programme additions
Adding in a new programme is a slow process. Any new addition needs to get sign-off from a number of different stakeholders before it can be published.  
I would recommend getting the process started as early as possible to ensure there is enough time to get the programme approved. 
For more information about the process of adding a new programme to the degree finder, read our guidance on adding and deleting programmes. 
Guidance on adding and deleting programmes 
Support available 
This blog isn't an all-encompassing guide to the postgraduate degree finder refresh. If you need any further guidance, visit our SharePoint page: 
If you would like additional support outside these resources, please get in touch with us at cam-student-content@ed.ac.uk.