support & events
Top 10 tips I give at EdWeb support clinics
Top 10 tips I give at EdWeb support clinics
Last week, I made my Web Publishers' Community debut with a presentation on some of the common questions and issues that come up in our support calls and weekly support clinics. While we post all of our WPC presentation slides on our wiki, here's a write-up of my presentation you can use for reference and share with colleagues.
Note: This post has been updated to reflect changes to EdWeb (October 2017).

Add internal links by edweb.ed.ac.uk URL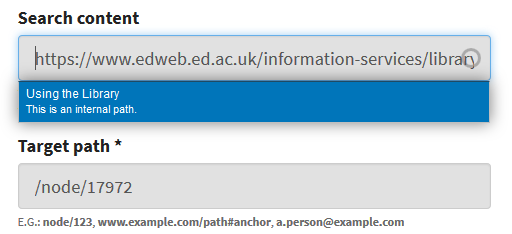 In our training course, we teach users to type in a page title into Search content, and EdWeb will find the correct page node to link to. You may have noticed this method doesn't work for common page titles like 'About us'. The most reliable and quickest way to add internal link in EdWeb is by pasting the edweb.ed.ac.uk URL into Search content (that is, the URL that shows when you are logged into EdWeb).
If you paste edweb.ed.ac.uk URLs into Target path, those links will require users to log into EASE, so external visitors won't be able to access those links. To avoid this, be sure to paste your EdWeb URL into Search content which will find the page node. Internal node links mean that if a URL ever changes, those links won't break.
Adding internal links wiki page
Title links on homepage panels don't work
If your homepage has a panel linking to an unpublished page, when you preview the homepage, the title doesn't appear as a blue link. This will correct itself once the page is published.
There is a similar trend with Contact pages on unpublished sites – the Contact us button won't appear correctly on all child pages until you publish the site.
URL changes don't cascade
If you change the URL of a page and then publish, note that any child pages will not show these changes to the URL.
Instead, all affected content must first be unpublished and then republished once the URL change is made.
Bulk publishing
If you do change a URL, unpublishing and republishing all affected pages can helped with the bulk (un)publish buttons, which can be found in the Edit drop-down menu next to your pages in the content tree.
There is a limit of 500 pages, so if you are (un)publishing a site or section larger than this, this will need to be done in smaller sections.
Reusable content automatically ticks hide in navigation
If you notice you're unable to untick the 'Hide in navigation' box, this is because the page will have been marked as reusable content in the References tab.
Reusable content should be stored in your site's Content to be reused section and be included on pages as an asset where appropriate. Reusable content should not be used as a standalone page on your live site.
One of the most crucial reasons to do so is because by checking 'Make available for re-use', 'Don't index this page' is also checked, meaning it's likely your page won't be picked up in search engine results.
Reusing text content wiki page
View and revert to past drafts
The Moderation button is where you go to unpublish a page, but it's also where every past version of your page is stored. You can both choose to view and revert to past versions of a page.
Revert creates a new draft – it won't replace the published version of your page. Make any necessary changes to your reverted copy, and then publish when ready.
How embedded images display
Our Demonstration site has a helpful page on how different image sizes display in EdWeb. The rule of thumb is any landscape picture 1200px wide or greater will span across the while page. Anything smaller or portrait will minimize and shift to the right.
Embedded images on Demonstration site
Priority levels for homepage panes
A change that was deployed at the start of this year was different priority levels for homepage panes. The priorities are:
Low priority- colour band at top, title and summary white
Medium priority- colour over title, summary white
High priority- colour over title and summary
There are also two new panes in addition to the basic static pane that has a title and summary:
HTML atom pane- display things like videos and twitter feed on a homepage
Dynamic pane- used for sections like News where you enter a source page for the homepage pane and it will automatically update with new pages created in that section
Non-reusable assets must list a Group Audience for each site it's on
If you have assets that are not marked as available for reuse, they will only appear on your live site if the name of the site is added as a Group Audience on the asset.
In cases where you are adding assets to a subsite (for example, Jobs is a subsite of the parent site Human Resources), the subsite must be listed as a Group Audience, not just the parent site, in order for the asset to show.
Our emails will tell you what you want to know
While not a feature of EdWeb, our emails will tell you what you should know about EdWeb, such as any scheduled downtime, what new features are being deployed and pressing issues that have come up.
Another great resource is our blog, so if you're reading this post, have a look around our other blog updates. I'd recommend our monthly support clinic update posts where we discuss issues that have arisen in the user community. If it helped someone else, it could help you, too!
Website Support Clinics wiki page
Web Publishers' Community wiki
I'm also happy to take requests, so if there is something you think needs blogged about, or a new piece of wiki guidance you'd like to see, get in touch.