support & events
Learn usability testing showcase – our next session is on 1 March
Learn usability testing showcase – our next session is on 1 March
Our cycle of usability testing showcases continues on Friday 1 March at 9.30am. Participants will have the opportunity to watch students using a Learn course, before collaboratively prioritising the main usability issues observed.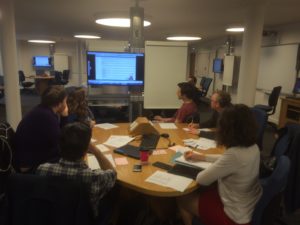 As part of the User Experience Service's work supporting the Learn Foundations project, we are working with a different School each month to find out what is working well, and not so well, in your Learn course environments. This month we are working with the School of Informatics.
In this showcase session, we will watch users undertaking common, representative tasks in a typical Informatics Learn course environment. We will then take a collaborative, hands-on approach to prioritising the usability issues we observe.
In this session we will demonstrate an easy-to-replicate technique that will enable you to improve the usability of your Learn environments.
You will also have the chance to find out more about the Learn Foundations project, which is developing new tools and services to improve the staff experience with Learn, and in turn help you enhance the student experience.
Our previous session, with the School of History, Classics and Archaeology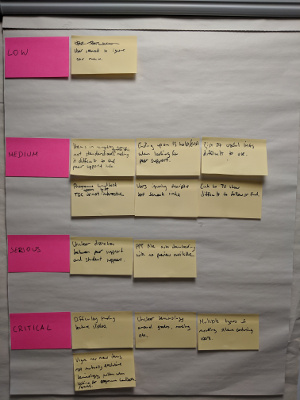 In January, we worked with the School of History, Classics and Archaeology to hold a showcase where we prioritised usability issues. Once again, we attracted a lot of interest, with almost 30 attendees, representing a wide variety of the University's Learn community and beyond.
Blog post promoting our previous showcase event
Participants raised 13 issues we witnessed in the videos. Using an established and robust prioritisation technique, the group prioritised each issue as low, medium, serious or critical. This approach gives you a sense of which issues to tackle first.
The recent usability testing was a perfect opportunity for us to uncover the hidden pain points our students experience while using Learn. Thanks to the UX Service, the Learn Foundations project, and a proven UX methodology they employed, we will be able to use the findings to inform the development of future course templates at HCA.
– Kacper Lyszkiewicz, E-Learning and Web Development Officer, School of History, Classics & Archaeology
Book your place on our next session
Time: Friday 1 March, 9.30am to 12.30pm.
Venue: Lister Learning and Teaching Centre, room 1.2
Find out more