Learn Foundations usability testing showcase returns for 2020
Learn Foundations usability testing showcase returns for 2020
Following last year's successful series of usability testing showcase sessions in support of the Learn Foundations project, we are carrying out some more in 2020.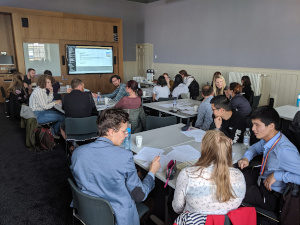 The Learn Foundations project aims to make the virtual learning environment Learn easier to use for both students and staff.
Last year, we carried out six rounds usability testing sessions as part of our comprehensive programme of user research into students' and staff members' experiences working with course materials online.
A service design approach to Learn Foundations — a summary of all our user research with Learn Foundations
Now we are conducting some more user research to understand the impact of the introduction of the new template.
Our first usability testing showcase session of the year is being carried out in collaboration with the Business School.
Come along to the MBA Suite (room 1.20) at the Business School on Monday 10 February at 10am.
Book your place now (login required)
Why you should attend
In this hands-on, collaborative session, you will:
Watch users undertaking common, representative tasks in the Learn Foundations template.
Collaboratively prioritise the issues that users encounter.
Take away easy-to-repeat usability testing techniques you can use to improve your own services.
Find out more about the Learn Foundations project.
Evidence-based enhancements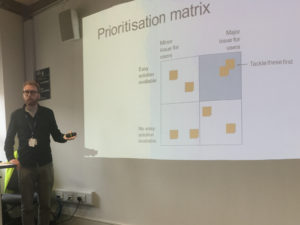 Through the usability testing we conducted last year, we openly collaborated with staff and students across the University:
27 usability tests with students and staff
6 different Learn environments
8 showcase sessoins
20–30 attendees at most sessions
94 usability issues identified and prioritised
These findings directly influenced the design of the Learn Foundations template.
Now we are putting the template itself to the same scrutiny, to understand what further enhancements can be made.
Feedback from last year's sessions
The feedback was informative, encouraging, and a call to action. I'm looking forward to embedding similar practice across the School for alternative platforms for content delivery.
— Alex Burford, Learning Technologist, School of Informatics
This usability testing gave us insights that we would not have been able to gather in other ways and will change how we organise content and the information that we provide to students as we move all our courses to the new Learn Foundations template.
— Meredith Corey, E-Learning Developer, School of GeoSciences
Attend this session
Time: Monday 10 February, 10am to 1pm
Venue: MBA Suite (room 1.02), first floor, Business School, 29 Buccleuch Place
Book your place now (login required)