support & events
Keyword research tools for Search Engine Optimisation (SEO)
Keyword research tools for Search Engine Optimisation (SEO)
Tools are available to help research the keywords our visitors use when searching our sites. We can use this information to better understand their needs, and to optimise our content to meet those requirements.
I recently gave a talk at the University Web Publishers' Community session where I demonstrated some of the most popular tools used to research keywords: Google Keyword Planner, Google Trends, and Google Analytics. These free tools can be used to investigate keywords – that is, the search terms our users are inputting to find our services.
What can keyword research reveal?
Keywords – what terms are your users currently (or might in future) using to try to find you/your service? How do they understand what you do?
Frequency/recency – how often do your users use these terms, and when?
Relevance – are these terms that are actually relevant to your business goals? Do/will they drive the right kind of traffic to your site?
Competition – how many others are trying to optimise for the same keywords?
Once you have found the right mix and number of keywords that align to your business or service, these can be used in key positions (titles, summaries, URLs, headings) on pages so that they rank higher, or the information features more prominently in search results.
User understanding and user experience
Understanding user intentions can aid our search optimisation, and improve the user experience of our visitors. We can gain understanding of how to structure our sites and the vocabulary to use on our pages through the use of search logs.
As an example, a key search on the University of Edinburgh Website Programme's site is for "URL shortener" rather than "Edin.ac", the internal name for this short URL branding service.
Shown below is the current experience of running that search, and while the result I want to be top is first, it reveals a couple of problems:
The title might not be obvious/relevant to non-technical searches
The way we wrote this page means the summary is not relevant to this search – so the snippet and highlighted words in the result aren't obvious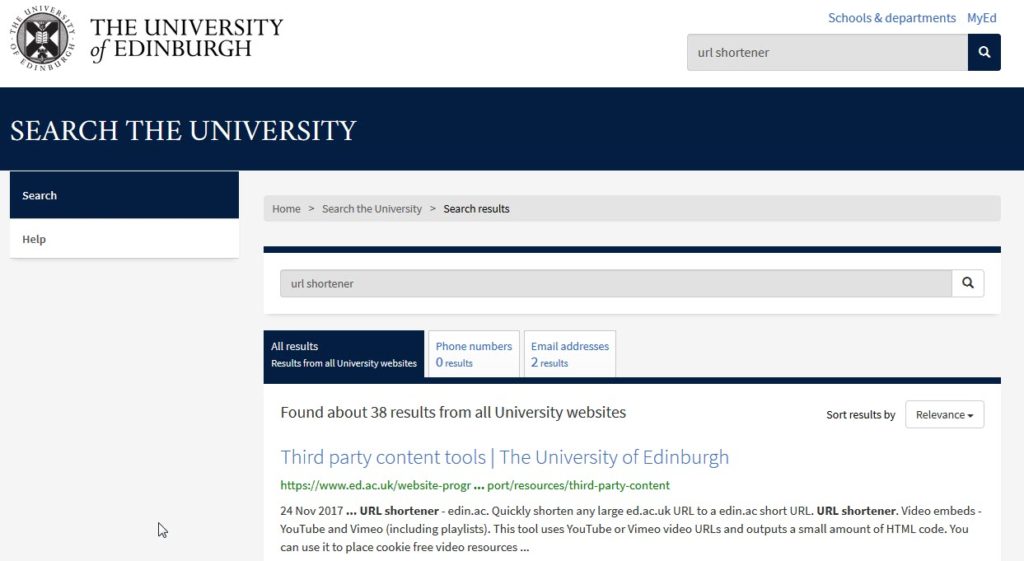 We have options here – to rewrite the page, or separate our the content onto multiple pages. We should try each out to see what works best for our users.
Evaluation
When it comes to measuring success in this area, I argue for an indicator that aligns to business goals:
Conversions from search: leads, applications, enquiry reduction
Reduction in on site search refinements
'Better' (more relevant) landing pages
Ranking higher in search results and acquiring more traffic from search alone do not in themselves mean success. We must consider whether users coming through search are finding the content they need.