EdWeb deployment update April 2019
EdWeb deployment update April 2019
On April 11, we will apply the latest developments to EdWeb: Google Tag Manager, updates to our GDPR mechanisms, and updates to the Profile Overview page. We'll also be adding the latest set of bug fixes, Drupal core and module security updates.
Google Tag Manager
This month we'll be updating the way we collect web analytics, and perparing the ground for how we deliver personalised experiences in EdWeb. We're going to implement Google Tag Manager. Doing so will:
improve insight in our web estate
allow us to flexibily deliver performance tracking and advertising scripts
permit transparency and choice to our users

Our site-wide tracking codes will now be implemented through Tag Manager: this means we can deliver appropriate tracking code to visitors based on their choices in our cookie banner (of which, more to come).
No changes are needed if you use our existing tracking code on your own site; you can continue to report on our analytics just as before. But you can expect additional insights in future; tag manager also offers further possibilities for testing and personalisation.
Web Publishers Community talk on the possibilities of Tag Manager (EASE login required)
GDPR updates
Also included in this deployment will be updates to our cookie banner and web form functionality. Three levels of site-wide cookies will be available to our users:
Necessary cookies: these are required to make our site work (they split traffic between our load balancers, for example); this level of cookie also sets anonymous Google Analytics tracking.
Performance cookies: by using tools like CrazyEgg, we can better understand how our visitors use our website and make navigating our site easier.
Personalised advertising cookies: to deliver personalised experiences on our site (and beyond) we need to track and understand how individuals are using our site. We'd only use this to set specific advertisements to visitors who have shown a strong interest in our courses or services.

We're also going to deliver additional flexibility into how our Forms work. At present, a mandatory data processing statement (and consent check box) is added to all our forms. This can cause an issue in some circumstances, though, so that consent option will be optional. We're also highlighting when editing your forms the importance of transparency when collecting personal data – you should inform your users:
for what purpose you are collecting their data
on which legal basis (if not by consent) you will collect the data
how long you will keep this data (the data retention period)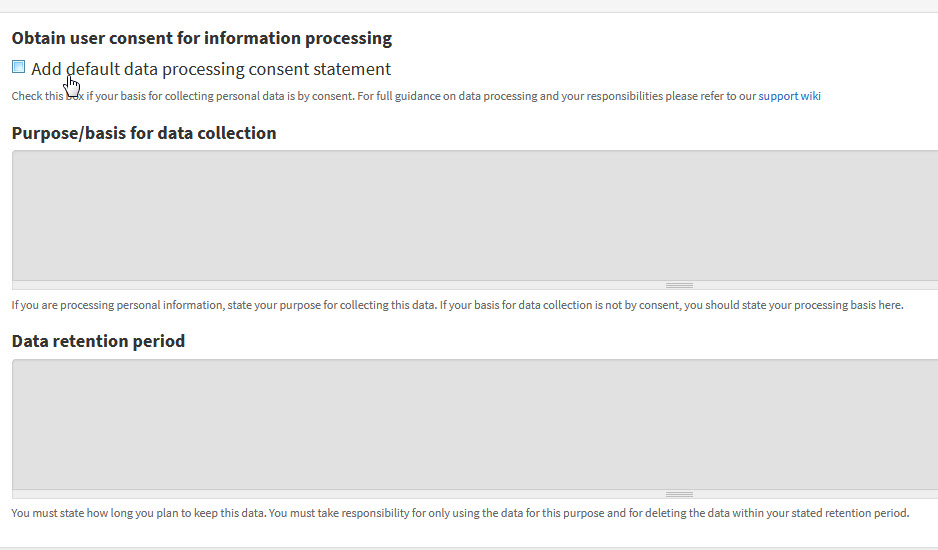 If you are an EdWeb editor, there is no action you need to take in regard to the cookie banner update. For your forms, you should consider whether your visitors have sufficient information about your data processing procedures.
Review University guidance on the General Data Protection Regulations (GDPR)
Profile overview updates
Finally, we're going to add two extra features into our Profile and Profile Overview pages. It's going to be possible to tag profiles by a larger range of units from the organisational hierarchy (if you need to add any additional items, get in touch); and it's going to be possible to dynamically pull the 'Summary of research interests' field from profiles into a Profile Overview page.

Profile overview are a great way to deliver contact listings/areas of interest for your staff and postgraduate students, while linking through to full profile information.
Highlight staff and postgraduate student achievements on your EdWeb site
Fixes and updates
Details of module updates and security patch details (mainly of use to technical users, or those who run EdWeb distributions) are available on the EdWeb Change Advisory Board (CAB) pages.