Content review – Why automated tools only take you so far
Content review – Why automated tools only take you so far
Automated reports are blunt tools – they can get you a certain way, but only the sharpness of a manual review can make sure you're not missing anything.
What are automated site reviewers?
Here at the Website Programme, we can help you with various automated content review tools, such as Sitebeam and Google Analytics. These tools can make great starting points to work our where to begin a content review.
Site appraisal tools – UWP website
However, there's no replacement for manual checking, and some discoveries with Student Counselling site this week really brought this home. A report back from Sitebeam of 7 broken links turned out, on closer examination, to be 39 – over 5 times as many.
When is a link 'broken'?
The way that Sitebeam registers a broken link is that is calls the page, and if there's nothing there, it records it as a 'Page not found (graceful)' or 'Page not found (ungraceful)', depending on what sort of error comes back.
Basically, it tells you if a page is not there.
However, in many cases a link is redirected to a different, irrelevant page, or the page, although 'correct', has been archived – or should have been. This means that technically the link works, but it doesn't do what the linking site wants it to.
A manual trawl through the Counselling website, for example, identified the following links that weren't technically 'broken':
A completely different site
A link to a bereavement support organisation that in fact went to a 'Search for a solicitor' generic site (a possible case of domain squatting):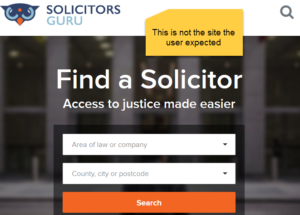 Broken links going forward
A page built in 2004, linking to a number of other resources – none of which were active links: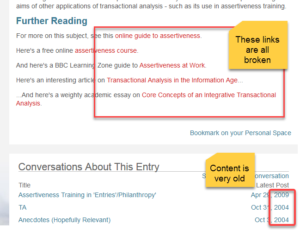 A new page that's not relevant
A link to Depression Alliance which redirected to Mind, with whom they merged last year: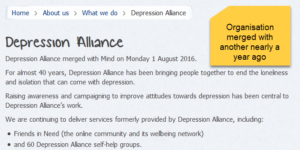 What else can't we know?
Another common issue that comes of is in spelling errors. Sitebeam can't take into account:
false negatives – reported spelling errors that are in fact someone's name, or a relatively obscure academic term
context errors – do you live near the coast, or near the coats?
University style – some words may register as 'correct' but not be in keeping with University style (such as wrongly formatted dates).
University web style guide (PDF)
And then of course there's the copy itself. No automated tool can ever tell you if the image is right for your purpose, or if it's tagged properly, or if your page of instructions is easy to understand.
Know your content
Nothing can replace having a clear manual overview of those pages. This, in turn, is why you should never have more pages than you can manage. A small, well-maintained site, will always outperform a large neglected one.
Neil's 'Get a grip of your website' blog can tell you more about how to go about maintaining your site, and how much time you really need.