support & events
Website Support Clinic update – Adding videos
Website Support Clinic update – Adding videos
At a recent Website Support Clinic, I worked with a web publisher on how to add videos to her site. With the University's media hosting platform Media Hopper, it's now easier than ever to upload videos which can be embedded on EdWeb sites.
Getting your embed code from Media Hopper
All staff and students have the ability to create and share video and audio content by logging in through EASE to the Media Hopper website.
All Media Hopper videos come with an embed code you can find under the Share option. You can copy this code into the EdWeb code generator, which is listed under your login name. The generator will create code that you can add to an HTML asset.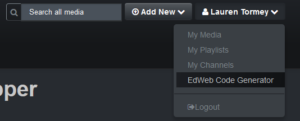 Embedding a Media Hopper video wiki guidance
Embedding videos as HTML assets
Videos in EdWeb are created as HTML assets – you cannot upload video files directly into EdWeb. In order to create HTML assets, you must request the teach user role.
While 'tech user' might sound a bit daunting, the code generators do all the hard work for you. All you need to do is copy and paste code into an asset, and like all other assets, drop it into the page you need the video on.
Creating an HTML asset wiki guidance
YouTube and Vimeo video publishing tool
If you have videos on YouTube and Vimeo, take advantage of our widget where you can paste the URL of your required video in, and the widget will generate the code you need to paste into an HTML asset.
YouTube and Vimeo video publisher
Get in touch
If you'd like assistance or advice with any website task, drop us an email to book a support session.