University of Edinburgh wins 'Best Education Mobile Website' award
University of Edinburgh wins 'Best Education Mobile Website' award
We've won the 2015 Best Mobile Website award from the Web Marketing Association in the education  category, for the quality of our website when viewed on mobile devices. This is a reflection of all the work we've done on making the site responsive for all screen sizes, including mobile devices such as tablets and mobile phones.
Returning to work after the new year can be tough but this year it turned out to be particularly sweet as shortly after arriving a package was delivered in a beautifully wrapped gold box. Inside was our wonderful new award for all our hard work on our mobile website.
Winning awards at this rate means we're going to need a bigger trophy cabinet! If this is the most pressing issue for 2016 then we are all going to be very happy.
We are particularly pleased to win this award as we are the first educational site from the UK to obtain this standard.
Our winning entry – the Go Abroad site from the International Office
With such consistent quality across the board it wasn't easy to pick one site to represent the whole University of Edinburgh. Obviously our international market is an incredibly important one and with the high quality work on images and copy from the International Office we decided to put one of their sites forward. Global impact is an important part of the University's strategic plan so it made sense to pick out the Go Abroad site. What was also important is that we felt that this site really showcased the flexibility delivered by EdWeb to make a website stand out and stamp its own identity, while still being very much a part of a consistent whole.
Achieving our goal of quality and consistency
Sometimes it might seem to our web publishing community that our rules and regulations on images, Information Architecture and editorial copy can be a bit strict and restrictive, but it is precisely this that brings quality and consistency across the whole of the central website. It is this that reflects the quality of the University brand around the world.
Why we enter award competitions
First and foremost it's great to get the recognition for all the work that's been completed on the University website over the past 3 years. It also raises the University's brand and image globally; an important part of University strategy.
In some ways the most important aspect for us is that it allows us to take a step back and view the site as a whole. It's easy to focus on small issues with the site. Especially ones that niggle ourselves or our close colleagues. We need to continue to work on the website and continually improve what we have. We need to carefully juggle our priorities in adding new functionality, fixing bugs and correcting these issues. This is not easy when we have such a large and diverse publishing community with such a wide range of differing needs.
Do not take the website for granted!
With the website so deeply buried in the University's digital culture it's easy to take the website completely for granted. Also with expectations so high to deliver top quality content to mobile devices it's easy to take this as the norm and forget the amount of work involved to deliver this technically across what ultimately will be the whole of the central site. To help us achieve this goal we are very lucky to have some of the best and most exceptionally talented developers in the world on our team. As a University we should be incredibly proud of that fact.
Thanks and acknowledgements
With special thanks to the whole EdWeb project team, the website migration team, everyone who worked on the website in the International Office and the whole of our web publishing community who work tirelessly on making the website what it is today.
View our award winning entry – Go Abroad from the University of Edinburgh International Office
Web Marketing Association mobile award details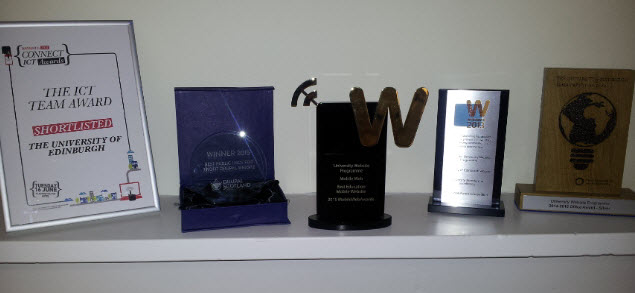 We've received 5 awards and commendations for our work since 2013.