Our second collaborative code sprint
Our second collaborative code sprint
To deliver our vision of encouraging and supporting a culture of innovation and creative problem solving we have successfully run two code sprints where developers have come together for a day to work on fixes and enhancements for EdWeb. We brought together our expertise and enthusiasm to work on a list of requirements gathered from our publishing community. Why not join the community and get involved? This is part of a very successful collaboration between two teams within Information Services: Applications and UWP and with developers from all around the University.
What happened on the day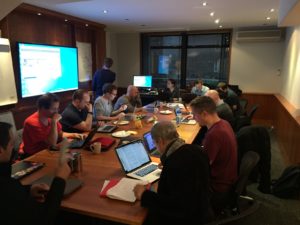 Building on the success of our first code sprint back in July 2016 and as part of our commitment in working towards a collaborative development framework 17 developers came together for our second code sprint day. It was a full day starting with coffee and introductions followed by a quick look at all the code sprint candidates for the day. These were mostly small discrete pieces of work that we hoped could be comfortably completed in a day. We then had a complete walk through demonstration to help our new sprinters get up to speed and to remind our veterans on the process.
And then on to the hard work with people grabbing an issue and starting to fix, improve or investigate issues. There is a great feeling of camaraderie and support so no one should feel lost or intimidated. A great comment from the end of the day was someone saying that they learnt so much just listening in to the various conversations around the room.
See how far we've come from our first sprint – Our first code sprint in July 2016
Our code sprint aims
Our sprint aims are really  to actively collaborate so that we can share knowledge and work together to enhance EdWeb's features. Part of this is learning how the whole development process works for EdWeb – getting the code, making the changes, quality assurance and testing. All before crossing the final hurdle of submitting code back to the code base. This is a complex and strict process and needs to be so as the website is a key part of the University business and needs to be protected at all times. It's about working towards a goal of being able to allow approved developers, around the University, access to work with EdWeb outside of project based development.
All the hard work paid off and there was some well deserved clapping and cheering when we committed our code back at the end of the day! A massive thank you to everyone who took part as it would never work without your input on the day.
Highlights of the day
Continuing the successful collaboration between two teams within Information Services: Applications and UWP.
11 issues successfully completed on the day.

Also investigation started on other issues.
Knowing that we are now in a position to carry work on out with the code sprint.

Addition of a new role of 'Tester'. An essential role and fundamental in helping us complete so much on the day.
Exploring new ways of getting developers set up with a coding environment quicker using the software Docker.
The introduction of a point by point code sprint crib sheet.
Our instant messenger Slack channel for communication before and during the day.
UPDATE JANUARY 2017 – All development results were deployed to EdWeb within less than two months of the code sprint date.
And lessons learned
The importance of room size, proximity of break out rooms, and number of power sockets.
We always need more multi-plug extension cables than we think we need.
Coffee and regular coffee refills are essential and not a luxury.
The introduction could be shorter to allow people to dive in quicker.
What the future holds
We want these code sprints to help shape the future of EdWeb development within the University. We have so much talent and experience, spread around the University, it would be a waste not to tap into this. We all have so much to learn and this is definitely not about 'us' teaching 'other people' to do something. We all learn from this process.
In early 2017 we aim to continue the process of finalising the framework  and with the UWP tech team trialling the set up by taking on the work of providing social media sharing and visitor rating mechanisms to EdWeb in the first quarter of the year.
Further reading on the collaborative framework
An introduction to the framework: Opening the door to collaboration
Watch a short video from Stratos Filalithis (Head of UWP) about the framework: Collaboration in the EdWeb development community (Part of the post 2016, the year in review)
Join the community and get involved!
The Technical Peer Group (another collaboration between Apps and UWP!) meets regularly to discuss technical issues surrounding the EdWeb centrally managed CMS, the EdWeb distribution, collaboration and sharing of best practise on web development, coding and other technical issues. If you are interested in getting involved please go to the Technical Peer Group page below and follow the instructions to join the mailing list. We very much welcome new members so do please come along.
The University Website Technical Peer Group
Save
Save
Save
Save
Save
Save
Save
Save
Save
Save
Save
Save
Save
Save
Save
Save
Save
Save
Save
Save