Making it easier for students to find the help they need
Making it easier for students to find the help they need
As part of our ongoing exploration of how personalisation can help improve MyEd, we're running a pilot project with colleagues from the EdHelp service.
About the pilot
Students have always been able to access EdHelp's online resources from their MyEd home page.  Until this September, this was a single link to the EdHelp's FAQ homepage.
We know that at certain times of year, EdHelp receives more questions about particular topics.  We want to explore whether adding links from MyEd to help resources about these topics can help students find the information they need more easily. We also want to know whether this could reduce the number of calls EdHelp has to handle.
What we're doing
We worked with the EdHelp team to identify which topics we should feature when, and to agree a process for making sure these are updated throughout the year to keep them as relevant as possible.
We agreed a new design for the Get help portlet, adding a Frequently asked questions section where we'll add the featured topics.  These questions will be updated every few weeks to reflect changing student needs through the year.
For the start of term we added links to 4 key topics:
student card
fees
wifi
matriculation.
The screenshot below shows the portlet with the 4 start of term links.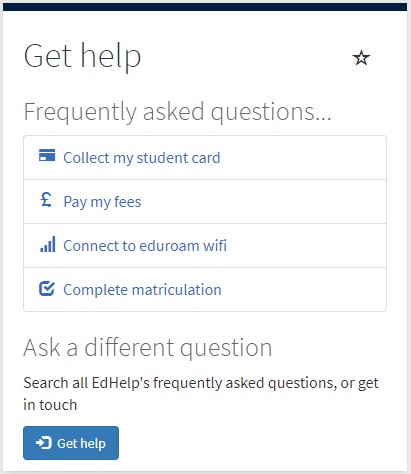 What we know so far
We've only been trialling this new approach for a couple of months, so it's too early to know how effective it will be long term.  However, in September we saw a huge increase in student usage of the portlet compared to the previous year.
In September 2021 we had around 2500 clicks to EdHelp pages from MyEd.  This year we saw over 21000, which is an increase of around 700%. October has seen a much less dramatic increase in usage – from around 1200 clicks to 4900, but this is still quite substantial.
We don't know yet whether this will be sustained through the year, or if it will continue to drop-off, and it will be interesting to see how usage varies across the different topics that are highlighted.
We'll continue to update the links through the year and monitor usage to assess the effectiveness of the pilot.