An interview with our summer intern, Yordan
An interview with our summer intern, Yordan
This summer we were joined by Informatics student Yordan Hristov on a University internship. Here's what he thought of the experience:
Why did you apply for this internship?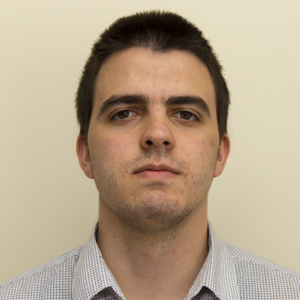 I wanted to build on the technical skills I already have and I wanted an opportunity to be more than just a developer and to see what it's like to work in an office environment, to build interpersonal skills and presentation skills, and to learn how to communicate with people in a more formal setting.
What did you hope to get out of it?
I identified three goals before I started:
To improve my networking skills
To learn how to reflect on my learning experience
To learn how to harness opportunities better
What did you work on?
I had one major project – the Content Freshness Tool – which spanned the whole eight weeks.
I also had a couple of smaller testing and editorial tasks, which were very different, bringing a bit of diversity to my work. I had the opportunity to go to a few group sessions, like the Web Publishers' Community and Writing for the Web training, which helped me meet people from across the University who share my interests and improve my networking skills.
Have you enjoyed your time here?
Yes, a lot! I've really enjoyed the environment, the people, and the project I was assigned which was exactly what I was looking for – a mixture of improving my existing technical knowledge and learning new skills and techniques like multi-threading programming.
Did you learn what you think you would?
Yes – but at the same time, my learning surpassed my expectations. From a technical point of view, I learned more than I thought I would; from other points of view I learned what I wanted to, and achieved my three main goals.
Has it changed your mind about anything?
It's showed me that this is the kind of work I'll be looking at in the future. I like the way that everything is well-structured – everyone knows what they're doing. I like order, so the internship has showed me that an office environment like this is what I'll be aiming for in future.
Would you recommend this internship to others?
Yes, definitely; especially to anyone who is enthusiastic and willing to learn. You can work with what you're given, but there's also the opportunity to innovate, to expand your horizons. It's a great opportunity for people who are still students like me and not sure what they want to achieve in future, to see if it's for you or not.
What has been your favourite part of the internship?
Undoubtedly the feedback and user testing phase of my project. It gave me a completely new look on how to write software and how to test it because it is one thing to write an application that works correctly (in terms of good code) and completely another other write an application that is going to be liked and used by the users. I realised that things that are obvious for the developer might not be as clear to the final user, which is crucial.
Quickfire round:
Favourite lunch spot? The Mosque Kitchen
Three words to describe your time here? Productive, interesting, fun
Favourite website (apart from the University website, of course!)? www.thecodinglove.com is a fun website for software developers; great for lunch breaks!
Advice for a future intern, in one sentence? Make the most of your time – the opportunities are there – and enjoy it!