EdWeb "Page not found" errors in Google Analytics
EdWeb "Page not found" errors in Google Analytics
I've recently been experimenting with custom reports in Google Analytics in order to identify "Page not found" errors that occur in the University of Edinburgh website.
There's little that disrupts a website experience more than the dreaded dead-end that is a 404 error – "Page not found" (in our case, this is actually a "No such page" error).

I periodically check through our analytics in case a high-traffic page is presenting this error, so that I can let the local content owner know.
Page not found errors are most commonly caused by content that has been moved (to a new place) or removed altogether. Setting a redirect on these links is a win-win: it allows us to retain traffic, and directs visitors seamlessly to content that meets their needs.
Identifying EdWeb 'Page not found' errors
Normally we would use a URL to narrow down to results we're interested in within analytics, but what we're trying to here is identify pages that users are trying to reach but do not exist, so that won't necessarily help us.
Instead, the key to identifying these 'Page not found' errors is that every page that is not found in EdWeb results in a page whose title is "No such page | The University of Edinburgh" – you can see this in your browser tab when you type a page address that doesn't exist.
There are (probably, a few) reports to use in order to identify these errors: for example, this could be done through the Behaviour>Site Content>All Pages report, by adding a secondary dimension to the table, then adding a filter to the table – but I would have to apply this each time I wanted to check results, so doesn't really suit my needs.
Creating a custom report
Instead, by creating a custom report, I can have this information available each time I log in to Google Analytics – and easily set custom alerts (which I'll cover another time!) so that I don't even need to remember to check the report.
Google help pages on creating and managing Custom Reports
Creating a custom report is very easy once you know what you want the report to contain – my advice is to work this out before looking at the list of dimensions and metrics to choose from, as it can be daunting. I knew that I wanted to narrow down only to pages whose title was "No such page | The University of Edinburgh" – but to list the URL (so I could work out what our visitors were trying to reach) and the Unique Pageviews, so I could work out which errors were high priority and should be corrected first.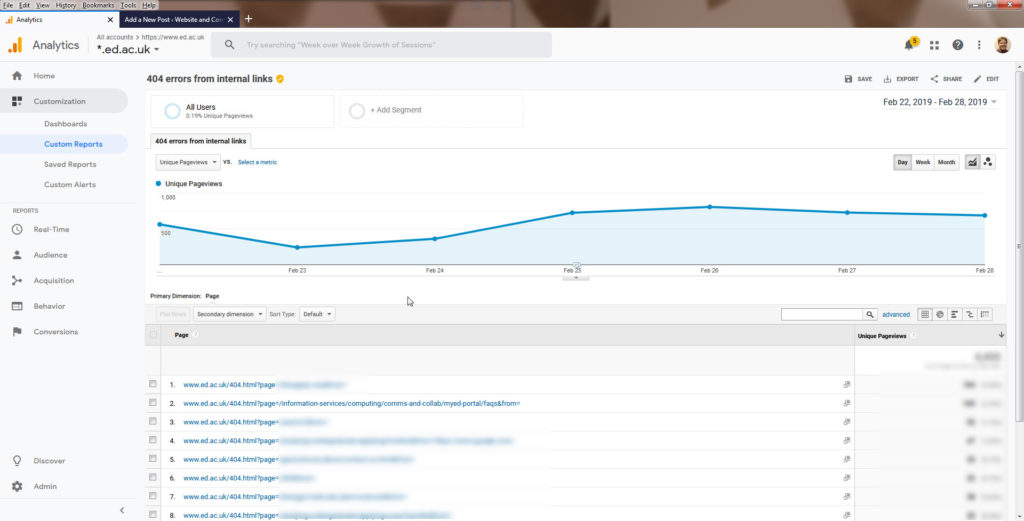 I've blurred out all but one result to protect the innocent; the remaining error is for help and support for our MyEd service. This is a link from somewhere in ed.ac.uk, but not within the EdWeb system itself (I'm guessing the MyEd interface somewhere, but it doesn't matter).
The underlying page's URL was changed recently. Incoming links in EdWeb would have updated dynamically (our internal links are to a node reference within the database, so no problem there) – but links from outside EdWeb break when this happens. Now that I know about the problem, I've now added a redirect to this link, so no more 404 error. Not all heroes wear capes.
Access to the custom report
Although it's easy to create your own, if you want use these reports (one for external sources, one for internal), the configurations are available on Analytics. You will need to have access to University analytics in order to use them (set the correct view, then save it to your custom reports area). After saving, you can filter or use segments as required to view the results for your area of the site.
404 errors from internal links custom report
404 errors from external links custom report
Further support with Google Analytics
All our Google Analytics help materials are available on our support wiki space.
Google Analytics on the Website Support wiki (EASE login required)