EdWeb deployment update July 2017
EdWeb deployment update July 2017
On Wednesday 5 July we'll add the latest updates to EdWeb. This release includes social media sharing functions; the ability to add mathematical functions to a page; and security updates and bug fixes.
Social media sharing
After some tireless work from Billy Wardrop, it will now be possible to add social media sharing functionality to your site in EdWeb. It's the first step along the way towards the University Website Programme technical team being able to do their own development in EdWeb. These social functions were funded by Information Services, and comes after considerable discussion and consultation as to the most effective implementation.
Social media engagement – social media community session
This sharing function will allow your visitors a quick way to engage with our content on social platforms by sharing page details on their own accounts. At present it is possible to add the buttons to all pages in your site; and the buttons will allow sharing in Facebook, Twitter, LinkedIn and email.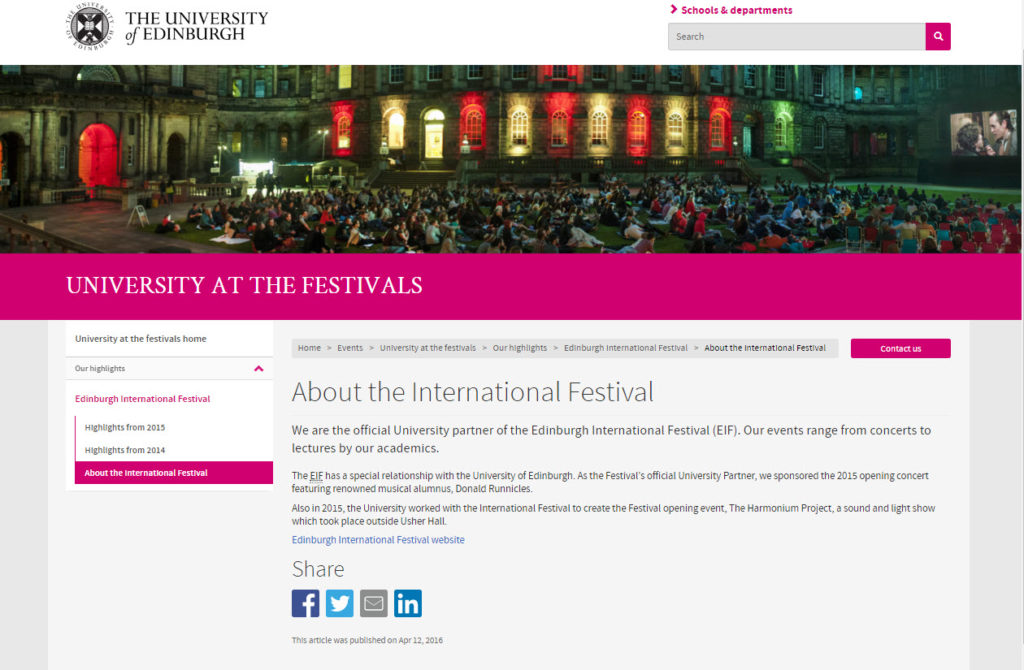 In the next phase of development, we hope to make this more granular (choose which pages the buttons will appear on); add additional media; analytics functions; and other improvements, based on feedback and further consultation.
If you are a lead publisher, and want to add these buttons to your site, please complete our form – and after Wednesday's deployment, we will add these to your pages.
Request social media sharing functionality – University Website Programme site
Mathematical formulae in LaTex – collaborative development
The last set ('iteration') of EdWeb work was focussed on progressing the collaborative development framework with colleagues from the College of Science and Engineering. David McKain, a drupal developer from the college has been brought in to conduct paired programming and experience EdWeb development in person. This will allow us a better understanding of how to improve EdWeb as a University in future – but we've also managed to get some new features along the way.
How to collaborate for a better University Website experience
David McKain profile – School of Physics and Astronomy website
The College of Science and Engineering were keen to better display mathematical formulae on their pages, in a readable and accessible way, and it will now be possible to do so using a LaTex button in the main text editor.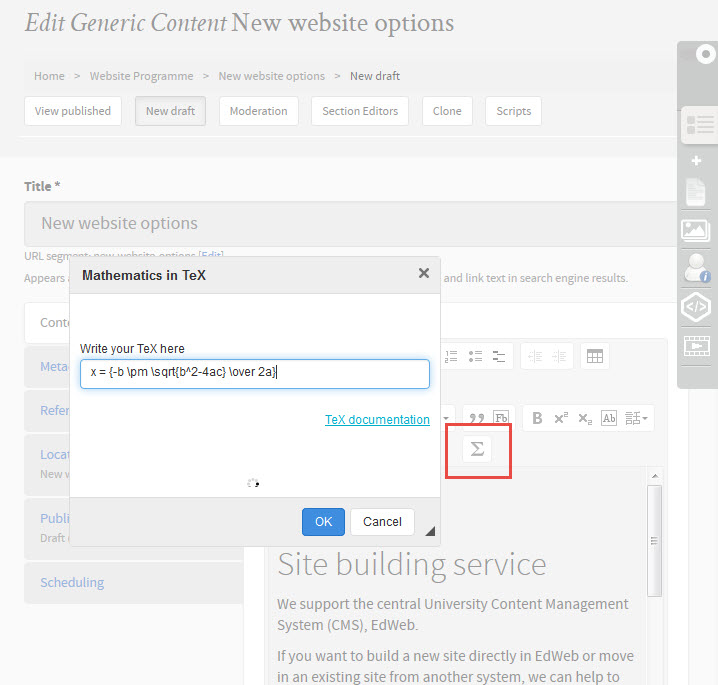 Standard and module changes
This deployment also contains a number of bug fixes and security updates.
There will no longer be a "citation" button (or option to select "referenced work") in the main content editor – instead a new style of "cited work" will be added to the styles list. This is to bring our code in line with web standards.
File links will now contain the size and format details (for example, '2mb, PDF'). This is to ensure the accessibility of file links.
It will be possible to clone pages from pages on which you do not have editing rights
Related events that are EASE-secured will now list with the padlock icon
Module details are listed in full on the EdWeb Change Advisory Board (CAB) pages, and are mainly of use to technical users, or those who run EdWeb distributions.