EdWeb deployment update January 2018
EdWeb deployment update January 2018
The first EdWeb deployment of 2018 will take place on 18 January, when we will update the system with security updates and bug fixes.
Fixes and updates
Full screen videos
This update to EdWeb will finally confirm the ability for site visitors to view videos in full screen format.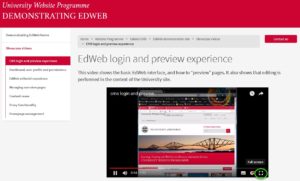 Student profiles
We are also deploying a change to student profiles that makes a design distinction between their business unit and PhD Supervisor links, by placing them in distinct boxes.
Google Chrome – asset store glitch
The clickable area of the 'add new asset' buttons in the asset store was not working as expected in Google Chrome – this has now been fixed.
Design fixes
We are also running some small design fixes for issues caused in our last deploy – primarily to fix profile images on individual profile pages.
Along with these fixes, we will also be deploying small ('standard') changes to the 'modules' that comprise EdWeb. We have detailed these changes on the EdWeb Change Advisory Board (CAB) pages. These are mainly of use to technical users, or those who run EdWeb distributions.
EdWeb deployment register (EASE login required)