EdWeb deployment update December 2016
EdWeb deployment update December 2016
On Thursday 15 December, we'll deploy the latest set of code sprint bug fixes and improvements to the EdWeb system. A big thanks again to all the community developers who came together to allow these improvements to happen
If you haven't heard of our EdWeb code sprints, Bruce summarised what takes place on the day after our first collaboration.
Events calendar
Improvements have been made to the calendar within the event content type. The end date of the calendar now automatically selects the start date, and doesn't allow dates before the start date to be selected. It is also possible to add events from before 2015 in the calendar – though these must be entered manually into the date box, and not using the calendar picker.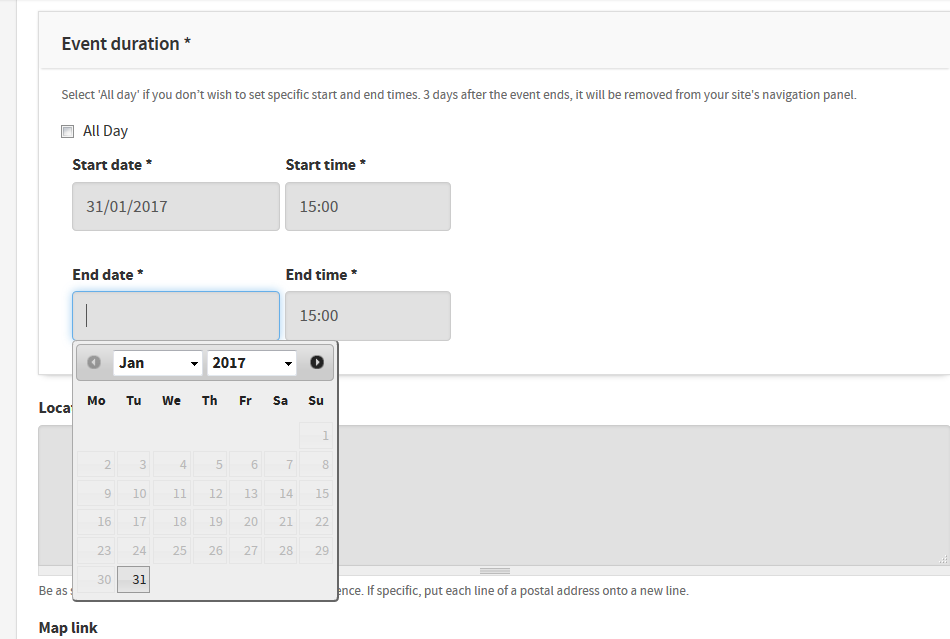 If you've never used the event content type before – they're a useful, stylish and consistent way of advertising events taking place in your unit.
Event content type – EdWeb support wiki (EASE login required)
Profile page improvements
A few fixes have also been implemented on profile pages. The fields within the editing interface have been slightly reordered to match website output, help text has been amended, and returns placed within some fields now works more effectively. This means that the finished page looks far more professional. Again, if you've never considered these page types for use in your site, it's worth considering as a way to get 'buy-in' from staff and postgraduate students within your unit. Individuals can take responsibility for their own pages; and you can achieve a consistent look across all your profile pages.
Profile page – EdWeb support wiki (EASE login required)
Additionally, on profile overview pages, it's now possible to add content at the foot of the page simply by leaving the final 'usernames' field blank. We've also corrected a display issue affecting staff and students with apostrophes in their names.
Bug fixes and improvements
Alongside the changes detailed above, we've also seen resolutions to a variety of reported bugs and issues with help text. A series of corrections and improvements to accessibility and site management are also included in this deployment.
For those who want additional detail on these changes, our support wiki details all changes made in EdWeb. It also provides a forward schedule of deployments for anyone wishing to organise their work in advance – but please note that these are subject to change, and can be altered where critical security updates require it.
Code Sprint completed candidates (EASE login required)
Standard RFCs – list of EdWeb fixes and security updates (EASE login required)