Edinburgh Global Experience Language (EdGEL) Digital Strategy
Edinburgh Global Experience Language (EdGEL) Digital Strategy
Starting life as an Asset and Style Library for EdWeb the Edinburgh Global Experience Language (EdGEL) is evolving into a Code Agnostic Framework with built in processes and global standards compliance.
EdGEL as a Service
Benefits of GEL as a Code Agnostic Framework
GEL creates Unified Experiences that drive Customer Satisfaction
GEL increases Financial Effectiveness by use of pre-built Building Blocks
GEL creates Speed and Ease of Delivery by use of pre-built Building Blocks
Who is the GEL for?
Primary Audience for the GEL
Project Initiators and Sponsor community
Marketing and brand community
Development community
Project management community
Editorial community
Design community
User research community
Secondary Audience (End Users)
Students
Parents of prospective students
Researchers
Policy makers
Academics
Administration staff
Why use the GEL?
The reason for using the GEL is to help solve problems and deliver new experiences Better and Faster.
Better, because a framework provides the certainty that a project is developing an application that is in full compliance with the business rules, legislation, that is structured, and that is both maintainable and upgradable.
Faster, because it allows developers to save time by re-using generic modules to accelerate projects so they can focus their time and effort effectively. And it enables new platforms to use the GEL by providing an interaction style guide so that developers can extrapolate interactive behaviours into new code bases while maintaining both regulatory digital standards and the University of Edinburgh's digital standards.
GEL Process
The GEL will establish an end-to-end ecosystem from strategy, through solutions, delivery to deployment of digital experiences and their evaluation, giving access to services across the University in a logical way and establishing a formal way to extend the GEL to fit the constantly changing interaction and communication needs of end users.
The GEL has built in Standards
The GEL builds in Usability Principals (often confused with Principals of Design) and has several expert criteria that are specific to digital products and services.
Visibility of system status
Match between system and the real world
User control and freedom
Consistency and standards
Error prevention
Recognition, rather than recall
Flexibility and efficiency of use
Aesthetic and minimalist design
Help users recognise, diagnose, and recover from errors
Help and documentation (contextual)
Why Usability enables Success
Highly usable systems and products tend to be more successful both technically and commercially
In some areas, such as consumer a human-centric approach to design is essential as it has a substantial economic and social benefits for users, employers and suppliers.
Service and products, purchasers will pay a premium for well-designed products and systems.
Support and help-desk costs are reduced when users can understand and use products without additional assistance.
Next Generation GEL as a Service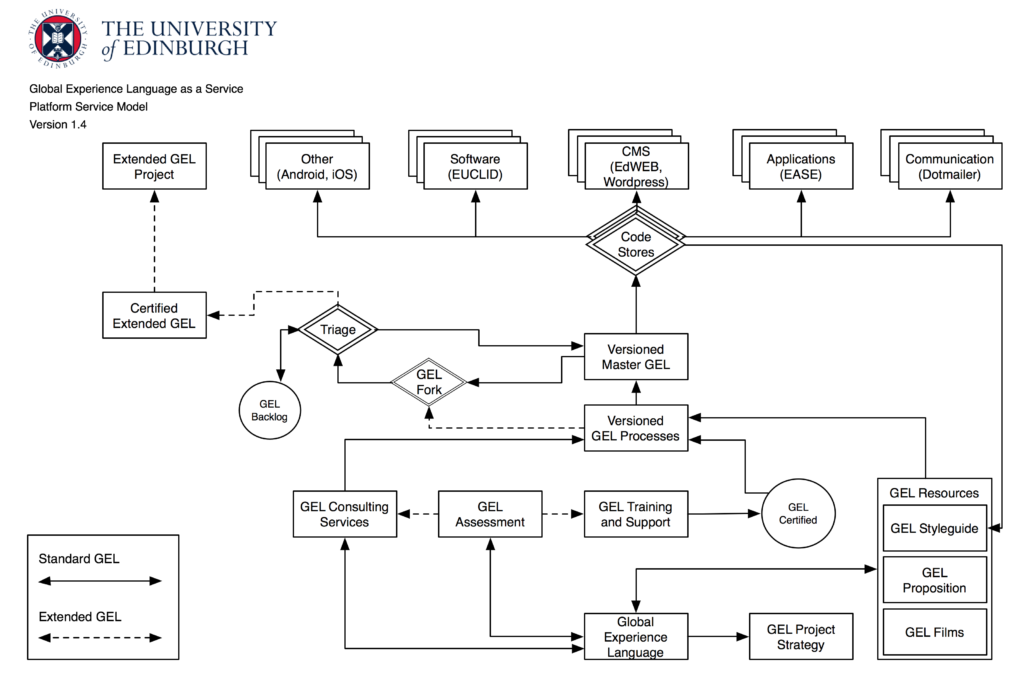 The diagram above explains both adoption and usage processes of the GEL. GEL as a Service is self service offered as an enabler and accelerator to the University digital projects. There are a number of scenarios covered in the diagram;
Standard GEL
The standard GEL is the usage of the as is processes / checklists, interaction style guide, code and CSS.
Extended GEL
The extended GEL enables the adoption of the GEL with the ability to add to it for a specific project and for those additions to be added to the Master GEL or Backlog through a Triage process. This extension methodology enables University wide adoption of new interactions in a rapid and cost effective way.
GEL Resources
The GEL resources are intended to assist in adoption and training, additionally a Styleguide rendered from code will enable users to view the interactions and extrapolate the language for an unlimited number of code bases.
GEL Project Strategy
Adopting the GEL is a strategic decision and will need presentation assets to support it's proposal at program, sponsor and project management activities.
GEL Training
The GEL training will range from benefits films to how to's and support self service, supported service and consultancy service usage.
GEL Certified
It is imperative that there is a single point of truth regarding standards as such training will be given to ensure that University staff understand the intent, capabilities and application of the GEL, can inform others and adopt it.
GEL Assessment
The assessment is intended to review what projects are trying to achieve against what is already included in the current version and will be used as a decision point advisory to projects.
GEL Consulting Services
The GEL as a Service is intended to deliver extensibility across any technology or interactive communication system used by the University, to support this the GEL will have dedicated staffing to enable that and support other consulting services across the University that utilise the GEL.
GEL Triage
Triage is a process of review for compliance to usability, accessibility and other regulatory standards and providing a dialog around the evolving Universities digital standards.
GEL Backlog
The backlog will contain components, concepts and future developments that are not yet ready or have not yet been assessed to be adopted into the Master GEL.
Next Generation GEL Locations
The GEL will have both a proposition website and a developer code library.
GEL Proposition Website
A benefits proposition with an interaction style guide, films, document templates, and case studies of current uses of the GEL across several technology platforms, processes, training materials and certification methods.
GEL Code Library
Code access with version management, forking (triage review service for new components and templates) based upon using the existing Master GEL as a baseline for core components, principals and standards.
Edinburgh Global Experience Language (GEL), certified components, certified processes, certified people and certified services to deliver standards and a positive user experience across The University of Edinburgh's digital estate.
If you would like further information about the GEL Digital Strategy please contact Karl Smith