Are people watching my videos?
Are people watching my videos?
I recently had a Support Clinic session in which I was asked this question. What we need to do to answer this question depends on how your video is hosted.
Podcasting and Streaming Service from the IS Multimedia team
If your video is hosted on the IS Streaming Service, we are not able to answer this definitively in EdWeb, but we can get a good indication by using Google Analytics to look at the EdWeb page that a video is embedded in.
If the page with your video embedded on it has other content on it, such as event booking details for example, then we cannot know whether a user came to that page to watch the video or to find out about booking the event.
By structuring you site so that each video is on its own page, you can have a much clearer idea that the people coming to that page are there to watch that video.
Here is an example of a page which does this well.
Once Out of Nature – natural religion as a pleonasm
This page contains only a summary of the video and the video itself. As a result, we can be confident that users have come to this page with a specific interest in the content of the video. We cannot know for sure that they have actually watched the video, but we can assume it with some confidence.
We can then use Google Analytics to look at the statistics for this page to get a picture of how many users are viewing the page and when they are doing so. We could also go on to look at other information such as what other pages these users are visiting within the University website or what parts of the World these visitors are from.
This report generated from Google Analytics shows how many users have viewed this page in the past year.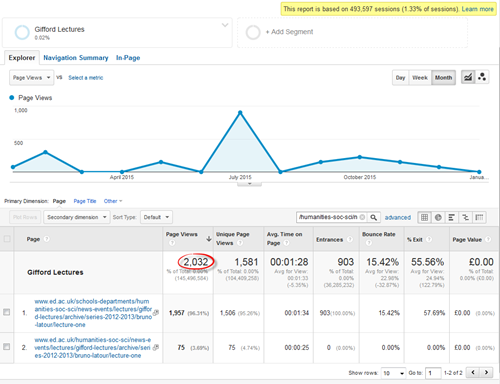 The graph shows us the pattern of page views per month over the past twelve months. The chart below it breaks down the numbers for the period – total page views, unique page views, average time spent on the page and so on. You can set the time period you want to examine and see the page views per month, week or day.
This example is an archive page of a lecture from February 2013, so it is interesting to see the spike in views in July 2015. In your own website you may be able to relate this to a particular promotion of the video page, such as having it linked to from the homepage of your site, or discover that it has been linked from an external article about a related topic.
Google Analytics uses statistical sampling to generate its figures and so is representative rather than precise. And we are looking at the statistics for the page the video is embedded in, not views of the video itself.
For an exact number of accesses to the video file itself, you would need to obtain the server access logs from the Multimedia Team.
Google Analytics training and support
We provide support and advice on getting started with Google Analytics on our support wiki.
University web stats with Google Analytics
We also run a training course which gives you an introduction to the basics.
YouTube videos
If you are using YouTube to stream your videos, you can access the access viewing statistics for each video through the Video Manager on your YouTube account.
By logging into your YouTube account, you will see a link to the Video Manager.


This gives you a list of your uploaded videos.
At the right hand side it tells you how many views each video has had. By clicking on this number, you can view a breakdown of the views.
This gives you information such as number of views, when they happened, which countries they came from and the average viewing duration.
Embedding a YouTube video in EdWeb
This wiki page provides guidance on using the video publishing tool to embed your videos in EdWeb.
YouTube and Vimeo video publishing tool