The students working to end gendered violence
The students working to end gendered violence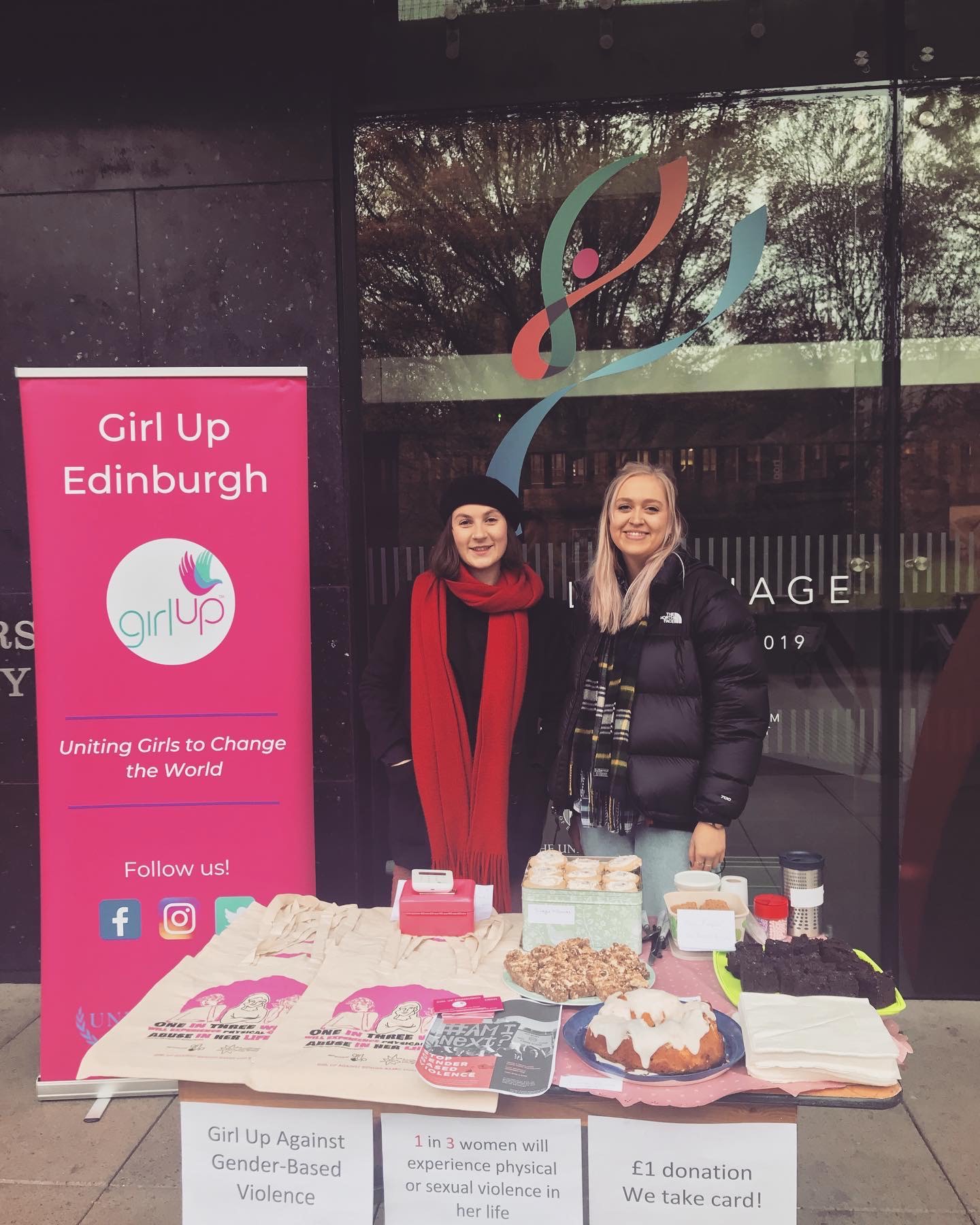 For the International Day for the Elimination of Violence Against Women we hear from student Debbie Shamir, about the Girl Up Edinburgh society, which works to promote gender equality.
Feminism has undoubtedly come a long way since its advent but we still have a long way to go to achieve gender inequality for women and girls around the world. At Girl Up Edinburgh, our aim is to be able to tackle various feminist issues both on a local level and internationally. We launched just under two years ago and since then have grown into a successful society of likeminded individuals working to empower women around the world at the University of Edinburgh.
As a society our aims are three-fold:
1. Advocating and raising awareness of gender inequality on campus, in the UK and internationally
2. Fundraise money to send to the UN foundation to help fund projects empowering girls around the world
3. Creating an inclusive, intersectional community on campus of likeminded feminists.
On the 7th October, we launched our campaign for this academic year, 'Girl Up Against Gender-Based Violence'. We chose to focus on this issue for our campaign because freedom from violence is one of Girl Up's core pillars and gender-based violence (GBV) is an issue which affects women in every country around the world. Globally, one in three women will experience violence in their lifetime (source: UNFPA) and the numbers are even higher for minority women. We decided enough is enough.
We are running an array of events this academic year from panels, film screening, letter-writing to marches. We are also fundraising for Girl Up projects which help to eliminate GBV and local Edinburgh charities supporting victims of GBV. As part of our fundraising efforts, we have collaborated with The Noisy Movement to design tote bags with all profits going to local charities – get in touch if you'd like to order one!
Our main aim with this campaign is to bring people together to understand the cultural and social norms which fuel gender inequality and gender-based violence around the world. By learning about the causes, patterns and stigmas surrounding this issue, we hope to educate ourselves and call for change from our university and politicians to protect women and girls from male violence. We hope that in opening the dialogue surrounding issues that affect women, we can aid the fight in tackling an array of problems on campus and on a more global scale. Interrelated issues we hope to bring awareness to include sexual harassment, female genital mutilation and the violence faced by the trans community.
In our recent panel we collaborated with Bright Choices, The Noisy Movement, Sisters Uncut Edinburgh and several other organisations. In collaborating with these organisations, we wanted to raise awareness of various female experiences. We pride ourselves on our intersectionality. It is through creating a conversation about these various issues including gender-based violence that we hope to tackle even the everyday issues facing students on campus. In changing the way we talk about these issues, our hope is to normalise the conversation. Taboos surrounding everything from menstruation to sexual harassment to female genital mutilation are rife across the world. Whilst we are lucky enough to be able to discuss these issues openly, many women around the world are not as fortunate. We, as a society have taken it upon ourselves to give a voice to the voiceless. It is only by educating ourselves on these issues and practising using our voices can we begin to effect change in our societies.
We accept we have taken on an enormous mission here, the challenges that women face around the world are extensive. However, such a valuable mission deserves a lot of attention. Working with the UN Foundation and as part of a global organisation of women has given us a lot of influence as a society to be able to tackle the most significant issues facing women around the world.
To keep updated with our campaign, follow us on social media and/or email us to sign up to our mailing list receive updates on our weekly events. We hope you'll join us this academic year in our plight to end gender-based violence.
Find out more:
Like Girl Up Edinburgh on Facebook
Follow Girl Up Edinburgh on Instagram
Email them on: girlupedinburghcampus@gmail.com