Climate crisis from the lens of a zoologist
Climate crisis from the lens of a zoologist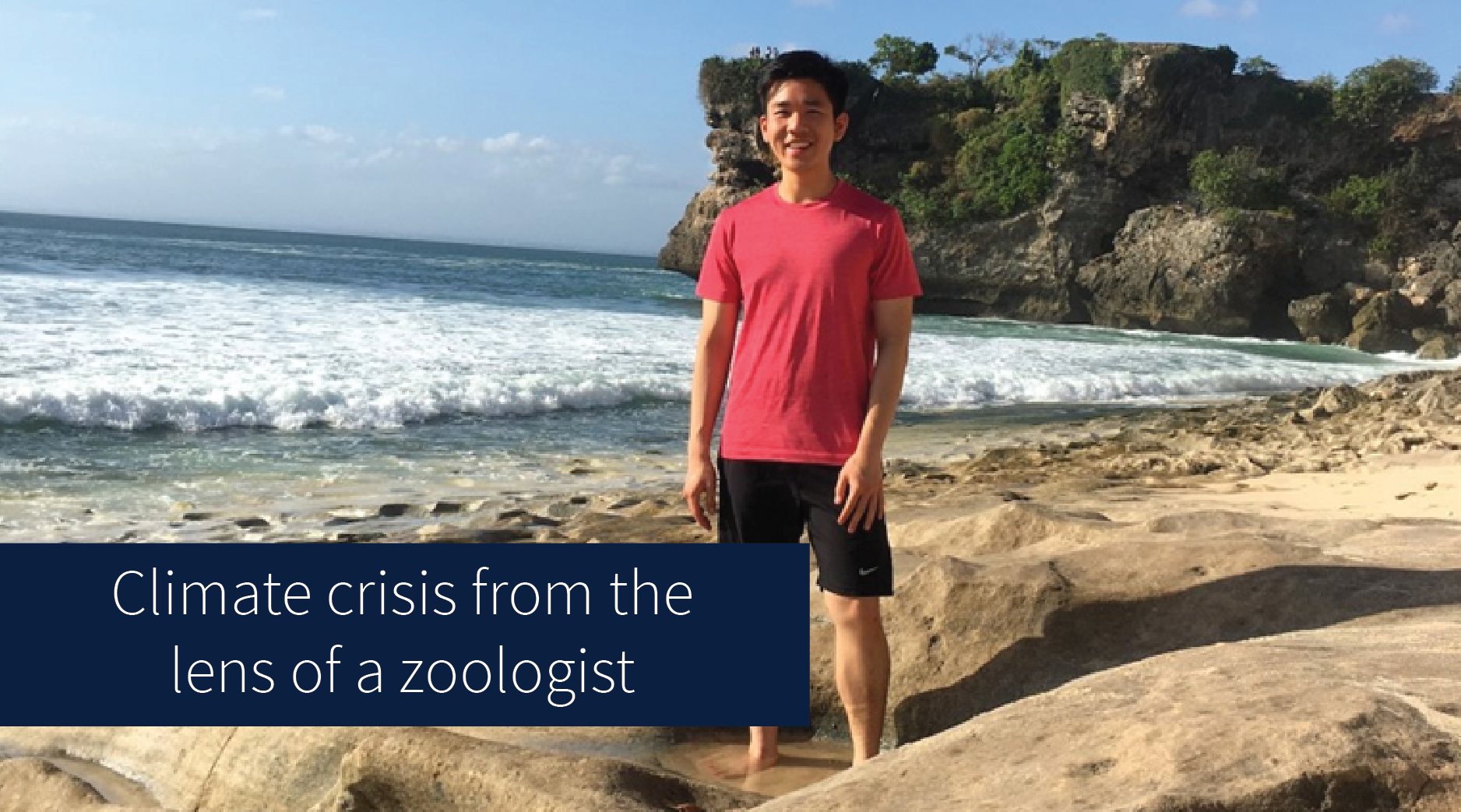 Fourth year Zoology student Nathan Oenardi explains why budding zoologists should take a keen interest in the effects of the climate crisis.
Hi, I'm Nathan. I've spent some time researching the impact of the climate crisis on animals, and want to share my findings with other students at Edinburgh so they can get inspired and involved in tackling the climate crisis. During my research, I found that many animals are not able to keep up with the rapid rate of climate change. Without being able to adapt to the surrounding conditions, many species may become extinct in the long term.
What is the climate crisis?
There is strong evidence the recent unprecedented climate change is caused by humans. The Earth's temperature has been increasing over the last few decades. In fact, according to the National Oceanic and Atmospheric Administration (NOAA) 2020 was the second-warmest year on record. The COP26 in Glasgow was important to encourage world leaders to take ambitious actions to keep global warming below 1.5 degrees. Not only temperature, rising sea levels and increasing wind and rainfall patterns have been attributed to the anthropogenic climate change. On top of that, extreme weather events e.g. heat waves, cold spells and heavy rainfall or snowfall, have occurred more often than they did in the past.
Mapped: How climate change affects extreme weather around the world [External]
How does climate change affect wild animals?
Organisms can respond to environmental change in four different ways. They either move to a better location, acclimatise and /or evolve, or become extinct.
Movement of organisms towards higher latitude or elevation, also known as range shifts, have been observed across many taxa e.g. trees, birds, and butterflies.
Individuals can alter their physiological and behavioural mechanisms to suit the environmental conditions in the short term, also known as phenotypic plasticity. Acclimation is a special case of plasticity.
If the changes have a genetic basis i.e. the change in the physiological, morphological and behavioural of individuals is due to changes in the genetic sequence over time, individuals have undergone evolution. For example, earlier migration date in sockeye salmon and earlier egg-laying date for great tits to match caterpillars' emergence.
The last option is probably the most intuitive, species extinction. A study suggests that we are entering a sixth mass extinction due to the rapid rate of global biodiversity loss. This is supported from studies across local, regional and global scales.
Study: Entering the sixth mass extinction [External]
Why should (zoology) students care about the climate crisis?
Scenario 1: "What if I have nowhere to go?"
This is particularly true for species on the edge of their ranges e.g. mountain tops. As mentioned above, many species have shifted upwards in elevation as a result of climate change. Temperature decreases with altitude so species are finding habitats that match their original environmental conditions. When there are no more habitable spaces to move and their current habitats are no longer favourable, they die. Understanding whether mountain-range species can be translocated to and reproduce in other low elevation habitats is important because there is no other way to conserve them.
Llamas are one of the animals that live in the mountainous regions.
Scenario 2: ''What if I am slow at evolving?"
When the rate of climate change is too fast, it can be difficult for species to adapt i.e. keep up with the rate of environmental change. Wild populations may be at alower local optimum than before, resulting in a reduced fitness. This phenomenon, also known as adaptational lag, is mostly investigated in long living trees andherbs. In an experiment, Arabidopsis thaliana populations from the Southern (warmer) sites outperformthe Northern populations in each latitude they tested. This study suggested that the local optimum have changed due to climate warming and that resident populations are not as well suited to their environmental conditions compared to immigrant populations in that area. Understanding adaptational lags in different species is important because conservation management might mean moving Southern populations of a species to their Northern ranges.
Populations of great tits in the UK respond to climate change better than populations in the Netherlands. This shows that the rate of evolution of populations of the same species are different.
Study: Lagging adaptation to warming climate in Arabidopsis thaliana [External]
Scenario 3: "What if the rare species are gone?"
Similar to our society, each species in an ecosystem has a role to play. The more important the role of the rare species is in an ecosystem, the more devastating theeffects of their losses are. This can range from increased chances of biological invasions i.e. establishment of an introduced species to an ecosystem, to increased fluctuations in the ecological food pyramid. When top predators disappear because their habitats are threatened, most herbivore populations soar rapidly and as a result the vegetation composition in an ecosystem decreases. Changes in the plant composition can result in changes in the abundance and diversity of species because plants provide food and habitat to other organisms. Understanding how the removal of important rare species affect ecosystems is important to mitigate the effects of their losses.
Removal of predators such as otters may negatively affect the coastal plant communities and the ecosystem services they provide.
Final thoughts
Despite how dreadful the future may seem, uplifting blogs such as Conservation Optimism are important to keep our hopes up and inspire change.For example, an extinct fish was reintroduced in Mexico in last year!
However, the Earth is losing species at an unprecedented rate and resources for conservation are limited, so we need to prioritise our conservation efforts. But how? That depends on many criteria and whom you talk to. Regardless of what you decide, doing something good for our planet is better than doing nothing.
Conversation Optimism [External]
Chester Zoo: Extinct fish reintroduced in Mexico [External]