From COVID-19 to climate change: collective action is key
From COVID-19 to climate change: collective action is key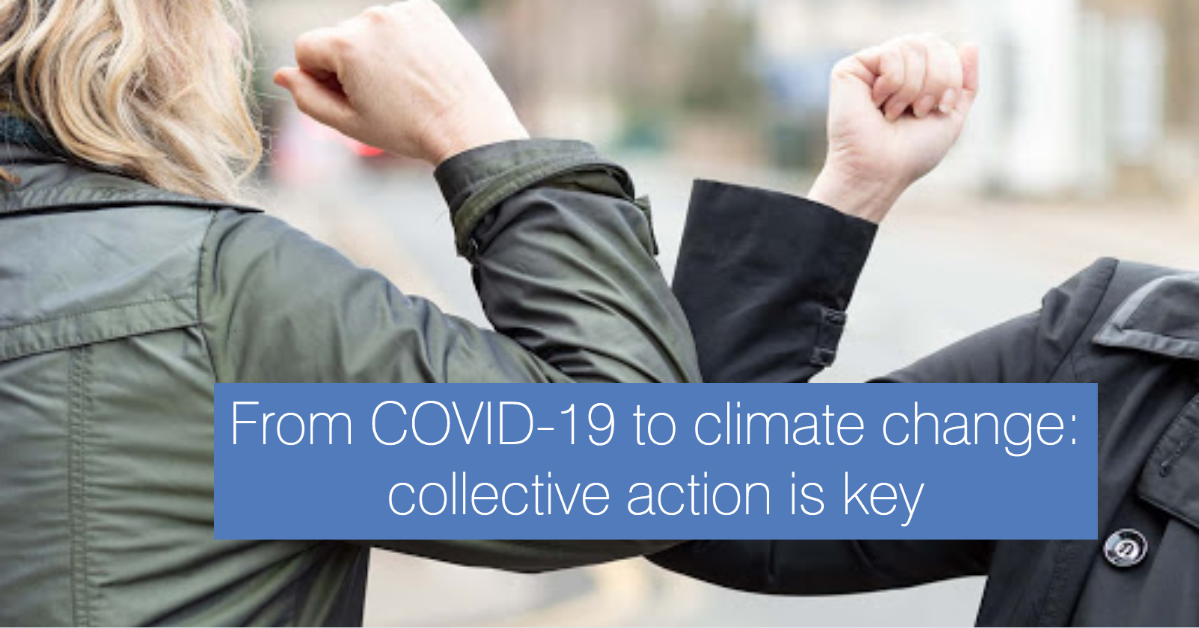 Meg McGrath, our Communications Coordinator, explores the necessity of collective action to tackle crises like the climate crisis and the COVID-19 pandemic.
These are very uncertain times for the world. One thing that the outbreak of COVID-19 has shown us is that in times of crisis, communities and individuals understand the importance of coming together to support each other.
Of course, this 'coming together' also has to coincide with social distancing. The very best thing you can do for your community right now is to physically avoid as much contact as possible; but cultivate connections in other ways that can keep us all safe.
Mutual aid
Since the outbreak, we've seen people who were previously inactive in their communities setting up mutual aid groups and neighbours who have never spoken before getting the other's medication, groceries and checking on each other's wellbeing. Whole organisations are restructuring to help meet demand for hand sanitiser or provide food for those that need it.
Amidst all the uncertainty and stress of the pandemic, we must celebrate this resurgence of community and collective action. As Fred Rogers says, let's "look for the helpers". Not only for the sake of our individual mental health, but for the benefit to society as a whole.
Collective approaches are essential to ensuring our own health and wellbeing. Temporary housing has now been provided to those experiencing homelessness in London as part of public health policy. We must also tackle other areas of social injustice to prevent the worsening of crises. Jonathan D. Quick, the former chair of the Global Health Council, says we are "only ever as safe as the least safe place", so let's make places as safe as we can for everyone in society.
If any good can come from this, it's the opportunity to create mutual aid networks that will be lifelines for people in coming years.
We've seen public feeling being rightly critical of individualistic actions like stockpiling goods, to the particular detriment of those who survive pay cheque to pay cheque and shift workers. These groups of people are more likely to be who the government are labelling "key workers": those responsible for the care, health and education of our families; those restocking shelves; those producing vital goods and those generally keeping the country afloat. A viral video of a Critical Care Nurse begging others to stop hoarding food after she couldn't buy anything after a 48 hour shift brought national attention to the direct consequences of self-serving approaches.
Cultivating solidarity
When facing collective threats, it's vital to create a sense of social solidarity.
This is defined as:
"An element of human association that emphasises the cohesive social bond that holds a group together, which is valued and understood by all group members."
Having social connections has been proven to increase your likelihood of surviving a pandemic. This attitude not only supports wider public health, but also leads to better policies for wellbeing.
People are reframing social distancing as an act of solidarity. For many immunocompromised people and those with immunocompromised loved ones, having their peers and neighbours limiting their exposure, even if their own health wouldn't suffer dramatically, is fundamental to their survival. After all, though only a small proportion of us fall into the category of "vulnerable" in relation to the virus, almost all of us will love someone who does.
A globalised world has meant we rely on our neighbours and fellow citizens far less than we used to. Global supply chains mean our essential items and services come from far away, instead of relying on our neighbours and co-workers in local industries for these.
The institutions that would once unite communities like places of worship, political parties and trade unions have all seen severe reductions in numbers in recent years. Many community and youth centres around the country have also been closed as a result of the series of cuts to public services over the last decade. Paired with politics polarising us more than ever, it's no wonder that the collective feeling of interdependence with one another has been compromised.
An opportunity for change?
However, times of crisis can bring with them the opportunity for huge change. It was the influenza outbreak in 1918, responsible for 21 million deaths, that created the initial appetite for a centralised health care system to administer vaccines and treatment. This was further built on after UK citizens participated in collective acts for food rationing, food growing and blackouts fostered interconnectedness during the Second World War, shortly after which the National Health Service was created in 1948 by Aneurin Bevan.
For real, community-driven action, we also need to ensure everyone can be brought along with us. That means ensuring narratives around who and what is to blame for crises do not land at the wrong feet, and there is no discrimination against any group of people, even under the guise of concern. We need to call out any naming of COVID-19 as a singular country's issue, and any resulting discrimination against a people due to this narrative. After all, the diseases transmitted to native people when countries were invaded as part of the pursuit of global empires in the 15th century were responsible for wiping out vast swathes of people, but Smallpox or Measles are not named after those nationalities directly responsible for the mass infections.
What does this mean for the future?
We've seen these values in action during recent flooding in the UK, where groups were set up to help distribute sandbags and essential food supplies for those affected. Extreme weather events such as flooding and droughts will only become more frequent as the climate crisis worsens.
If any good can come from this, it's the opportunity to create mutual aid networks that will be lifelines for people in coming years.
The World Health Organisation is now recommending avoiding the term 'social distancing' and replacing it with 'physical distancing' due to how vital maintaining social connections are. Whilst we may not be able to connect with our community in the usual ways, we are still able to forge and maintain connections to those around us.
This is a frightening and unprecedented situation we've found ourselves in, but let's do what we can to have some good come of it. Let's remind ourselves what values society should, and can, be centred around. Let this help us realise what is really important in our lives.
Let us never take the embrace of a loved one for granted again, the catch up with an old friend over a cup of coffee or the long, carefree walks in our favourite park.
In short: individualistic attitudes will neither get us through this pandemic, nor will it through the climate crisis. We are all in this together. Find a role for you within your local community, either using an existing skill or developing a new one. Share resources, to help those less fortunate than ourselves and look after your neighbours and loved ones.
What you can do:
Join a mutual aid group. Edinburgh's can be found here, if you're not based Edinburgh, find a list of others here.
Spread the word about the University's Community Grant scheme to help local organisations
Buy a voucher for a local business to help support them
Offer to help virtually teach/entertain people with children now at home
Donate online to a local food bank
Check in on your friends, family and neighbours. With a lot of jobs currently insecure or already being lost, (virtually!) see if they are in need of any support
If you're a student at the University of Edinburgh, join EUSA's Virtual Neighbourhood