New chillers save water in the School of Chemistry
New chillers save water in the School of Chemistry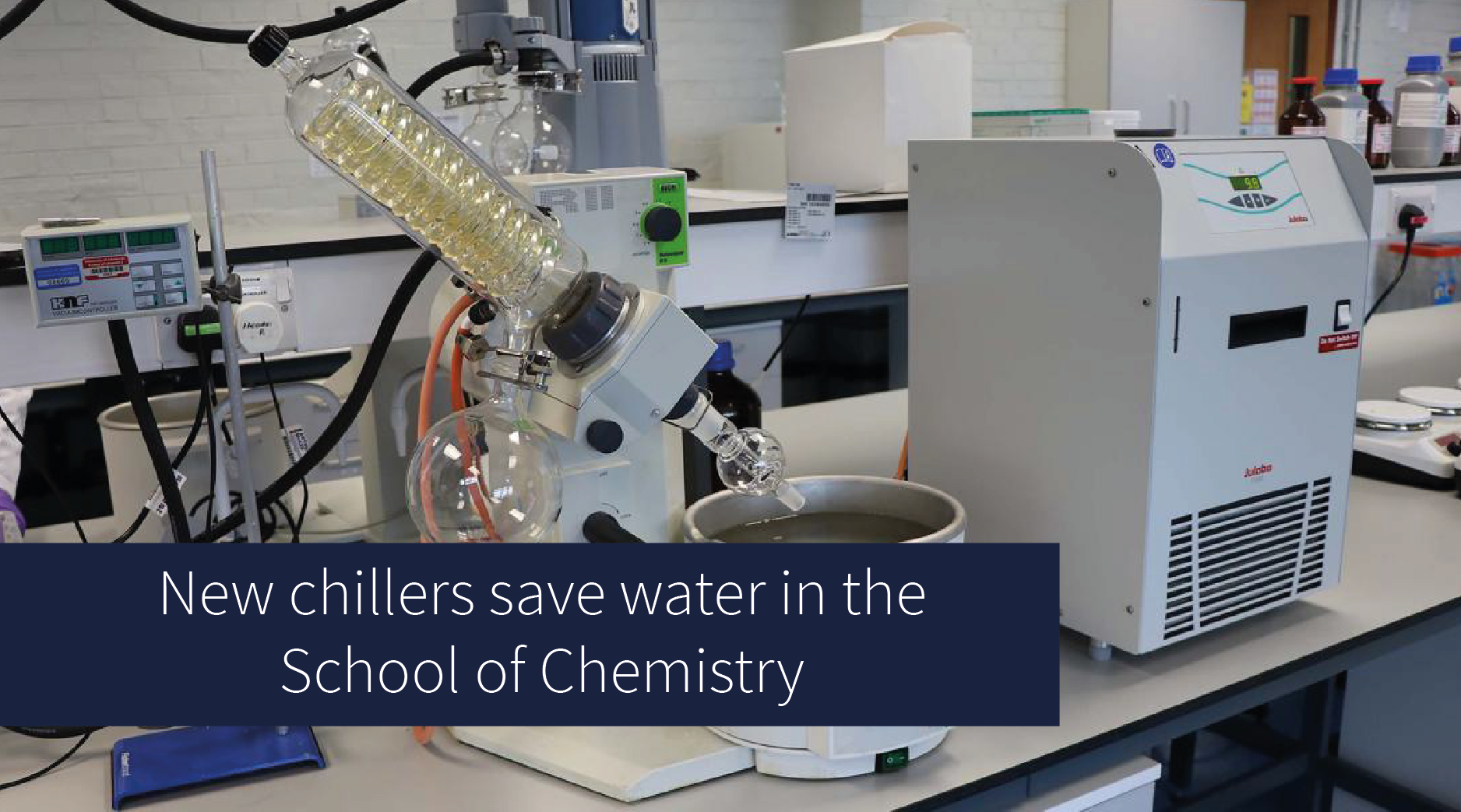 Both teaching and research labs in the School of Chemistry have made successful applications to the Sustainable Campus Fund to purchase efficient new chillers to save water and utility costs.
This blog post was first published in 2019 as a Sustainable Campus Fund case study on the Department for Social Responsibility and Sustainability website.
Successful applications
In 2018, both the Inorganic Teaching Labs in the Christina Miller Building and the Joseph Black Labs – a research facility – made successful applications to the Sustainable Campus Fund to purchase new energy-efficient chillers. The chillers bring multiple benefits to the labs by drastically saving the amount of water used in the cooling of experiments, and also improving the quality of research through enhanced temperature control and reduced physical and reputational risks.
Inorganic Teaching Labs, Christina Miller Building
Until September 2018, the Inorganic Teaching Labs in the School of Chemistry's Christina Miller Building did not have chillers; students removed heat from equipment, such as rotary evaporators, through the use of running tap water. This used large volumes of water and required many metres of rubber pipes which posed a potential trip hazard to staff and students.
The Lab's staff successfully applied to the Sustainable Campus Fund to purchase 3 modern Huber Minichiller 600 chillers, which are able to circulate a cooling liquid, such as water, with minimal draw from the main water supply. One chiller unit can cool multiple rotary evaporators, significantly reducing water usage from student experiments.
The team calculated that the three chillers will bring almost £3,400 in cost savings and 1.5 tonnes of carbon savings within a payback period of 2.9 years.
Joseph Black Labs
In a separate Sustainable Campus Fund bid, three more chiller units were purchased by staff in the research labs of the Joseph Black building. Compared to their previous set-up of mains water-fed rotary evaporators, the new chillers also recirculate water and allow for precise temperature control, which in turn lessens the strain on vacuum pumps, thus increasing their lifetime.
The staff estimate that within one year, the chillers – which are used more intensively than chillers in student labs – will have saved 4,320 m3 of water; enough for 26 x four-person households for a whole year. They will also save £8,700 in water costs. Taking into consideration the cost of running the chillers – approx £320 per year in electricity – this still equates to an overall saving of £8,430 and a payback period of just under one year.
The Sustainable Campus Fund is really easy to apply for, I've been involved in applications that amount to over £100,000 worth of savings. I really recommend getting in touch with the Department of Social Responsibility and Sustainability, they offer lots of support in your calculations and the general process.
Stewart Franklin
Technical Officer for the School of Chemistry
Multiple benefits
While the carbon savings of chillers are small, this is balanced by:
significantly improved water efficiency
improved research conditions
improved space efficiency in fume cupboards due to less piping
reduced risk of flooding in labs and associated costly damage to equipment, research and building fabric
reduced reputational risk: researchers and students from countries affected by water shortage may study in labs using significant amounts of water
The new, modern chillers also have the added benefit of temperature control, letting researchers and students control the exact temperature at which experiments are cooled to.
What is the Sustainable Campus Fund?
The Sustainable Campus Fund is an internal investment vehicle that finances projects within the University that will improve energy efficiency or use or produce renewable energy, as well as other types sustainability projects that generate cost and carbon savings. The fund is managed by the Department for Social Responsibility & Sustainability and delivered in partnership with the Estates Department.
Anyone at the University – staff and students – can propose projects for the fund. Once a project is proposed, we will advise and support the development of the project before submitting it to the Utilities Working Group for approval.
Can you think of a project that will help the University to save carbon and generate cost savings? Register your interest in the fund and get support to develop your idea today.