Eight energy efficient freezers at Queens Medical Research Institute
Eight energy efficient freezers at Queens Medical Research Institute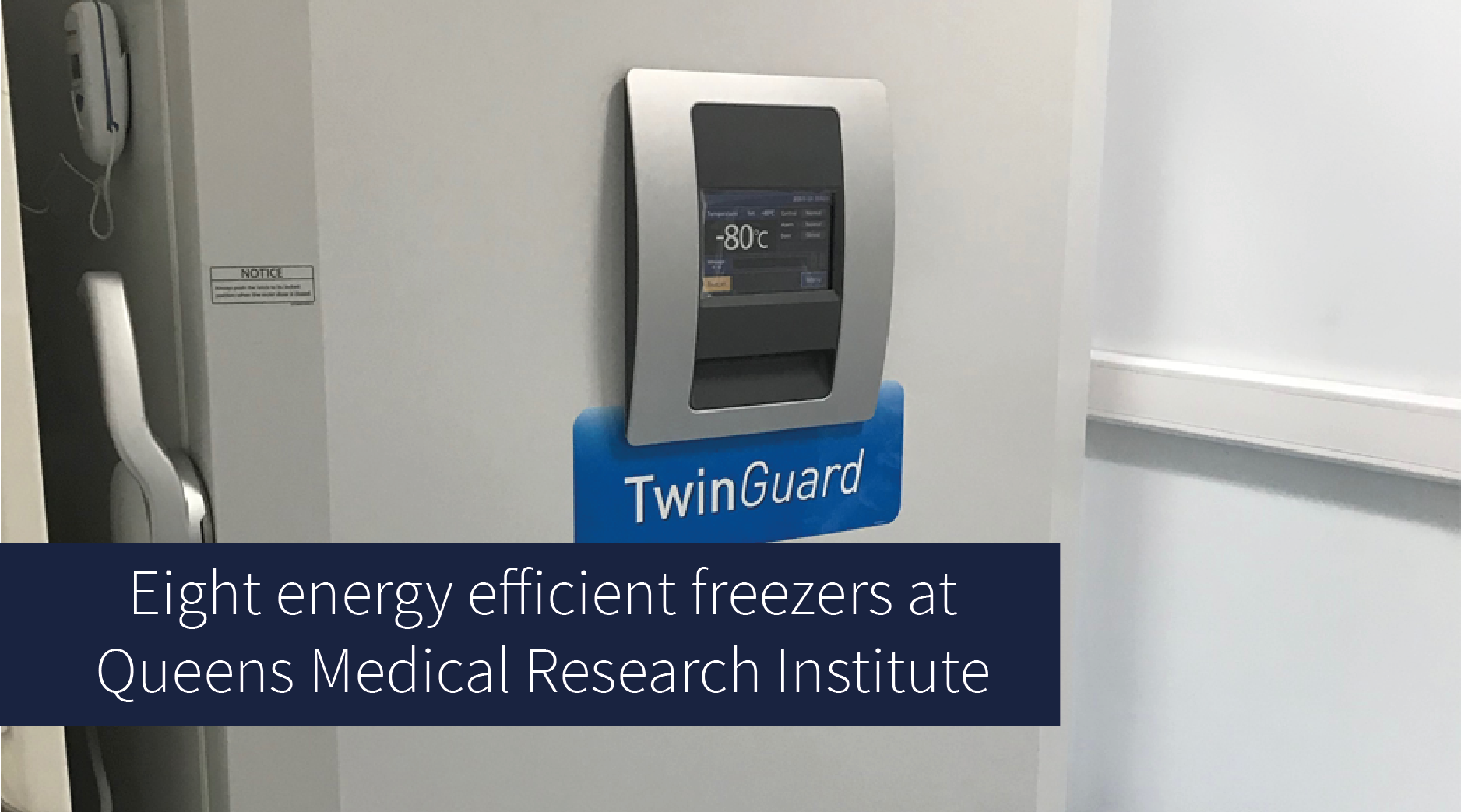 Neil Johnston, Laboratory Manager at the Centre for Cardiovascular Science, tells us how the centre is saving energy after using the Sustainable Campus Fund to purchase more efficient freezer equipment.
​This blog post was first published in 2020 as a Sustainable Campus Fund case study on the Department for Social Responsibility and Sustainability website.
New efficient freezers and energy-saving items
Neil applied for £10,600 of funding to purchase seven efficient ultra-low temperature (-80°C) freezers, one efficient -20°C freezer, and other energy-saving items.
| | |
| --- | --- |
| Number of freezers | 8 |
| Total funding awarded from Sustainable Campus Fund | £10,600 |
| Tonnes CO2 saved per year | 11.29 |
| £ saved per year | £3,797 |
£1,500 is the maximum grant per freezer through the Sustainable Campus Fund.
Across the whole campus, Sustainable Campus Fund freezer projects are saving £10,674 in electricity and 32.6 tonnes CO2 annually (as of December 2019).
Old, inefficient freezers
With most freezer equipment reaching 15 years old, and some as old as 30 years, energy performance was poor, and breakdowns were becoming more frequent. In 2019, one repair cost £2,500. An internal review gave the push needed to replace some of the old freezers and apply for the Sustainable Campus Fund.
The Sustainable Campus Fund process
Neil Johnston, the Laboratory Manager, is the central contact for buying new equipment. This is because he is familiar with the process, completes the paperwork, and does the energy monitoring. Sustainability is part of his lab management role for the Centre for Cardiovascular Science.
Neil fills in the forms, and the individual making the request speaks to their preferred supplier. Neil already has a relationship with most freezer companies who send him energy data on new products. Neil submits the Sustainable Campus Fund application.
The Centre's Floor Manager is responsible for collating data on equipment purchased and energy usage each year. By sharing this with colleagues like Neil, staff understand how much energy is used by various pieces of equipment, and where the greatest efficiencies can be made.
We heard about [the Sustainable Campus Fund] through the Technician's Commitment. There was a discussion about freezers and it was highlighted… there was a real spark of interest from the Technician's Commitment. Now we promote it through our sustainability committee.

I'd like people to engage with [the Sustainable Campus Fund]. It's straight forward. Everyone I've engaged with has been helpful.
Budget freed up for other useful purchases
The budget that would otherwise go towards freezers, were it not for the Sustainable Campus Fund, is available for other useful items such as metal racking and compartments to be placed in -80°C freezers. This not only rationalises and makes it easier for them to see and organise their samples, shortening the time the door needs to be open and saving energy, but removes dead space and 'warm spot' areas inside the freezers.
Remote freezer temperature monitoring devices enable lab users to keep track of the conditions their samples are being held in, even when they are away from the lab. These monitors raise alarms if the temperature rises above a critical level, prompting quick remedial action. These have also been purchased with budget offset by the Campus Fund.
Find out about cold storage best practice
What is the Sustainable Campus Fund?
The Sustainable Campus Fund is an internal investment vehicle that finances projects within the University that will improve energy efficiency or use or produce renewable energy, as well as other types sustainability projects that generate cost and carbon savings. The fund is managed by the Department for Social Responsibility & Sustainability and delivered in partnership with the Estates Department.
Anyone at the University – staff and students – can propose projects for the fund. Once a project is proposed, we will advise and support the development of the project before submitting it to the Utilities Working Group for approval.
Can you think of a project that will help the University to save carbon and generate cost savings? Register your interest in the fund and get support to develop your idea today.
​