reuse and recycling
Food for thought: fighting food poverty in Covid-19  
Food for thought: fighting food poverty in Covid-19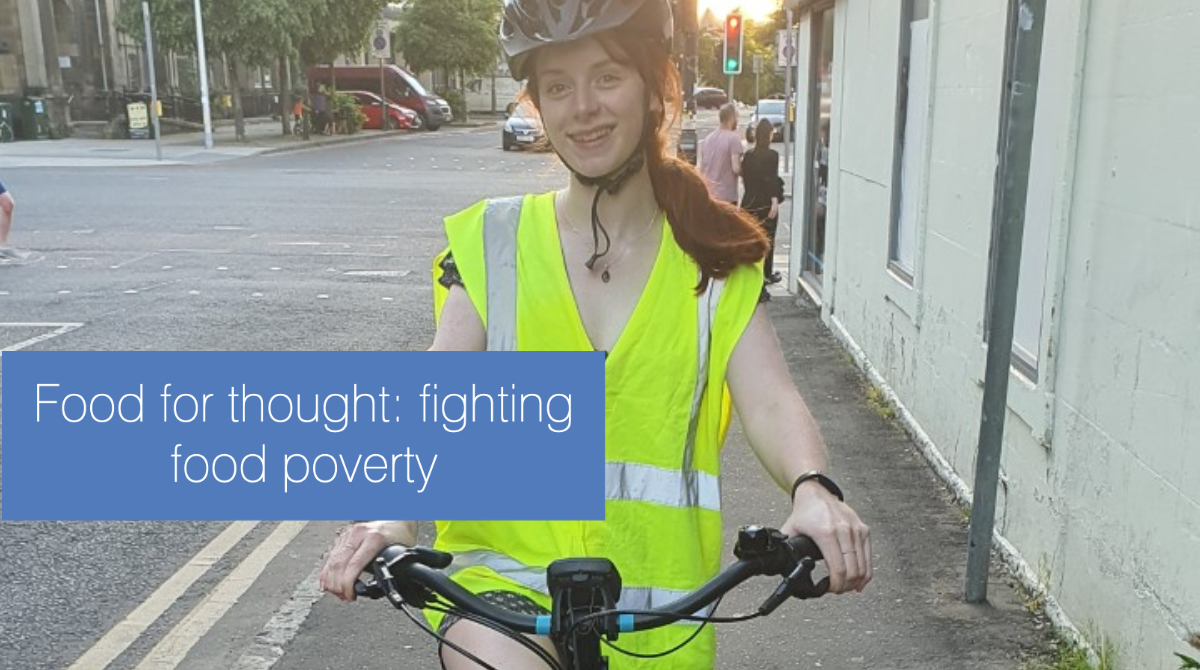 Covid-19 has not only been a healthcare crisis, but has also exacerbated existing tensions in our food systems. Meg McGrath, a Communications Coordinator at the Department for Social Responsibility and Sustainability, discusses the impacts of Covid-19 on our food system and her experience of supporting local efforts to redistribute food to ensure no one goes hungry. 
One thing that has woven together many of our lockdown experiences is food. Whether you baked sourdough, banana bread or made whipped coffees, all of which took social media by storm during lockdown, it has been impossible to ignore how many of us found solace in food. But whilst some of us were sharing recipe tips with strangers, more people than ever were going hungry in the UK. 
The beginning of lockdown saw people panic buying dried and tinned food, UHT milks and somewhat bizarrely, many rolls of toilet paper. This not only limited many people's access to these items, but also meant there were fewer donated to food banks as people prioritised stocking their own cupboards and shelves. Covid-19 has exposed the vulnerabilities in our food system and the reality of how many people are on the brink of food poverty within our communities. Prior to lockdown, 8.4 million people already experienced household food insecurity in the UK. Over the last few months, that number has seen an exponential increase, with food banks struggling to meet the new levels of demand.
In the first month of lockdown, the number of families relying on food banks doubled, and three million adults were estimated to have gone hungry. By May 2020, the Food Foundation reported that 5 million people in the UK living in households with children under 18 had experienced food insecurity since lockdown began.  
Of these 5 million people, 3.2 million people (11% of UK households) were suffering from food insecurity due to other issues such as loss of income or isolation, with 200,000 children having had to skip meals. Long after social distancing restrictions eased, the harm the pandemic has caused to citizens and our food system will remain. Many will still continue to be reliant on community-led networks and organisations for access to food. 
Ensuring everyone has food to eat need not be a temporary response to a pandemic, but part of the bedrock of a functioning, successful society.
Why has this happened?
There are multiple, complex factors contributing to food poverty and insecurity in the UK. A large reason for this is a condition of residency in the UK, known as "no recourse to public funds", which means some people are not able to apply for state benefits like Universal Credit. This a condition of certain immigration statuses, like Leave to Remain, which a person can hold for almost a decade. This meant that some people who lost their jobs prior to the furlough scheme starting could gain no support from the government, leaving them solely reliant on charity for access to basic sustenance. 100,000 children are estimated to be in families who have no recourse to public funds.
Even those that were able to sign on to the benefits system had to wait for the standard five weeks before receiving any payment. For many people living pay check-to-pay check, a sudden job loss and this gap in attaining support meant relying on charity was the only way they could put food on the table for their families.  
Stay Home Skill Share
 When lockdown was first enforced, a stubborn feeling of guilt rooted itself in the pit of my stomach that no number of daily walks or calls with loved ones could budge. I know tackling climate change on an institutional level is vital for the long-term health of our planet and its participants, and am always grateful to contribute in a minor way towards this in my role in the Department for Social Responsibility and Sustainability, but I was desperate to find a way to contribute to efforts to deal with the immediate crisis unfurling before us all. 
Many of my friends were classed as key workers, and instead of work slowing down, their jobs suddenly became more dangerous and urgent than ever. I knew my only engagement with this pandemic couldn't be through absorbing the harrowing updates of the daily death tolls. When I was reading articles about the sudden increase in demand from food banks, I became determined to find a way I could help fundraise for these organisations alongside working from home. 
I was so inspired by how many mutual aid groups were created in the first few weeks of lockdown, which coordinated communities collecting and delivering food, medication and other essentials for their neighbours. But with many suddenly finding themselves rapidly exhausting their usual methods of entertainment whilst housebound, I felt like the gap in finding joy in new hobbies and skills hadn't yet been explored. With this in mind, 'Stay Home Skill Share' was born! 
 The idea was to create a virtual skill sharing group, which matched those that had a skill or knowledge to share with those who wanted to learn one. People donated their time to teach the skill for free, with those learning the skill donating what money they could to the group's fundraiser for The Trussell Trust, who distribute food via over 1,200 food banks across the UK. The organisation also campaign to change the economic systems that lock people into poverty and to create a society where food banks are no longer needed.
As many people have lost all or part of their income over the last few months, this group enabled those without the financial means to contribute to donate their time instead. Over 45 skills were listed, with everything from embroidery, British Sign Language, yoga to lessons in 7 different languages being offered!  
In a little more than 6 weeks, we raised over £1000 for food banks across the country and people who were once strangers were now teaching each other to crochet, speak a new language or belly dance, despite being hundreds of miles apart. Even my cousin, who lives in Australia, worked around the time difference to learn from people on the other side of the world! 
Food redistribution
I saw a call out on social media from a local charity, Simon Community Scotland, asking for volunteers to help collect surplus food from supermarkets and redistribute it to local shelters. Over the last two months in twice weekly collections using e-cargo bikes, we've collected our bodyweight in bread many times over, sometimes with many hundreds of loaves of bread and many trolleys full of excess food in one evening alone. The food was shared via a collaborative network across the city, stocking hostels, temporary accommodation and food banks. Some of the food is made into nutritious and free meals which is shared through the Empty Kitchens Full Hearts organisation based in Leith, another new initiative set up in response to Covid-19. I truly cannot commend the work these charities do in connecting people and coordinating large networks of volunteers to ensure no one goes hungry.  
Covid-19 has exposed gaping flaws in the structure of our society, which organisations like the ones above have voluntarily attempted to fill. Other positive initiatives around access to food have sprung up across the UK, such as a bowling green in Manchester that was repurposed into an urban farm to help provide food for local citizens. Additionally, a successful campaign led by England football player, Marcus Rashford, pressured the government to continue funding free school meals over the summer holidays for children who rely on them during term-time. Ensuring everyone has food to eat need not be just a temporary response to a pandemic, but part of the bedrock of a functioning, successful society. Restructuring how we produce, distribute and sell our food is vital; especially as the climate crisis will only worsen problems with food security. 
Food is so much more than sustenance, it is political. It's woven into each of our identities and the act of eating communally is steeped in history. In fact, regularly eating alone is proven to be the single biggest factor for unhappiness besides existing mental illness, and our ageing population means the issues of loneliness and social isolation are worse than ever. Food could be a solution, if we choose to make it one. 
A globalised world has meant we rely on our neighbours and fellow citizens far less than we used to. Global supply chains mean our essential items and services come from far away, instead of relying on local economies and small businesses for these. As we adapt to an ever-warming world, a more localised, small-scale approach to food production and distribution will not only embed resilience into our food systems, but also reduce the carbon footprint of the food we eat.  
Fight your own food waste:
Read our 'How to grow food from scraps' blog
Find out how the University supported the local community during Covid-19
Check out the Heart Squirrel Cooperative, based at the University
Got food you won't eat? Offer it to a neighbour via the Olio app