Women in the Climate 75: María uses shrimp shells to improve water quality
Women in the Climate 75: María uses shrimp shells to improve water quality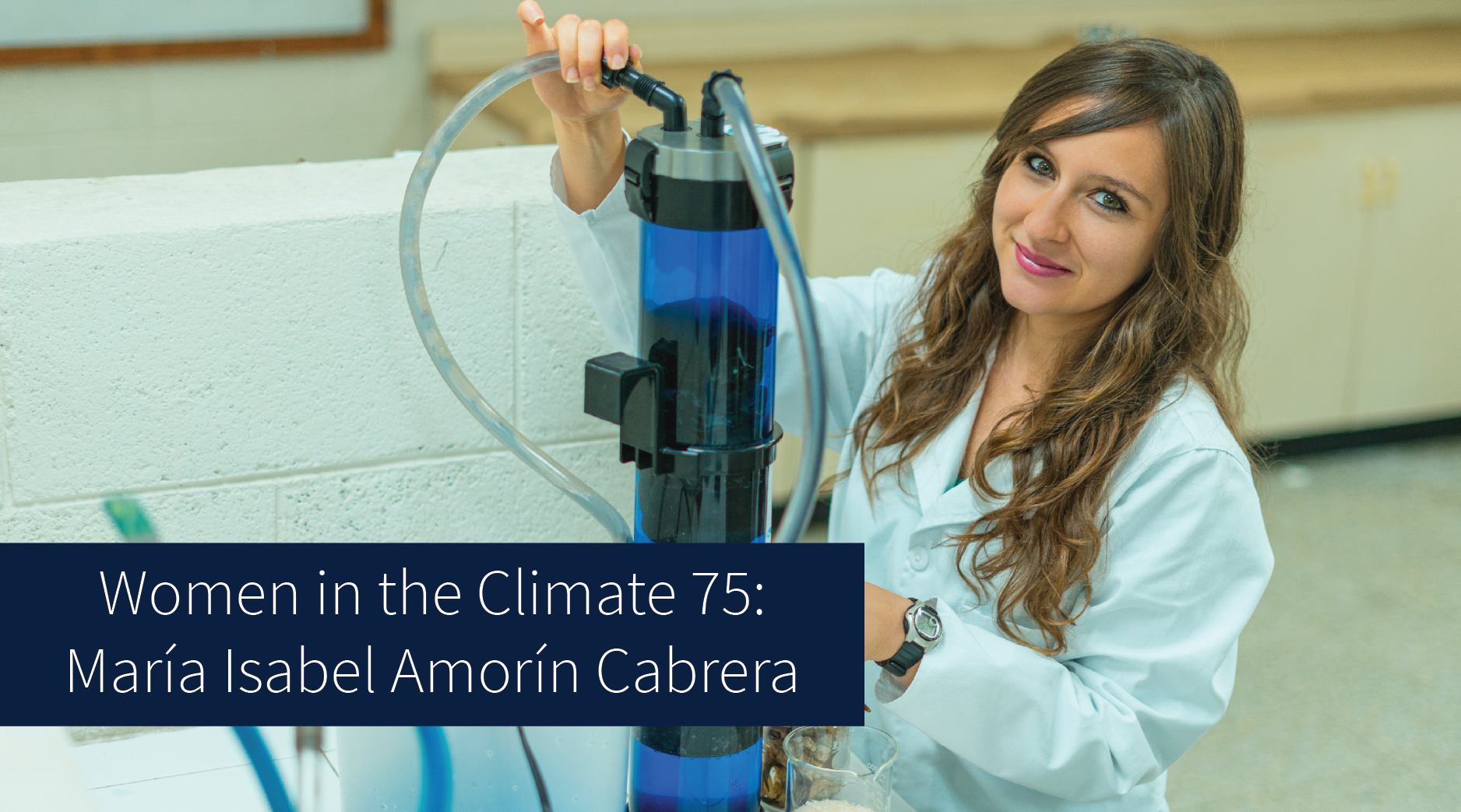 In 2018, María Isabel Amorín Cabrera founded her company CrustaTec, that uses shrimp shell waste for wastewater treatment. The company has won many awards already and has not stopped developing. We spoke with her about her inventions, her travels around the world and how biorefinery gives her hope for a sustainable future.
For International Women's Day, MSc Science Communication placement students want to spotlight some of the women that are part of the Climate 75, the list of University of Edinburgh alumni who are making a difference in sustainability and climate change.
Using shrimp shells to improve water quality 
From Guatemala City, on Teams with a six-hour time difference, María explains the innovation that she developed. 
Here in Guatemala we have two problems. We have this solid waste management problem of the shrimp companies and also the problem of wastewater treatment. So I am extracting and isolating biomaterials from the shrimp shell waste, to obtain a material called chitosan. 

It is in chitosan where the power lies for treating wastewater. It has all the characteristics to absorb textile dyes and make waste clump together (through a process called flocculation) so it can be more easily removed from water. María recognised the opportunity to use the seafood waste problem to solve the wastewater problem.
With the shrimp shell-derived chitosan, she first developed a filter that is currently being used by small textile companies in Guatemala to remove textile dyes from their wastewater. 
It's nice to work with these small companies. Previously, there was no proper way for the treatment of wastewater for small producers because it is expensive and difficult to operate the system of a water waste treatment plant.
In addition to inventing the filter, María worked in Switzerland last year to develop a conditioner using the same chitosan. This conditioner cleans wastewater by making the waste clump together and sink, leaving clear water on top. She is currently working on upscaling her project.
It is inspiring to hear María talk about how her company has developed from starting her research in small beakers in the lab to pilot projects on how to produce larger quantities. Currently, she is looking for funding for implementing a larger facility so her innovation can have an even bigger impact. 
Studying in international Edinburgh
In my masters we had courses that really helped me in the technical area. I can understand wastewater and polymers better and understand more deeply the product that I am making.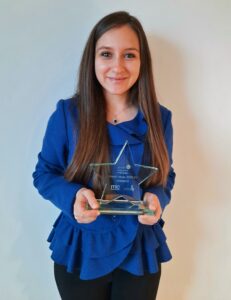 María graduated from the University of Edinburgh in 2021 with a Masters in Materials Chemistry.
She fondly remembers her time at university and talks about how it helped develop her business. 
During her time in Edinburgh María also participated in the Fresh Ideas competition with the Scottish Institute for Enterprise (and won!).
She mentions having advisors from both the University and the Institute helped her to learn how to pitch her idea and how to develop a business plan.
Unexpectedly, one of her advisors also brought perspective on the variety of areas her product could work in. 
One of my advisors in Scotland explained that in Scotland they have a problem with colour too, but from the whiskey production and it was nice to know there are other problems that this product could maybe help with.
This international perspective is a common thread throughout the development of CrustaTec. Apart from her time in Edinburgh, María also spent a month in India to learn about biomaterials and in Switzerland for research into developing the conditioner. This only emphasises the global interest in developing sustainable biomaterials to solve various problems worldwide.  
Being chosen to be part of the University's Climate 75 came as a surprise to María, and an honour. She is looking forward to collaborating with other members of the Climate 75 in the future. 
The innovation category, features people that are trying to integrate research and new ideas, entrepreneurs and founders. It is so amazing!
Hope for a sustainable future
Talking about María's promising innovations leads us to talk more generally about a sustainable future. I think I speak for most students when I say thinking about climate change and sustainability can often be a bit debilitating. It is easy to get stuck in negative emotions, but speaking to María who is actively working on solutions for a sustainable future is very uplifting. 
In terms of chemistry, biorefinery is advancing fast and even big chemical companies are trying to use biomass to produce chemicals that they were producing in another way before. I feel really excited about the future and the potential of biorefinery not just for sea food waste processing, but also agricultural waste, to produce cellulose and nanomaterials with all these biomaterials.
We end our conversation with a recommendation from María to visit Soughton Park near the Pentland House student accommodation: 
It is really nice there, especially in the spring. The first time that I arrived there I was like is this free?
I close the call with a feeling of enthusiasm to see how CrustaTec will continue to develop and how students and alumni from the University of Edinburgh will continue to make an impact in the field of sustainability and climate change. 
Find out more
Quotes have been edited for length and clarity.
Placement student, Iris Henzel, conducted and wrote up this interview, with the help of Xiaofeng Zhou, Xiaohan Yu and Rosemary Williams.