Women in the Climate 75: From forest fires to city spires, one woman's efforts to combat climate change
Women in the Climate 75: From forest fires to city spires, one woman's efforts to combat climate change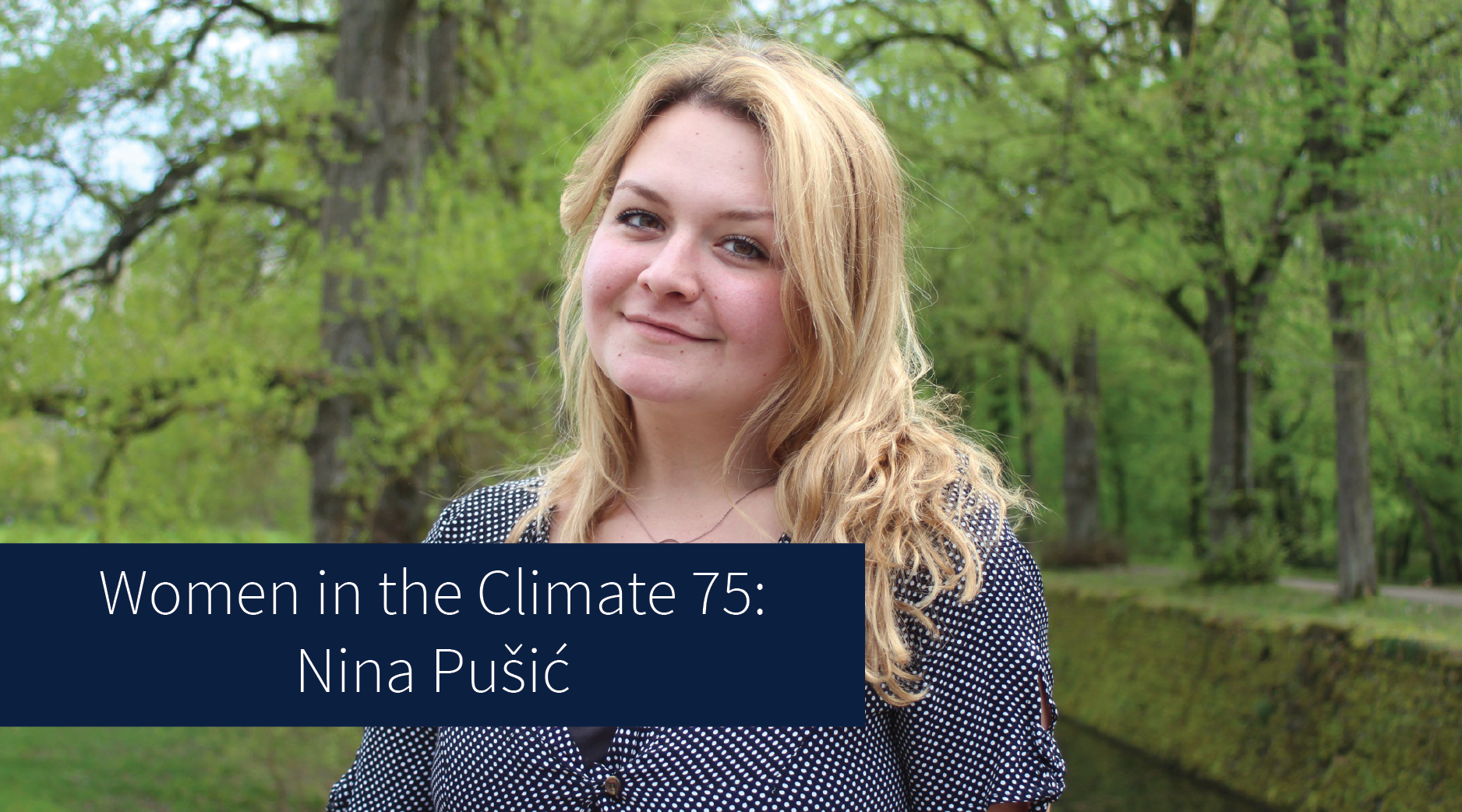 Meet Nina Pušić, an MA in Sustainable Development and LLM in Climate Change Law graduate from the University of Edinburgh. She worked hard to bring Indigenous Peoples' voices to Glasgow's COP26 (the 26th conference of the parties) and currently works with Oil Change International – a company that holds governments accountable to their climate goals by ensuring they only invest in climate-friendly projects.
For International Women's Day, MSc Science Communication placement students want to spotlight some of the women that are part of the Climate 75, the list of University of Edinburgh alumni who are making a difference in sustainability and climate change.
Nina's personal call to climate action
Nina was inspired to go into climate research after a forest fire nearly destroyed her hometown of Dubrovnik, Croatia in 2007.  
It was really scary. We were worried that the forest fires would get to the gas stations and light up the gas and that the whole city would burn up. And it was scary too because it's a very small city and the fire department has approximately 10 people. Because of the forest fires every single man between 18 and 60 was encouraged to go and become a firefighter.
The threat of wildfires is just getting worse globally. An estimated 60 million acres across Australia and nearly 4.5 million acres of California burned in 2020 alone. The increase corresponds to hotter and drier temperatures that elevate the chances of fires starting and spreading.  
Royal Commission into National Natural Disaster Arrangements Report [external]
National Large Incident Report [external]
Indigenous wisdom is central to this fight
One of the groups hit first, and hardest, by climate change are Indigenous Peoples – especially Indigenous women. A recent study found that only 17% of funding intended for Indigenous communities actually reached them, with Indigenous women receiving less than 5% of it.
These communities have fiercely advocated to regain land rights so they can continue caring for land they have protected for millennia. This often includes the practice of controlled burning, a tool integral to sustaining ecosystems and decreasing the risk of large-scale forest fires by removing build-up of dead brush and clearing space for regrowth.
Indigenous Women's Insights – Stewarding the Earth [external]
The world spends billions to 'protect' Indigenous land. Only 17% goes to Indigenous Peoples. [external]
Indigenous Peoples have been represented at COPs in the past, but COP26 approached things a little differently. In addition to the usual representation from Indigenous groups, Nina created multiple day-long events for Indigenous leaders from across the world to come together to share their perspectives and inform the world governments on best practice regarding climate change.  
A pivotal moment was the transition between seeing Indigenous Peoples as just another stakeholder versus seeing Indigenous Peoples as knowledge holders and climate leaders who really need to be at the table, just as governments are. Under the UNFCCC process, government officials are paid to go to the COPs. But Indigenous Peoples outside of this event are not. It's interesting because you have a lot of knowledge, expertise, and leadership coming from Indigenous groups, but they're not always seen in the same light as government scientific experts would be.
(UNFCCC is the UN Framework Convention on Climate Change) 
When asked who she was inspired by most within the sustainability community, Nina lit up and immediately mentioned Hindou Ibrahim – an Indigenous woman she met through her work at COP 26 from Chad whose community has been heavily impacted by climate change.  
She is doing so much in the local, national, and international level to act on climate. You have a lot of kind of very mainstream [advocates] like Greta Thunberg – who's great I love Greta – but I would say there are also so many incredible Indigenous women who are working on climate and who really are doing the most with the least number of resources. I hope that in the future more resources, funding and decision-making-power goes to Indigenous women.
Hindou Oumarou Ibrahim profile [external]
Edinburgh as the bedrock for a career in sustainability
In 2023, the University of Edinburgh was internationally recognized as the most sustainable university in Europe and 4th most sustainable university in the world, and Nina was quick to acknowledge how her experiences here impacted her career path.
University ranks first in UK for sustainability
I loved Edinburgh. I stayed on and [got my climate law degree which] was really, really helpful in basically all the jobs that I've done so far. We had a specific course on the UNFCCC that broke down how COPs and the negotiations work, how the treaty is made etc. And actually, when I finished my masters, I got to do an internship at the UNFCCC, which was very exciting.
She also recommends attending some of the talks organised by the Edinburgh Climate Change Institute or the University's Department for Social Responsibility and Sustainability.
Edinburgh Climate Change Institute
Department for Social Responsibility and Sustainability
It wasn't just the University that Nina loved while she was here. She often walked through Holyrood and Arthur's seat, recalling that her happy place was sitting on the edge of the crags overlooking the city.
A fitting spot, as it was locals who came together in the 1800s to protest the quarrying of these crags for materials. In one of Scotland's first-ever recorded successful environmental movements, the people managed to protect the iconic rocky-wave we can still enjoy in Edinburgh to this day.
When stone from Edinburgh's Salisbury Crags was used to pave the streets of London [external]
Find out more
Quotes have been edited for length and clarity.
Placement student, Rosemary Williams, conducted and wrote up this interview, with the help of Xiaofeng Zhou, Xiaohan Yu and Iris Henzel.
(World Economic Forum / Jakob Polacsek (CC BY-NC-SA 2.0))