reuse and recycling
Changemakers one year on: reusing materials at Edinburgh College of Art
Changemakers one year on: reusing materials at Edinburgh College of Art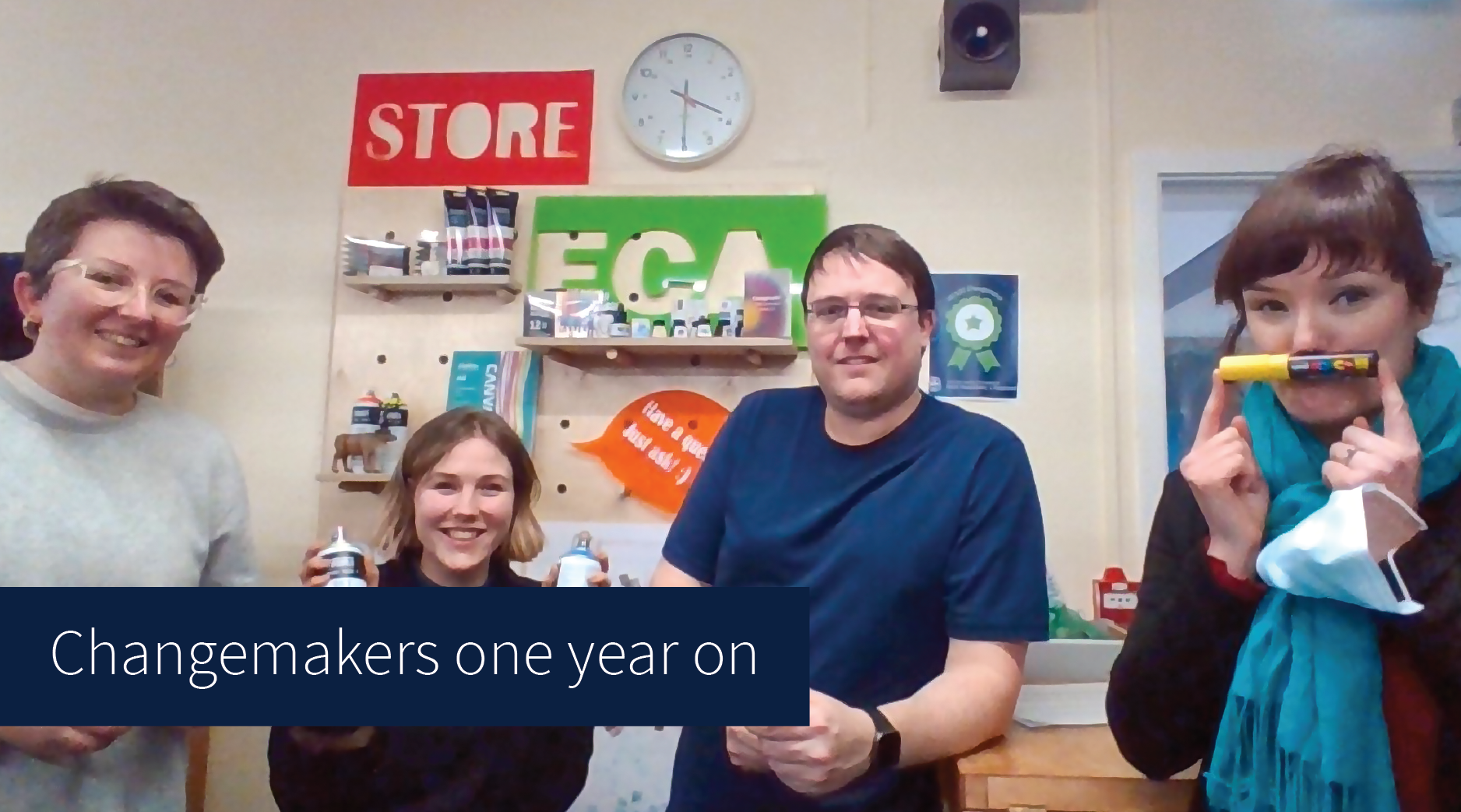 In 2022, the Edinburgh College of Art (ECA) Store won a Changemaker Award for supporting students and staff to access reusable, recyclable and sustainable materials to use in their projects, courses and workshops. Erin Colquhoun, Assistant Technician at the Materials Hub, gives an update one year on.
The past year: high demand from students
Over the past year, the ECA Store has merged together with the Reuse hub. We are now called The Materials Hub. This merger brings together the recycling and reuse of materials with buying art materials. We encourage the reuse of materials to create art, giving objects and materials a second chance.
The initiative to reuse and recycle has continued as The Materials Hub. It is in high demand from students each and every day at Edinburgh College of Art. We saw how important sustainability is for staff and students during Welcome Week.
We filled the shelves with materials and it was completely cleared in the second week of September. Students requested more and more materials each day.
Follow the Materials Hub on Instagram
Positive developments one year on
Increased donations from different areas, including theatre companies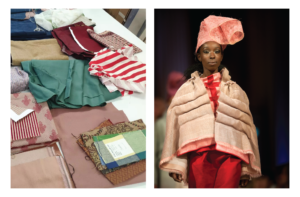 We linked up with more areas to donate products and materials to share with students. This included theatre and costume companies that donated unwanted fabrics and performance costumes; this was a huge success. Fashion and performance costume art students were very grateful for the donations which were reused in some of their new project work.
Improved space, with the help of students
Fourth-year design students suggested how we could adapt the two spaces to make them more eye-catching, welcoming and user-friendly as part of their "swap&shop" project. We were invited to their crit presentations to learn how we can improve our new combined space together with students in mind.
Changes so far:
Brought stock into the shop and placed on top shelves to access easily.
Better price labels.
Bold and vibrant signage.
Online booking for tools to borrow.
Online presence using Instagram.
Working with different areas/projects to combine stock with projects around the University.
Quiet space to enjoy The Materials Hub and take your time exploring materials.
Workshops to learn materials and tools.
Recycling materials from different areas.
Future improvements:
Combine store and hub together to have one overall space.
Have better storage in shop to make the shop look neater and easy to re-stock quickly.
More modern layout and shelving.
Professional development for staff
The team visited other universities to learn how they are becoming more sustainable and to learn from one another. This has helped us to learn if we are on the correct path to achieving similar goals. It also gave us a chance to learn as a team and speak to other staff to learn what their aims are in the future.
The team also took on portable appliance testing (PAT) so that we can recycle electrical equipment that is in high demand, especially for the degree show and throughout termly exhibitions.
New action inspired by the Changemaker Award
Makers Space
The Materials Hub has created a space called the Makers Space that was encouraged by the Changemaker Award. This is an area in the Materials Hub where students can use workbenches to quickly make or cut down certain materials.
This new area also allows students to book out up to five tools to take away to use either in this space or in their own studio. This space was created because the team were asked regularly if we can help cut down their materials for them as sometimes it is a last-minute idea and they are unable to book a space in a workshop.
This space is becoming more and more popular as it is easily accessible for the students as well as staff.
Skill sharing
In this space, we have also fostered opportunities for open learning experiences. We have hosted a variety of learning workshops to help staff and students learn from one another.
We encourage staff and students to email us any ideas that they have or would like to see created as a workshop. Staff and students are invited to get involved to create the workshop and lead it if they so wish. The idea is to continue this and hopefully build more learning opportunities over time.
Moving to more local sourcing
We are hoping to look at stock in the summer to reduce our carbon footprint and stock more products locally. A lot of our stock is currently from England and Glasgow.
Legacy of past action
Collaboration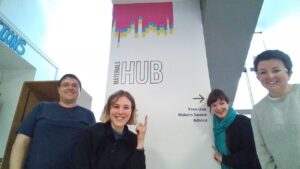 As a team, we still collaborate with teams in different areas of Edinburgh College of Art. This has become more crucial to help us all stay safe and progress throughout the changes in the University. This has also given us all a chance to learn new skills and also share our own skills with others.
Expertise
We help students and staff choose the correct materials for their projects and courses as well as give them guidance and trust throughout their learning process. We demonstrate materials to help staff and students gain a stronger understanding before purchasing.
Adapting to need
We still do our best to correspond with different areas, technicians, students and staff to learn what also may be needed to help with the term ahead or what the store may be lacking.
This also helps us to learn what materials are now becoming more in demand. Courses can change and I have to stay up to date with what materials are that are necessary. This also helps me to develop my own learning and I am able to share with others a wider range of materials.
Continued learning about sustainability
To develop our roles further, the team alongside other Information, Technology and Technical Services staff are going on a sustainability course. This will also help us learn which materials need to change and develop also to help with the climate and nature crises.
In this role, we take strength, resilience and commitment in all that we do as well as working with other technical staff. Technicians have been absolutely central in ensuring the safety of our buildings and staff, during the height of the pandemic. This has also demonstrated how important our roles are as Technicians within the University and having professional registration will show even more pride in my role alongside many others.
Nominate a Changemaker this year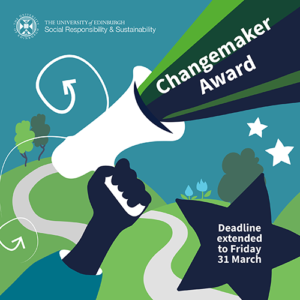 Do you know someone who's gone above and beyond to make the University more sustainable, or to inspire others to make change? Nominate them for an SRS Changemaker Award!
The Changemaker Award recognises current students and staff who have made a noticeable positive impact by:
undertaking an impactful socially responsible or sustainable project;
or by inspiring others to act in a more socially responsible or sustainable way.
Nominations close on Friday 31 March 2023 (one-week extension).
More information about the Changemaker Award