The stadium is on fire: The impact of climate change on field sports
The stadium is on fire: The impact of climate change on field sports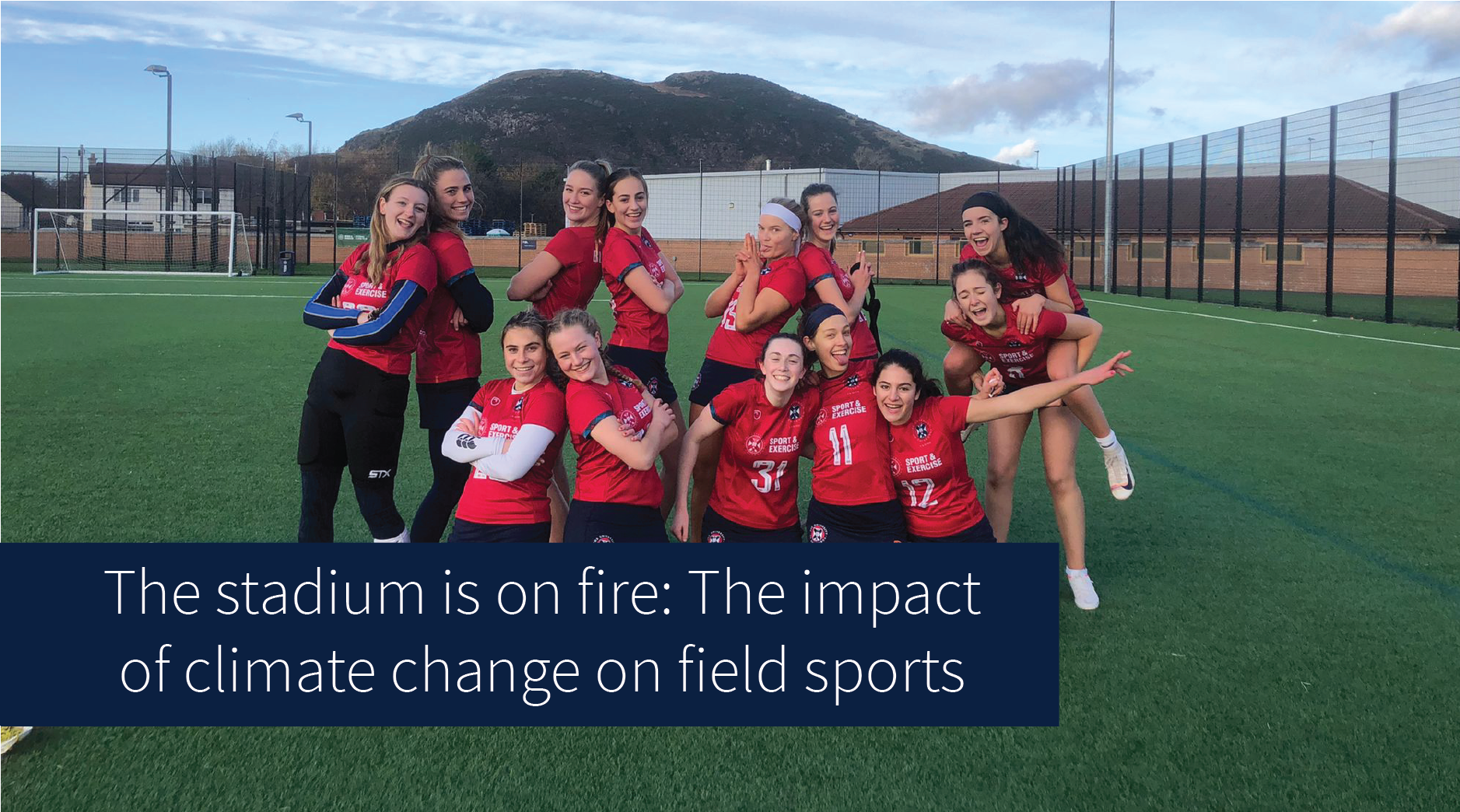 Katarina Ruhland, a keen member of the University's Edinburgh Women's Lacrosse Club, gathers stories of how field sports are being affected by the climate crisis and presents action sports organisations can take.
Climate change is significantly impacting multiple aspects of human lives and global sport is no exception. With increasing temperatures, rising sea levels and more extreme weather patterns, due to climate change, the list of disrupted sports events will continue to rise, which could threaten the stability and existence of many sports.
Although it can seem like only extreme sports like skiing and surfing will be majorly impacted, almost every sport is likely to experience some kind of change to their sport because of climate change. Field sports will be largely affected, whether through cancellations due to waterlogged pitches or the safety of athletes and spectators amid storms, heatwaves and flooding.
While forecasts from scientists expect these extreme weather events to get worse, the impact of climate change is already being harshly felt.
Cricket
A growing number of cricket matches are being cancelled due to extreme heat, drought and flooding.
Athletes are also becoming more vulnerable to heat-related illnesses, with the England Men's Cricket Captain, Joe Root, being hospitalised in 2018 at the end of the fourth day of play in that year's fourth Ashes test match due to the searing 40 degree Celsius temperatures. Even in the UK, where extreme weather isn't felt as harshly, increased flooding has ruined grassroots clubs and led to huge numbers of abandoned games.
Football (soccer)
While mainstream sporting audiences might be able to enjoy their normal coverage of some of the world's most prominent sports leagues such as the Premier League, many local grassroots or less regularly viewed leagues will be more likely to feel the repercussions of climate change.
A number of lower-league games in the UK are frequently called off due to climate-related problems including waterlogged pitches (caused by higher amounts of precipitation) and disruptive weather issues.
Storm Ciara in 2020 saw the cancellation in England of one Men's Premier League game, six Women's Super League matches and widespread postponements in Dutch football and the top two levels of Belgian football. Due to extremely high temperatures at both the Women's World Cup in France and the African Cup of Nations in Egypt, additional water breaks during matches had to be introduced.
Rugby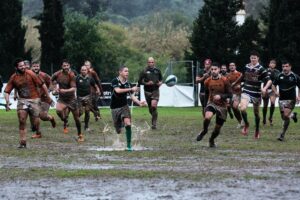 Rugby is played in many kinds of conditions around the world, but in recent years climate change has made the game more and more dangerous with ruggers facing more extreme weather. In 2019, three matches in the Rugby World Cup in Japan had to be cancelled (for the first time in the tournament's history) due to Typhoon Hagibis bringing torrential rain and strong winds, with many more matches having to be played in incredibly wet conditions.
Global warming has 'changed' spread of tropical cyclones around the world
Islands and archipelagos of the South Pacific are some of the most threatened areas by sea level rises, and their beach rugby cultures are equally endangered. With many players learning and training on beaches, which nurtures a love for the game that inland fields can never duplicate, rising sea levels caused by climate change is gradually destroying the beaches and has forced the game to move inland to dusty and unwelcoming terrain.
Dangerous play: Is climate change bringing an end to rugby as we know it?
What can be done?
Field sports are having to adapt to the impacts described above. They also have a huge potential to mitigate their carbon emissions and help soften further effects of climate change that are yet to come.
Individual action can be taken to reduce your own carbon emissions, such as through taking low-carbon transportation, using green energy or reducing meat consumption; however, it is evident that global sport needs to be held more accountable for the emissions that they create.
The carbon emissions of the majority of sports in most countries are a mystery due to little carbon emission counting being conducted. From the stadiums and sporting grounds built for every Olympic venue to the transport emissions from the thousands of athletes competing, there is no doubt that sports also have a considerable impact on the planet.
Sustainable operations in sports events, leagues and teams
The 2016 Rio Olympics released 3.6 million tonnes of carbon dioxide, and the 2021 London Olympics 3.4 million (excluding the respective impacts of constructing multiple new stadiums). On average, each person in the UK is responsible for around five tonnes of carbon a year, to put that into perspective.
Playing Against the Clock: Global Sport, the Climate Emergency and the Case For Rapid Change
Per capita CO₂ emissions, 2020
Sports events, as well as sports leagues, need to include sustainability into their enterprises to support the stability of their operations. Leagues need to remove fossil fuel and high-carbon lifestyle sponsors such as airlines, petrochemical companies, and SUV manufacturers. Individual teams are able to make an impact, with the Forest Green Rovers leading the charge. They are the world's first UN-certified carbon-free football club, which involves the use of 100% renewable energy, rainwater recycling, and vegan-only menus.
Meet Forest Green Rovers, the British soccer team that's carbon neutral, vegan, and on a mission
Climate Action Framework
The UN Sport for Climate Action Framework aims to combat climate change through commitments and partnerships, including measuring, reducing, and reporting greenhouse gas emissions, in line with the Paris Climate Agreement, however, only a tiny fraction of the world's thousands of sporting bodies, federations, tournaments, leagues and clubs have signed up, with even fewer having actual carbon targets and plans to deliver on their commitments.
Sports for Climate Action Framework
What can we do?
If you are a member of a sports club at the University, encourage your president to participate in the Clubs and Societies Awards. Sports teams at the University are only a tiny part of the global picture, however, that should not discourage clubs from trying to reduce carbon emissions by incorporating sustainable practices into their club, including using sustainable forms of transport for away fixtures, or by creating circular economies for sports kit and equipment within the club.