The SDG Research Network: bridging academic silos
The SDG Research Network: bridging academic silos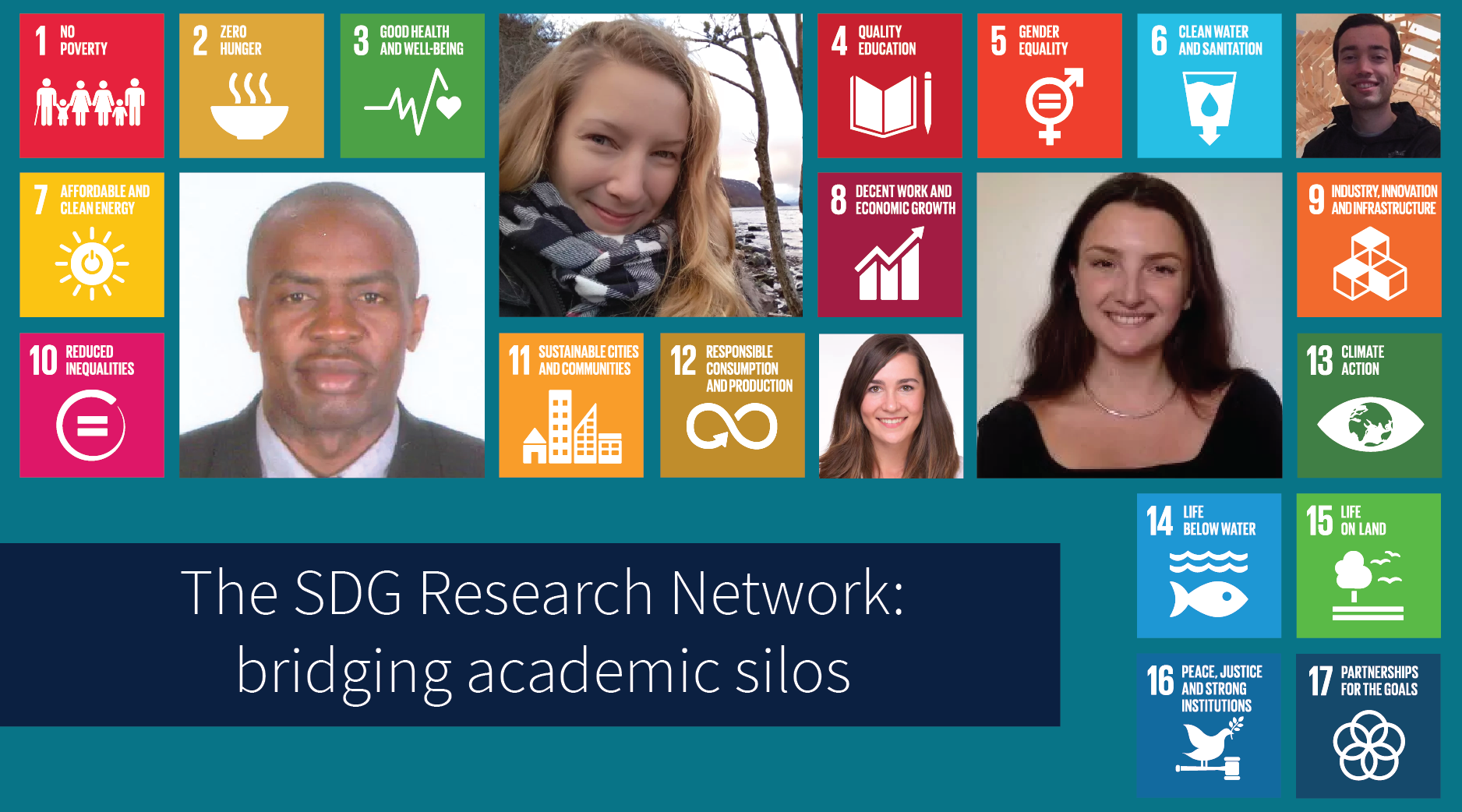 Rebecca Grant, Kim Vender, Zakary Campbell-Lochrie, Benard Oguna and Emma Yule are part of a network that connects people working on the Sustainable Development Goals (SDGs). They share reflections on their three-day SDG challenge event that took place at the end of last year and gives multiple ways to get involved with the network.
The SDG Research Network

The SDG Research network is a student-run organisation bringing together postgraduates, early career researchers and the wider community. Across all our events we use the United Nations Sustainable Development Goals (SDGs) as a common lens to spark cooperation and collaboration.
SDG Research Network Teams channel
Follow the SDG Research Network on Twitter
The three-day SDG challenge
Our most recent event was a three three-day SDG Challenge in which a group of young researchers joined us from a variety of universities, colleges and academic backgrounds across the globe. This diverse group participated virtually in a series of interactive events with participants dialling in from a number of different countries.
Activities conducted
2030's SDG game: getting inside the heads of world leaders
The challenge kicked off with a multiplayer, role-playing game that put participants into the shoes of world leaders as they attempted to balance economic growth and sustainable development.
Facilitated by The Global Academy, the 2030's SDG game illustrates the importance of collaboration in balancing these competing demands while up against urgent deadlines.
All in the form of a fun, fast-paced game offering the chance for participants to get to know one another and their interests.
Discussion groups, joined by local community leaders

Throughout the challenge, we were also joined by a number of local community leaders who provided insights into Edinburgh's efforts towards meeting the SDGs.
Within a small group environment, encouraging discussion and idea-sharing, we were joined by Councillor Cammy Day (Policy & Sustainability Vice-Convener at the City of Edinburgh Council) and Joanne Davidson (Director of Policy at Edinburgh Chamber of Commerce).
We are extremely grateful to both Cammy and Joanne for their time and their enthusiastic engagement with the attendees.
The SDG workshop was very interactive and practical. I had the opportunity to meet and talk with other colleagues engaged with sustainability. It was a great space that allowed me to expand my network and views on this topic.
Lessons learned
There is immense value in connection. Postgraduate research is the pursuit of in-depth knowledge on a particular phenomenon or topic. We are often conceptualised (or conceptualise ourselves) as silos of knowledge, islands of expertise, though it is only through connecting strands of research that there is the possibility of creating meaningful changes within the University and beyond.
Linking to this, there are significant opportunities to mobilise our individual and collective knowledge bases and experiences for good. The SDG workshop was a tangible refresher in the multiple ways in which we can mobilise change.
For example, in:
designing research objectives
project management
research
advocacy
conversation
A recognition that meeting the SDGs is inherently complex, that it requires temporal and spatial trade-offs, difficult conversations on priorities, urgent action. Simultaneously, the progress towards the SDGs also provides significant opportunities: in recognising and integrating fully diverse ways of knowing and being, in the shift towards mutual partnership, as a driver of innovation and economic change.
How can I get involved?
Teams channel

If you missed this event but are interested in exploring the relationships between your research and the SDGs then join our Teams network to keep up to date on our future events. This network offers a year-round space to meet other students/researchers working on a wide range of topics but inspired to contribute to meeting the 2030 SDGs.
SDG Research Network Teams channel
Join the committee, speak at an event or write a blog post
We are currently looking for volunteers to join our committee and for speakers to share their insights at our upcoming sessions. If you'd like to get involved please fill out our short survey.
Acknowledgements
We would like to thank the Global Academy for running the SDG game and providing insight into the targets and indicators underpinning each of the main SDGs. Thanks also to the School of Social and Political Science for providing funding for this event.
More ways to take action