Everybody counts – How a single person can make a difference
Everybody counts – How a single person can make a difference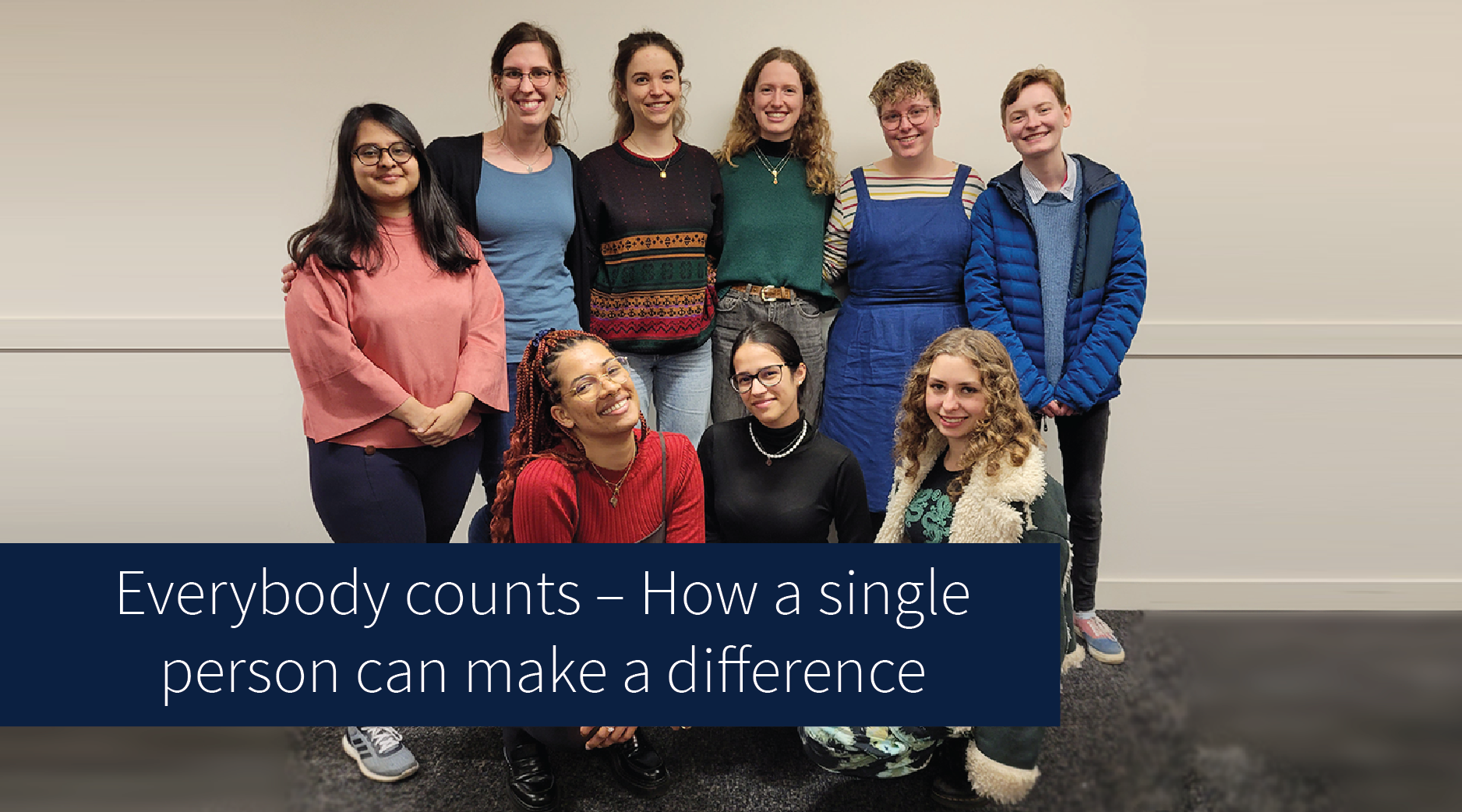 Luise Schroter, a postgraduate student from the School of Law, tells us about how the Supply Chain Justice student group grew from a vague idea into a strong force for positive change in a short space of time.

Sometimes, people tell us: a single person cannot make a difference, a single person doesn't matter, what I do, doesn't matter. That drives me crazy. It is inherently wrong for two main reasons:
 It does not take a lot to change the world;
You are not alone in wanting to change the world.
It doesn't take a lot to change the world
What does changing the world even mean? People envision huge movements, the uprising of the people and far-reaching changes in public policy. However, changing the world doesn't always have to be big and flashy. Changing the world means making it into a better place, even if it is just in a small way at the start. A single action aimed at improving the world already makes it a better place than it was without that action.
I started with a conversation about the issue of human rights violations in corporate supply chains.
In the chocolate industry alone there are 1.56 million children forced to work on cocoa farms
95% of the children are involved in hazardous work. As consumers, all of us contribute to the problem by continuing to purchase from brands that heighten the issue, for example by pushing cocoa prices down. 76% of UK inhabitants eat chocolate at least once a week. So if I start a conversation, and I get just one person to become conscious enough to change their consumption patterns towards more ethical brands, that will already impact the lives of those farmers that rely on that ethical brand. It will give them a livelihood where they don't have to rely on children to save costs.
However, after having that one conversation, I simply did not stop. I organised one of the weekly meetings of Amnesty International and talked about the issue of human rights violations in corporate supply chains with the aim to create a working group. This brings me to the second point.
You are not alone in wanting to change the world
We underestimate how many other people also want to change the world. However, there are so many issues and global problems that it can be overwhelming to find a starting point and a specific cause to rally behind. When I organised the Amnesty International Meeting back in November, I hoped to get maybe two or three other dedicated students seeking to make a difference. I got six. We started with nothing, not even an industry to focus on.
Now, just four months later, we are 15 students, have a website, an Instagram account, have already run a campaign and are professionally organised to run more. When a single person can already make a difference, a group of people can make a change.
What did we achieve so far?
Reached out to the funding opportunities available to us: We submitted an expenditure request to the Edinburgh University Student Council. This enabled us to get banners, leaflets, stickers and ethical chocolate for on campus action.

Valentine's Day outreach pop-up: We were on campus for four days around Valentine's Day and talked to over 800 students in depth about the issues in the chocolate industry. Posts and stories connected with us reached as many as 1500 people at a time. After all, there is nothing less romantic than child labour in chocolate as a gift.
Collaborated with other societies: The Ruth Adler Magazine and AdvocSoc published articles about the issue and we joined the Literature Society at one of their events to spread the word.
Organised a panel discussion: Together with the Edinburgh International Justice Initiative and the Edinburgh Political Union we had a panel discussion on how to end child labour in the chocolate industry. Panellists included Juan Santelices, the Managing Director of Pacari UK (named the most ethical chocolate brand in the UK), Martin Rhodes, the Chief Executive of the Scottish Fairtrade Forum (an NGO) and Dr Amanda Berlan (an experienced academic).
Appeared on BBC Scotland Debate Night: Because, why not? We hoped to raise the issue and got at least one comment about the importance of human rights in production.
Networked across the city and the country: We have been in continuous contact with the Edinburgh Fairtrade City Group and are planning to make our campaign nationwide for all Amnesty International Student Groups.
Could I have done this alone? Certainly not. I had the most amazing team which made all of this possible. A team, whose members I mostly didn't even know back in November. So, the next time somebody tells you, that a single person doesn't matter, tell them this:
A single person can already make a world of a difference by doing one small action and a single person doesn't stay single for long in fighting for a good cause.
Sources
Final report: Assessing Progress in Reducing Child Labor in Cocoa Production in Cocoa Growing Areas of Côte d'Ivoire and Ghana
Mintel, 'Frequency of eating chocolate' (Chocolate Confectionery, UK, May 2019)
Pacari Chocolate Ranked The Most Ethical Chocolate in the UK
Take action