Why we're a Hedgehog Friendly Campus
Why we're a Hedgehog Friendly Campus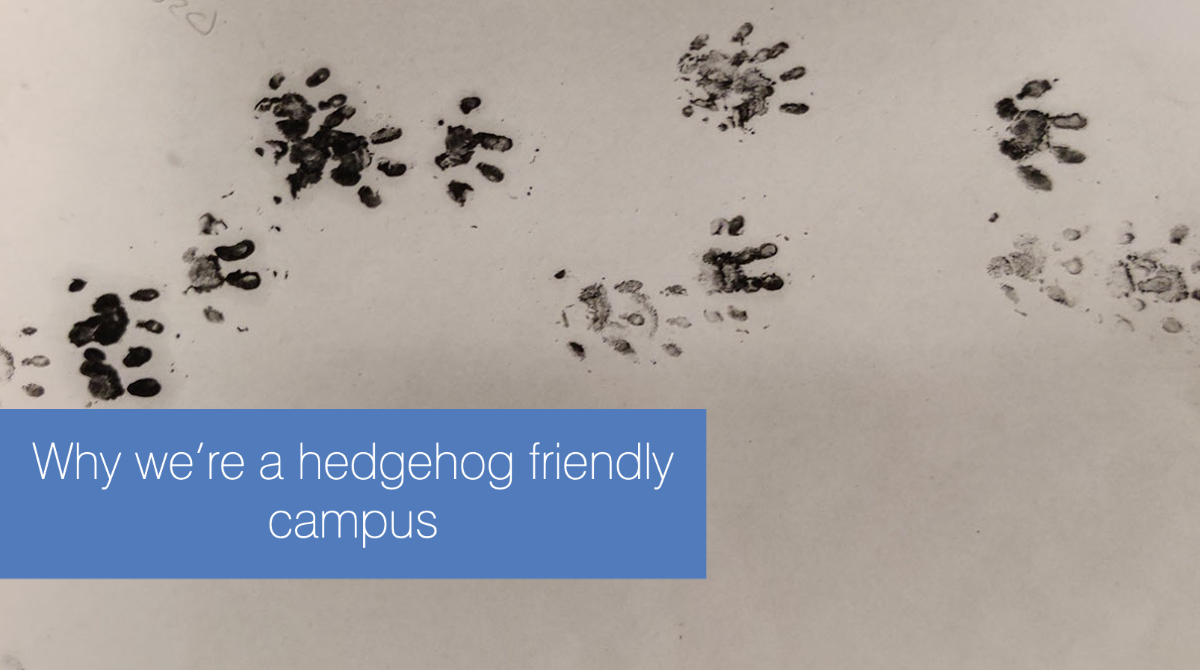 The University of Edinburgh has recently been awarded a silver accreditation as a Hedgehog Friendly Campus. Learn more about the importance of protecting our spiky neighbours' habitat and the student Hedgehog Champions leading this work.
How we're protecting hedgehogs
The University's working with partner organisations to educate staff, students, and the neighbouring community about hedgehog-friendly behaviour. Our landscape experts are creating habitats where the mammals can feed, shelter and breed.
Over 35 volunteers have been trained to carry out hedgehog footprint surveys, which have happened at Pollock Halls and on the Easter Bush campus. Hog prints were found in multiple locations and as a result, cameras were set up in these locations to capture further evidence of their presence.
Hedgehog friendly activities have included:
Workshops to build hedgehog houses
The creation of information leaflets that are available at Easter Bush and Pollock Halls
The Landscape team taking part in training on what to do if they find a hedgehog
Raising awareness on social media using #HedgehogFriendlyUoE
Why hedgehogs?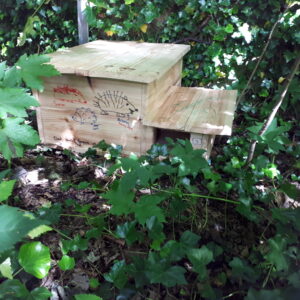 Increasing habitat loss in rural areas means hedgehogs are moving into more built-up areas. Urban areas present the creatures with a host of challenges including road traffic, litter, poisoning and lack of access to food and water.
When we protect habitats for hedgehogs, we also protect them for a number of other species vital to our ecosystems. Our work as part of the 'Hedgehog Friendly Campus' accreditation is just a part of our wider biodiversity strategy to address both biodiversity loss and climate change in Scotland. By maintaining and allowing a diversity of species in our green and blue spaces ensures the resilience of ecosystems.
Meet our Hedgehog Champions
Junyu Chen
I'm a 2nd-year Sociology student. I was a Youth Representative of Youth Assembly at the United Nations on 2017 and 2020. I used focus on hunger problems, but I've been paying more attention to climate change in recent years. I was selected as a youth delegate to attend the Regional Dialogue on Youth Empowerment for Climate Actions by UNDP 2021.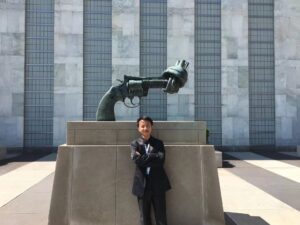 I love wild animals, my hometown Yunnan is foremost among the Chinese provinces in its variety of animals. When I realised that hedgehog survival was facing challenges, I felt that I should do something to maintain species diversity. This is what motivated me to become a Hedgehog Champion.
I participated in the trash picking challenge and also made a poster to protect the hedgehog in my student accommodation when I joined the team.
Although the pandemic has imposed some restrictions on our lives and research, we frequently hold internal seminars. My colleagues have extensive experience in protecting hedgehogs. As a new member, I am trying to learn these valuable experiences. I look forward to further protecting hedgehogs after the pandemic restrictions are lifted.
We've launched a new official Twitter account which you can follow here.
How to get involved
If you want to support the efforts to protect biodiversity on campus, get in touch with us on srs.department@ed.ac.uk
Find out more:
Find out more about our Silver Hedgehog Friendly Campus award
Niamh Kinch: Helping Edinburgh become a Hedgehog Friendly Campus