During lockdown, I challenged myself to make my own clothes
During lockdown, I challenged myself to make my own clothes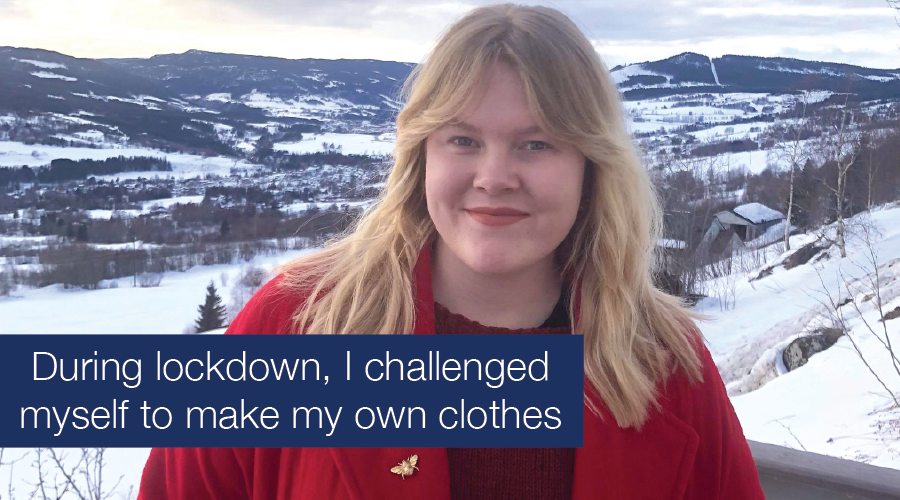 Karen Fonstad, fourth-year Sustainable Development student, shares her journey into garment making over lockdown.
Do you remember when the first lockdown was put in place and we all tried to pass the time by adopting new hobbies? I know it feels like a distant dream now, but inspired by the never-ending photos of delicious sourdough and home workout challenges, I decided to learn how to make my own clothes. I had already become an avid second-hand shopper in an effort to become more sustainable – but when the charity shops closed, I started to revaluate the relationship I had with shopping and my wardrobe.
My relationship with clothes
First of all, a garment only costing a couple of pounds – even second-hand – did not sit right with me. As we are all probably aware by now, fast fashion retailers continually underpay their workers and exploit poor labour protections in supplier countries in order to sell their clothes at obscenely low prices.
Second, as a plus-size woman, the selection in most charity shops is not great. Not only is it hard to find fun and stylish clothes (no, I don't want yet another baggy floral top, thank you), but sizing is like the wild west. I own clothes in a size 8 and size 18, so clothes shopping is frustrating, especially during the pandemic with no access to fitting rooms.
Lastly, making garments is really a handcraft, even if we don't think about it when we put on our flimsy cotton t-shirts. In the end, I wanted to better understand the level of skill that went into making my clothes.
I now have a much more conscious relationship towards the meaning a garment really holds – both in terms of my own and the garment's history.
Sewing
Turns out, making clothes both more difficult but also more doable than I initially thought. I started with borrowing my grandmother's sewing machine, which she told me she had got for her 20th birthday. That's something which is almost unfathomable today – the machine is over 50 years old and works (well, mostly) like a charm. There were loads of beginner-friendly and free sewing patterns online, and after some trial-and-error (and a few YouTube tutorials later) I set my mind on making a pair of elastic waist culottes, the perfect study-from-home uniform.
Let me tell you, sewing simple garments is very easy. Yes, the machine is a bit scary and it takes some practice, but I promise you can do it. Of course, making formfitting and more complicated items such as jeans and blazers is more difficult, but if you're anything like me and prefer to dress in fashionable pyjamas then you're off to a good start.
Over the summer I made a couple more culottes, shorts, and tops with varying degree of luck. I learned a lot along the way, for example how to fix most glitches on an old machine or how to do smocking with an elastic thread. Most handily, I learned how to make reusable facemasks (and consequently gave them to everyone I knew).
I recommend Faebrik for sewing tutorials (they are Norwegian, but most of their patterns are also in English). They make fun and super easy patterns for beginners.
Visit the Faebrik website for sewing tutorials
Knitting
As autumn approached, I decided to try my hand at knitting, something I had not done since I made a pair of pastel-coloured legwarmers in a 5th grade art class. In retrospect, I would maybe recommend starting with something small such as a hat, however, as I have an inflated sense in my own abilities I decided to start out with a jumper. And while I swore and messed up and had to restart multiple times, in the end I had a beautiful, cosy jumper.
What surprised me the most during this project was the immense pride I feel whenever I put things I made on. Like, I really did make that. Not only is it a great feeling to know that the garment is more sustainable and more ethical than most of what you can buy, but you've even made it yourself with your own two hands. Nothing can beat that, in my opinion.
This was the pattern I used for my first-ever knitted sweater, which was relatively easy and very customisable.
Deeper respect for garment workers
I have learned a lot over the past year. First of all, garment-making truly is a handcraft, and although while it is a bit difficult it is much more doable than people think. However, making your own clothes is a privilege. The equipment and materials are usually quite expensive (although there are a lot of second-hand sewing machines and fabrics out there) and it is time-consuming.
Despite this, I've found that the skills I have gained and my ability to make and alter clothes to fit me and my body well is well-worth the energy I've put in.  I think most consumers (including me) are too detached form the production process of things we use and depend on every day, and this project has made me reflect more on how my clothes are made and my respect for garment workers have deepened.
To me, my clothes are a part of my history, they can express who I am, hold memories, and show off my talents. So, while I won't try to make every new item of clothing myself, I now have a much more conscious relationship towards the meaning a garment really holds – both in terms of my own and the garment's history.
Take action
Join the University of Edinburgh Fashion Society to learn about sustainable fashion
Read more of our blog posts on fashion
Take the Future Learn course: 'Who Made My Clothes?'