Fairtrade Fortnight winner: coffee art and blog post by Elia Simonet
Fairtrade Fortnight winner: coffee art and blog post by Elia Simonet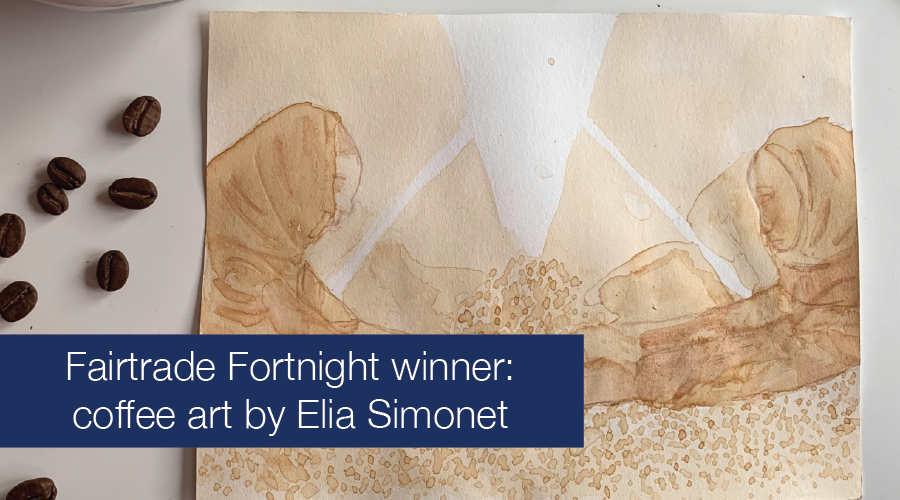 For Fairtrade Fortnight 2021 we ran a blog post competition asking students and staff to create something either fair trade themed or made using fair trade materials for the chance to win a One World Shop voucher. The winner was Elia Simonet, a second year student at the School of Social and Political Sciences, studying Sustainable Development.
Wake up and smell the coffee
When we go to Starbucks, and buy that cup of steaming coffee, we do not see the human lives that have been put into that cup. We do not see the coffee bean farmers praying for the weather to be kind. We do not see the women who pick the coffee beans for less than 50 cents a day. We do not see their children who go hungry. We only see the coffee in our cup, and we are satisfied4.
Multi-billion dollar industry
The global coffee industry is one of the most consequential in the world, with a worth predicted to reach $134.25 billion in 20242. In recent years, this industry has received much attention, particularly since it has been exposed for relying upon unsustainable systems of production, 'exploitative labour practices, human rights abuse, and economic injustices'1.
The coffee market is controlled by four multinational corporations, that profit on the rising prices of coffee and cheap labour of exclusively Global South farmers. Farmers are only paid 7-10% of the final retail price, making them the most heavily impacted by the unstable price fluctuations of the market1. Additionally, they suffer the consequence of insecure harvest yield accompanied by a rising demand. This insecurity, that threatens the livelihood of farmers, is anticipated to get worse as weather conditions become more extreme and unpredictable with climate change3.
Child labour and poor conditions for workers
Very often their only source of income, farmers rely on coffee harvesting for their survival. Not only does it provide for the needs and health care of their family, but it is also crucial to ensure their children's education and safe accommodation. As a result of this dependency, farmers are forced to work inhumanly long underpaid shifts, in exploitative and unsafe conditions. It is also frequent to observe children working in the coffee production chains, to help their parents in sustaining the family's needs1.
Fairtrade certification offers a way to mitigate the unethical practices involved in the coffee supply chain. Open to small producer-governed coffee businesses, the Fairtrade certification regulates transparency and democracy, and ensures a minimum wage and fair negotiations. The Fairtrade economy devotes its attention to addressing issues of worker's safety, modern slavery, and child labour3.
Fair trade supports workers
Consumers have the responsibility to purchase ethically produced coffee, that will support socially responsible businesses and put pressure on industries to respond to Fairtrade demands. Financial stability not only enables farmers to sustain their families, but allows farming productions to be improved, notably through new infrastructures, accommodation, and technological innovation.
The inclusion in a Fairtrade economy has a direct impact on farmer's and their community's livelihood. The relatively recent raise of awareness around the exploitative practices involved in coffee production is reflect by the consumers in the increasing sales of Fairtrade coffee3.
Coffee art
I wished to represent the fair trade and sustainability issue of the coffee industry through visual art. Inspired by 'coffee artists', I chose to paint a still scene from the documentary Black Gold, Wake up and Smell the Coffee, using fair trade coffee as a medium. The film is of particular relevance to the topic, as it follows an Ethiopian farmer's fight to getting worldwide manufacturers and retailers to pay a fair price for his coffee. The scene I painted, found on the official website blackgoldmovie.com, represents women working restlessly to sort coffee in a chain work system.
Find out more about the Black Gold documentary
References
Worldvision.com.au. n.d. Coffee's Hidden Kick: Labour exploitation in the global coffee industry.
Koncept Analytics, 2020. Global Coffee Market: Insights & Forecast with Potential Impact of COVID-19 (2020-2024).
Files.fairtrade.net. 2012. Fairtrade and Coffee.
Yan, S., 2014. Black Gold: Film Summary. The Borgen Project.
Other notable entries
Kirsty Hughes, Research Assistant (Veterinary Medical Education)
Kirsty made a fish curry, using locally sourced fish, with various fair trade ingredients including coconut milk, Kilombero rice and accompaniments (flavoured salt, mango chutney, lime pickle and chilli hot sauce) from Just Trading Scotland. The curry is pictured along with Fairtrade roses bought for Fairtrade Fortnight.
Find out more about Just Trading Scotland
We try to shop locally and sustainably wherever we can and aim for Fairtrade and plastic free shopping as much as possible too. It is important to us to eat healthily and cook from fresh rather than buying processed food, which is less good for our health and the environment.

We are lucky that we can afford to do that but I recognise it is not always so easy for those on a budget. It would be great if these sorts of options were also the most cost-effective so that it wasn't a choice between eating ethically and healthily or eating at all. Certain shops like the Coop have embraced Fairtrade products across their ranges including now a budget Fairtrade range so hopefully in future, it will be much easier for everyone to shop in a way that respects the workers and producers who make our food and protects the environment.
Susana Roman Garcia, Medical School student
Susana made cookies using Fairtrade chocolate along with other zero waste, plastic free, vegan ingredients. The video was posted on Instagram with comments alongside.
Fairtrade, veganism and plastic free packaging have many good things in common but can also be contradictory, e.g. vegan products wrapped in three layers of plastic, or Fairtrade products traveling half the world to be at our disposition. Veganism, zero-waste and Fairtrade may not be perfect, but we truly ought to inform ourselves and make sure unethical practices no longer stay out of sight. By making small changes in our every day choices we can really make a difference. Simple cookies can make a difference.
Thank you to everyone who entered and showed your creativity and commitments for fair trade.
Take action