Why you should plan a sustainable summer holiday in Scotland
Why you should plan a sustainable summer holiday in Scotland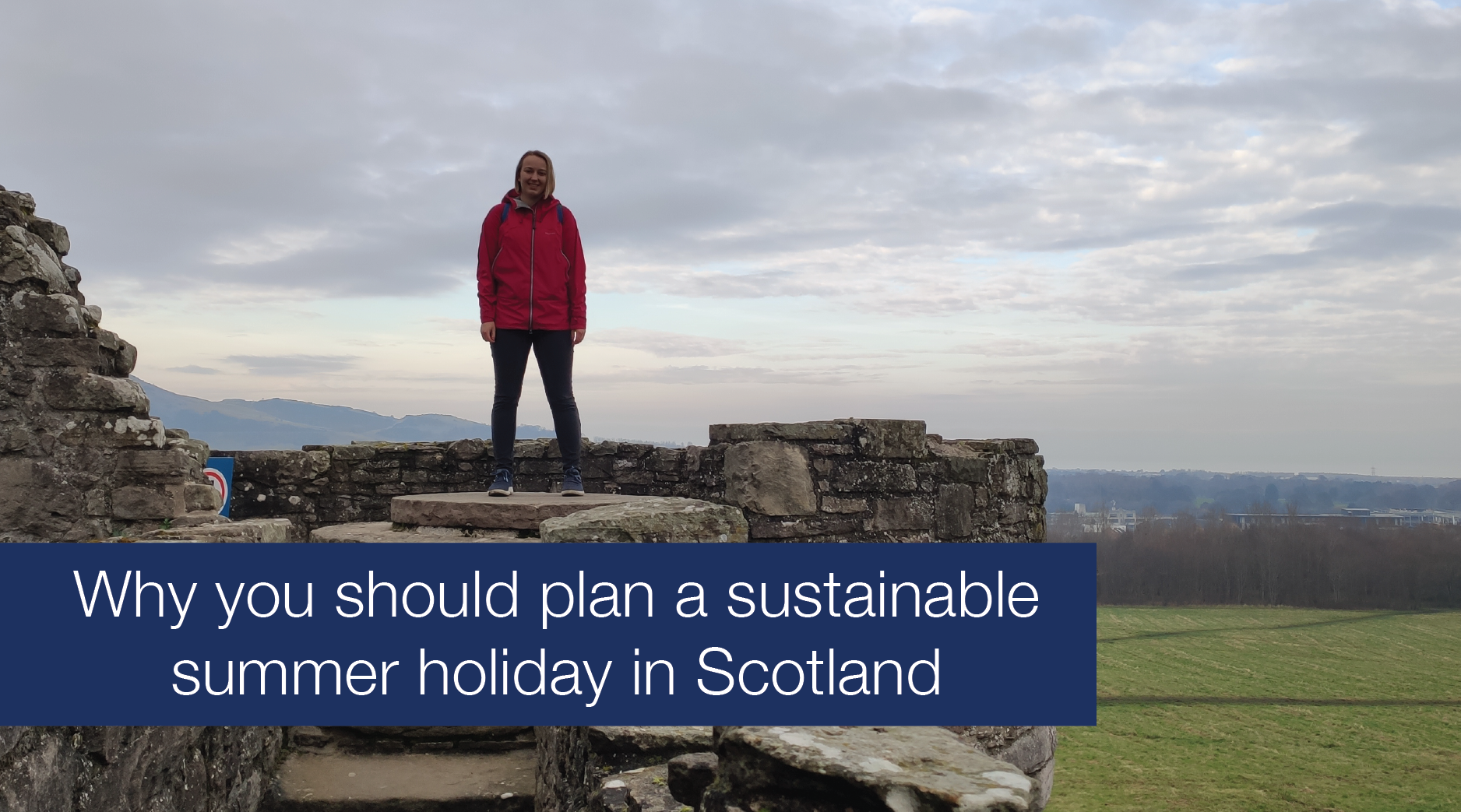 International travel has ground to a halt, and people are becoming increasingly concerned about the effects of their holidays on climate change. Botany student, Alice Peace, shares her top tips for planning a sustainable summer holiday in Scotland.
For many of us, summer used to mean booking a budget flight to somewhere hot and sunny. Or perhaps a university field trip, internship or voluntary experience abroad to contribute to our education. But this year feels different. Pandemic panic, local and national restrictions, and increasing awareness of climate change, due in part to the proximity of the UN Climate Conference in Glasgow later this year, are leading to many of us looking to make more sustainable choices this summer.
2020 was dubbed 'The Year of the Staycation' and it looks like this short-term solution to the coronavirus pandemic is here to stay, with 71% of Brits intending to plan a UK holiday for the summer of 2021.*
Where better to start planning a sustainable summer holiday than in Scotland itself?
Blog post: 2020: The summer of staycations
*The Rise of Staycations: 2021 and Beyond [PDF]
---
'Scotland. The Highlands are your garden.'
It was an advert on the London Underground that prompted me to look into relocating to Edinburgh to study. A simple font superimposed over a stunning shot of Skye read 'Scotland. The Highlands are your garden'.
Having now spent a lengthy amount of time under some form of lockdown restrictions here in Edinburgh, I can testify that the abundance of wild areas has been a lifeline throughout the pandemic. With the hope of restrictions being lifted for the summer, I am looking forward to exploring more of the country I call home at the moment.
Scotland really does have something for everyone. For those looking to plan a sustainable summer holiday, there are miles of coastline, rugged mountains and rich woodlands to enjoy. If you don't have time to travel far this summer, the cities of Edinburgh and Glasgow are stuffed with enough culture to keep anyone busy for a weekend. So, why not plan a flight-free, low-carbon summer trip this year and explore a quieter Scotland, currently inaccessible to international tourists?
The North Coast 500
I'm currently drawing up summer plans for the North Coast 500. Dubbed 'the ultimate road trip', this 516-mile route begins and ends in Inverness, taking in the North Highlands and west coast of Scotland.
The route can be walked, cycled or driven and is full of low-impact adventures to be had along the way, such as climbing majestic mountains, exploring historic castles and relaxing on pristine beaches. The best bit? The North Coast 500 doesn't even cover half the country! There's so much to discover, with 78,000 km² spread over the mainland and over 900 offshore islands to explore.
North Coast 500 [external link]
---
How to plan a sustainable summer holiday
1. Use greener methods of transport
Scotland has an extensive train network, stretching from the southern border towns to the most northerly point on the mainland of Great Britain. This means that you can travel across the country while maintaining a relatively low carbon footprint and you get to enjoy the beauty of the countryside at the same time.
Scotland's National Cycle Network has 702 miles of traffic-free routes which combine railway paths, canal towpaths, forest roads and shared rural footways to make it easy to get about on two wheels. Those local to Edinburgh and Glasgow can take advantage of city bike rentals to explore a little further afield.
National Cycle Network [external link]
2. Connect with nature
It's often said that the best things in life are free, and this is certainly true for the Scottish Highlands. There's so much to do outside on a budget; you can: hike, camp, kayak, paddleboard, cycle, swim, and watch wildlife. All of these activities are low-impact and carbon-neutral, providing you follow the Scottish Outdoor Access Code and clean up after yourself. Personally, I'm never happier than when I'm covered in mud halfway up a Munro!
Scottish Outdoor Access Code [external link]
Discover more free things to do in the Highlands on the Visit Scotland website [external link]
3. Support local businesses
We all know local businesses have been hit hard over the last year. If you're planning a sustainable summer holiday in Scotland, remember to book your accommodation at locally owned hotels and B&Bs and eat at independent restaurants and cafes. Sustainable travel is all about creating a positive effect on the communities you visit and supporting small and independent businesses is key to helping them get back on their feet!
Go further