2020: The summer of staycations
2020: The summer of staycations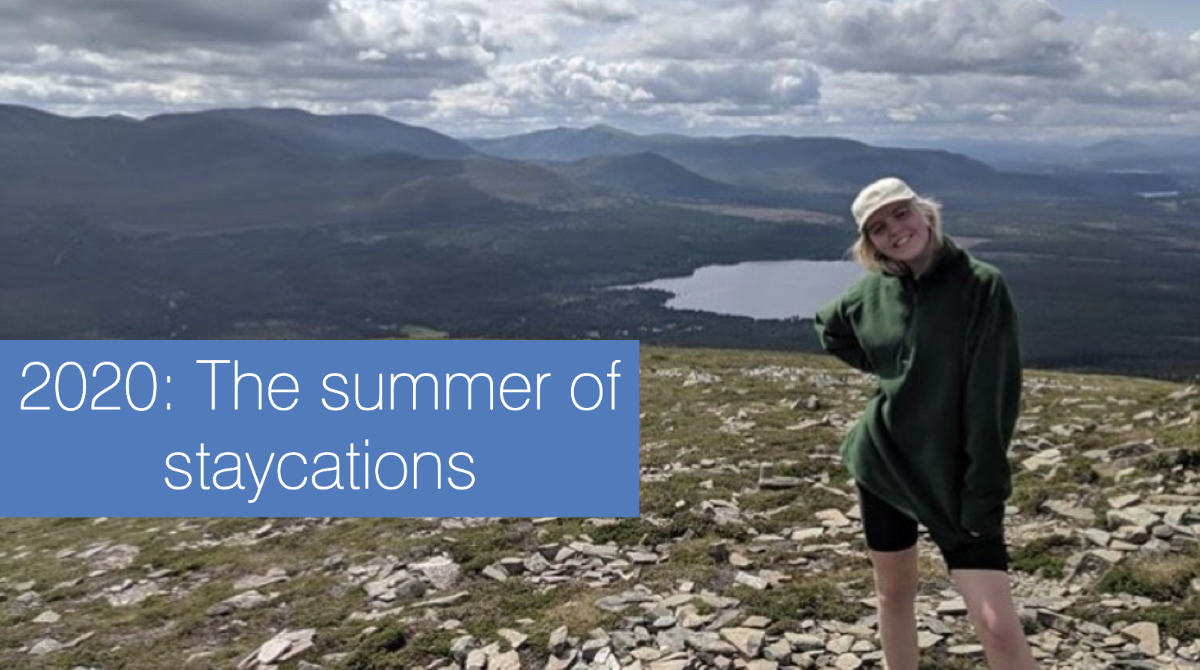 Covid-19 has disrupted travel plans for many of us, with almost all international air travel coming to a halt. Law student, Madeline Chambers, shares her top tips for holidaying closer to home.
In previous years, it is inevitable that upon reaching June, our topic of conversation changes. We begin to discuss our summer plans: travelling, working, interning, perhaps even volunteering with an NGO abroad. The excitement in these conversations is tangible; I mean, who doesn't want to be stepping off a plane in a foreign country right about now? Yet, this year was different. Instead of holiday planning, my boyfriend and I have been looking forward to lockdown easing, allowing us to see friends and family after three months. I think I can speak for the majority when I say I didn't see my summer going this way. However, I know I'm going to enjoy my staycation this summer, perhaps more than I would if I was going away!
Although many of us wish to be travelling abroad this summer, it is important to remember the environmental impact flying has, and why the lack of holidaying this year might just give our earth the respite it needs. The Guardian reported that a one-way flight from London to New York creates 493kg of CO2 per passenger. This is estimated to be equivalent to the same amount created during an entire year from individuals in 56 countries. So, it isn't simply because we cannot go abroad that we should favour the staycation, we need to for the sake of our planet!
How to enjoy your summer at home:
1. Explore your neighbourhood as if you were a tourist
Everyone always says this, and at first, it does probably warrant an eye-roll but I have embraced this so much during lockdown! Being stuck in a tenement flat with no garden in inner-city Glasgow, I definitely struggled at first, but I've grown to love going on long walks to different parks and green areas, picking up a coffee from the local bakery on the way.
To try and make them fun, I always try to set challenges for my walks; I like to set a goal of how many steps or kilometres I want to reach and get going! You can also do the same with your bike rides and runs. If you're going alone, try set a task with a friend to send them pictures of things you see on your travels. Cutest dog, weirdest street names and coolest buildings are a good few to get started with. You'll begin to notice things you've never seen before!
I like to combine these walks and cycles with supporting local businesses. There's nothing quite like knowing you're supporting local and the taste of a good coffee in the morning, or picking up a fresh loaf on your way home for lunch!
2. Go (slightly) further afield
As lockdown begins to ease off slowly in Scotland, I'm looking forward to getting out and experiencing new places I've never been before. Back in December, I was lucky enough to be able to do the North Coast 500, a road trip around the northernmost part of Scotland. This was the ultimate staycation; we started in Aviemore and then spent three nights road-tripping the 500 miles. We saw the most amazing sights, from isolated beaches to the rocky west coast, as well as staying with locals and experiencing all the great foods.
Road-tripping with your friends, family or partner and exploring new places together is a really good way of reconnecting after time apart during lockdown. This doesn't need to be far from home, jumping in the car for a couple hours and going for a hike together before heading home is equally as fun as spending the weekend wild camping.
3. Embrace new things
Lazy days spent in and around the house can get boring. Fast. Especially when you've been inside the last three months. This is why, if you haven't already, you need to find new things to fill your time with. I've slowly built up a routine and it's already got me excited for the rest of summer, knowing how much I can fit into my day!
I've taken up running during lockdown to keep fit and explore my neighbourhood, as per my first tip! I find starting my day by exercising sets me up to be in a good mood all day.
Another thing I've really been enjoying is cooking and baking. This, combined with a goal to reduce food waste as much as possible, has made experimenting in the kitchen so fun! The weekly supermarket trip has become a highlight, and knowing I'm making healthy, environmentally conscious meals every day makes me feel so good!
Use this time to try and expand your knowledge. This could be doing a free online course in something you're interested in, listening to a new podcast, or watching a documentary series. At the start of 2020, I set myself a goal to read 52 books; that's one each week. Whilst this isn't strictly something I've been doing during summer or lockdown, I definitely have much more time to read as I'm not working, studying or travelling.
The most fun thing you can do from home during staycation is something I began with my family at the beginning of lockdown, but it's definitely going to continue afterwards. Each week a new person chooses a theme; from there, each person interprets it differently, using a creative medium to complete their entry! This could be a quick biro sketch, an oil painting, a poem, or even a 3D model. I've found this a really good way to keep in contact with relatives all over the world, and it also forces me to be creative every day.
Whilst staycations can be difficult and frustrating to begin with, it's all about utilising what you have around you, as well as having fun with your loved ones – virtually or in person. Yet, it's nice to know that whilst you're enjoying yourself at home, you're also doing your bit for the planet.