Serve your community by eating Planetary
Serve your community by eating Planetary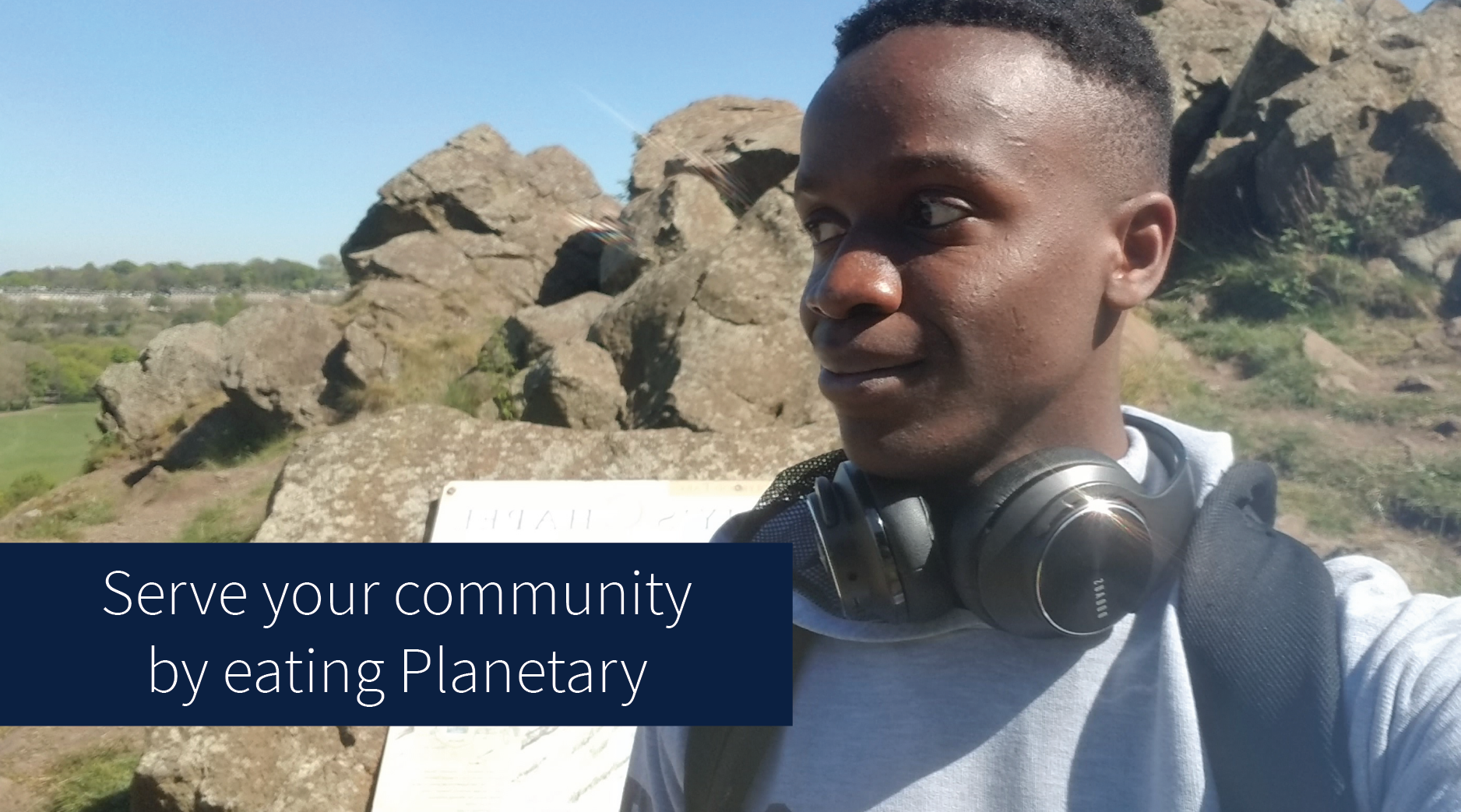 Julian Mashingaidze, undergraduate student and President of the University's student society on food security, tells us about a new sustainable meal plan aimed at students.
Food and the climate crisis
Many people often find themselves watching the news or reading an article about the state the world is in and find themselves feeling small. How we can make a difference to the climate? Often the key is through the little things that we do. One thing we can do is look at the food that we eat, and actively question whether we eat healthy as well as ethical food.
Food Revolution
Here at the University of Edinburgh, we are starting a Food Revolution with the upcoming launch of our Planetary Health Meal Plan (PHMP). Students today are at the heart of many discussions around healthy eating, ethical eating, and climate change. It is believed that this new generation can shape the direction in which the planet and humanity are heading towards.
The Food Security and Sustainability Society has partnered up with the Dundee medics society from the University of Dundee to develop a month-long PHMP, which will be directed at both institutes.
Planetary health meal plan
The EAT-Lancet commission determined that a global planetary health diet is both healthy for the people and the planet. A planetary meal plan is a flexible meal plan that is optimal for both people and the planet.
It promotes plant-based portions such as whole grains, fruits, vegetables, nuts and legumes. While meat and dairy are components of the diet, they are consumed in reduced quantities. The commission has determined that PHMP can reduce carbon emissions while making the general population healthier.
The EAT-Lancet Commission on Food, Planet, Health
New meal plan for university students
September launch
From mid-September to October, we will be launching our very own PHMP meal plan targeted at university students. We have partnered up with several eco-friendly local stores to develop a month-long meal plan that is both healthy and nutritious.
Our hope is to get as many students as possible to pledge to our meal just for a month in September.
The first 25 signups will get their meal boxes for free
There are prizes for the students who are the healthiest and most sustainable eaters over the month
June pilot
Before that, we will be running a trial from Monday, 7 June to the end of the month. We have designed a delicious and seasonal recipe book for our two-week pilot which will be promoted throughout the month of June.
The hope is to refine the project over the month of June, before launching the full month-long meal plan in September. Through social media, we will be actively engaging with our participants and collecting feedback to ensure a better overall experience.
By signing up for our pilot you are helping to ensure that our project will be a success and making a difference to your community.
Sign up for the two-week meal plan
Multiple benefits
Our main goal through this meal plan is to cause behavioural change by shifting students to healthier and more sustainable food choices which they can continue even after the month. We are also hoping to show students, easy and affordable planetary recipes as well as improve their overall cooking skills.
A bonus is that we will also be providing business for our local stores, thus helping to build up our community. So, what are you waiting for? Be a part of the Food Revolution!
Stay up to date