Voices of the Planet: Gabriele Negro, Italy
Voices of the Planet: Gabriele Negro, Italy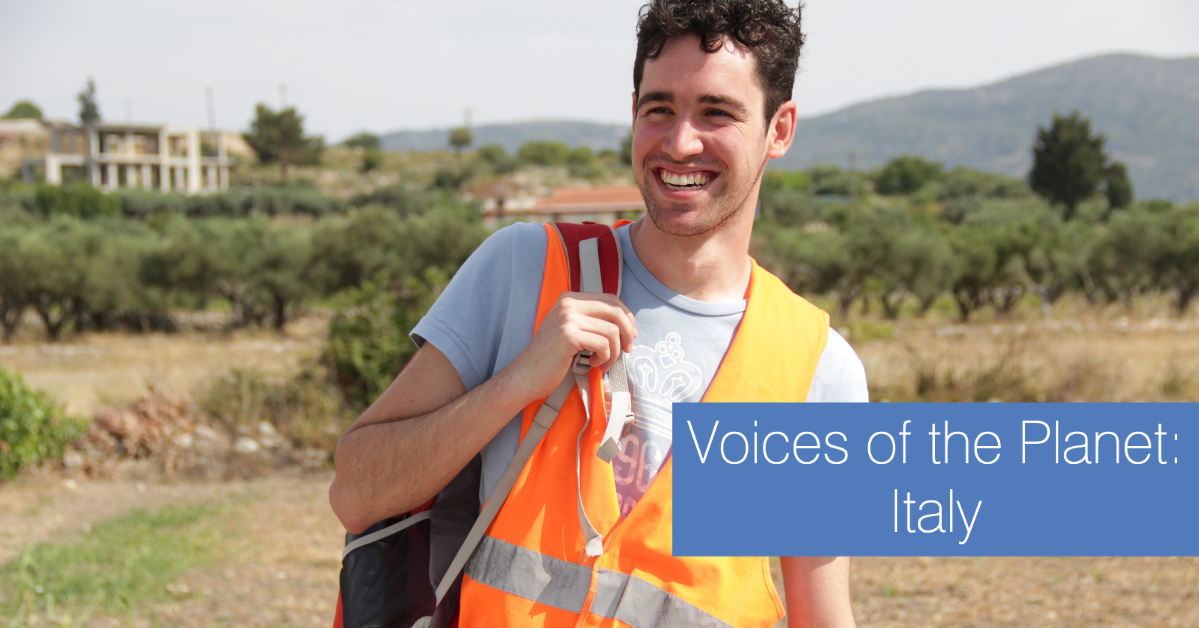 We hear from Gabriele Negro, a Widening Participation Intern in Student Recruitment and Admissions, on how the climate crisis is affecting his home country of Italy as part of our Voices of the Planet series.
In the May of 1999, I was only 3 years old and my memory of those times is quite blurry, but I do remember clearly my family worrying when the Po river flooded and nearly reached our house. It felt like an exceptional event. We were lucky because our house remained untouched, but one year later another major flood claimed 24 lives, displaced 50000 people and caused substantial damage to farmers in the region [1]. That flood stuck with me because after that, I had to cross the Po river through a little bridge every single day to go to school. I was raised in a tiny town in the Piemonte region, northern Italy. The town was so tiny that we didn't even have a primary school so we had to go to the neighbouring town for school. And that town was on the other side of the Po river.
A flood of the same scale had already happened in 1994 and major floods repeated again in 2008 and 2016. According to my old family photobooks, another flood that affected my town occurred in 2005 as well. Based on my experience, I could say that it is 'normal' to often have large floods in Piemonte, except it should not be. Since 1993, Piemonte have indeed counted an higher frequency of floods compared the rest of the 20th century [2]. Unfortunately, it's the global rise in temperatures that's causing extreme weather events to be more likely to happen [3]. Other Italian regions have also seen a scary increase in numbers of floods and large mud slides in recent years [4]. On the other hand, my grandma has a better perspective on this because she's able to realise how extraordinary these recent floods are, given her age. I think it is important for the younger generations not to assume that the current situation of things is normal, specifically regarding environmental issues. Things change and it can be particularly valuable to ask our grandparents, listen to their stories and be aware of our own temporal biases.
However, sometimes change can be so fast and drastic that even a 23 year old can see the difference. When I was kid, I remember that it was fun sitting in my car with my dad driving at night because I could see all the insects flying by at high speed or getting splattered on the windshield. In English, Micheal McCarthy calls this phenomenon the 'moth snowstorm' [5], given that moths are especially attracted to lights at night and it literally looks like you are driving in a snowstorm. Unfortunately, this phenomenon does not happen anymore in many places, and definitely not to the same extent. The drastic decline of insects is caused by a number of reasons, including land use change and use of insecticides [6], and climate change also plays a significant role in the insects life. Because of the increased temperatures, invasive insect species from Northern Africa have now been able to expand to Italy [7]. Higher temperatures are also making specialised invertebrate species shift their ranges towards higher altitudes in the Alps [8]. This is a problem for those species which have already very limited habitat boundaries as they may face extinction, such as for cave spiders in the western Alps [9]. This is particularly worrying given that Italy is the country with the highest number and density of both animal and plant species in the European Union [10].
Speaking of Alps, the impact of climate change that is being mostly felt by northern Italians is the lack of snow. It is a widespread tradition for Italians that live near the Alps to go ski in winter and my family is no exception. It often takes only 30min or 1 hour by car to reach the ski slopes, but this is changing quickly. Recent studies have found that almost all areas below 2000m of altitude are seeing decline in snow and by 2030 there won't be any snow at all in places below 1300m [11]. In the past 60 years the Alpine snow season has also shortened by 38 days [12]. If global warming continues to 4°C above pre-industrial levels, only 21 out of the 87 Italian ski stations will still have snow [11]. This will have enormous impact on both small and large ski business, which already often have to rely on fake snow to keep the ski pistes open.
As the 2026 winter olympics of Milano-Cortina slowly approach us, I believe it is crucial for Italians not to forget how our environments looked in the past and understand they are changing now. Through more frequent extreme weather events and lack of snow, climate change is posing a threat to both our natural and cultural heritage which we have been taking for granted.
References
Confartigianato (2019) 'Studi – più investimenti per lotta al cambiamento climatico: frane nel 7,9% del territorio, alluvioni nel 12,5%'
McCarthy, M. (2015). The Moth Snowstorm: nature and joy. New York Review of Books.
Jucker, C., & Lupi, D. (2011). Exotic insects in Italy: an overview on their environmental impact. The Importance of Biological Interactions in the Study of Biodiversity. InTech, 51-74.
Dirnböck, T., Essl, F., & Rabitsch, W. (2011). Disproportional risk for habitat loss of high‐altitude endemic species under climate change. Global Change Biology, 17(2), 990-996.
Mammola, S., Goodacre, S. L., & Isaia, M. (2018). Climate change may drive cave spiders to extinction. Ecography, 41(1), 233-243.