Catharine Horn: why sustainability and physical activity go hand inhand
Catharine Horn: why sustainability and physical activity go hand inhand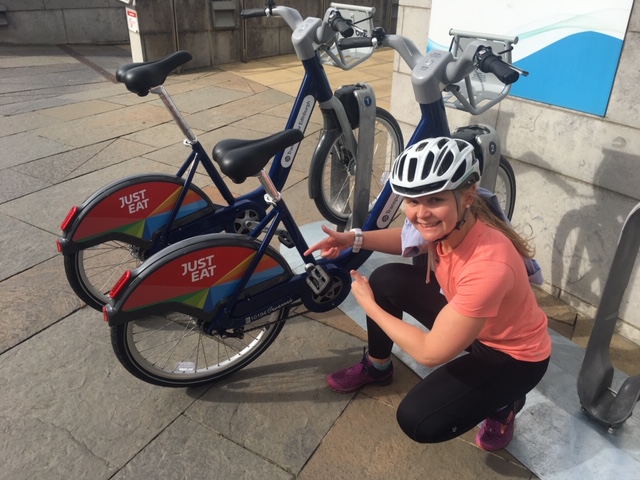 We hear from Catharine Horn, Business Manager at Scottish Student Sport on the benefits of active travel on our health and the planet.
It is well known that being physically active and leading a healthy lifestyle should be the aim for us all. How often, however, do we stop and think about the impact our lifestyle has on the planet; the direct correlation between our behaviour and the state of the Earth around us?
In Britain we are grappling with an obesity crisis; we overeat, but simultaneously waste a huge amount. Figures show that in the UK we threw away £13 billion of food in 2015, whilst a seventh of the global population is undernourished, with little access to food and safe water. Surely this isn't right or fair and we must try to redress the balance.
Sustainability and physical activity go hand in hand and there are so many ways in which we can do our bit to help ourselves and also help our environment. As David Attenborough said, "once we learn that our very being, essence, health and happiness depend on Mother Earth, we have no choice but to radically shift the way we treat her".
Let's start with active travel.
It might seem easier to hop in the car or jump on a bus to make a short journey, but by opting to make our journey under our own steam, be it walking, cycling, running or even skateboarding, we are upping our activity levels, helping the environment and chances are having a lot of fun in the process! I cycle to work every day and whatever the weather, I arrive with a big grin on my face, a grin of pure joy for having spent the past 25 minutes in the saddle, gathering my thoughts in preparation for the day ahead and feeling alive. By simply being outside, we feel more connected to our environment, more aware of the seasons, more in tune with the elements, more understanding of our planet.
It couldn't be easier to cycle in Edinburgh these days with Just Eat bike stations popping up all over the city, the majority of employers offering Cycle to Work schemes and a few second-hand bicycle shops dotted about the place such as Soul Cycles or The Bike Station. Let's challenge ourselves to ditch the car or bus for all journeys within a 2.5km radius of our homes and see our step count and pedal revolutions soar.
NHS guidelines state that adults should do at least 150 minutes of moderate aerobic activity plus strength exercises at least twice a week. This needn't be costly, either in monetary terms or to the environment, and in fact can be totally free. Why not grab a friend and head out for a jog or a cycle along one of the many traffic-free routes around the city or to one of Edinburgh's green spaces, some of which also boast items of outdoor gym equipment you can use. Exercise does not need to be formal and can easily fit around your daily life- using your commute to up your activity levels, your lunchbreak to have a walk or a jog, or having walking meetings at work (something we all embrace at Scottish Student Sport!) will all help you achieve your 150 minute target.
By enjoying all the green spaces our beautiful city has to offer, fitting exercise into our daily routines, all the while spending time with friends and colleagues, we are not only benefitting ourselves but also our planet. So next time you're struggling for motivation, just remember the bigger picture or 'that all it takes is a small step in the right direction'.
Are you a staff member at the University of Edinburgh? Join the Scottish Workplace Journey Challenge.
Find out more about what the University is doing to promote sustainable travel.