Student voice: Why I support the school strikes
Student voice: Why I support the school strikes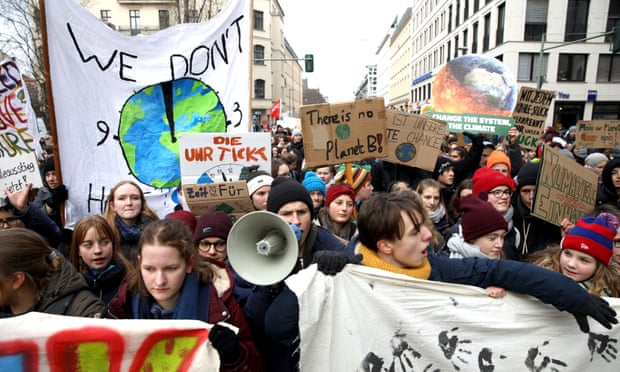 We hear from Morven MacEwen, a Global Environment, Politics and Society MSc student on why she believes the action of school students striking to be so necessary.
Climate change is now apparent in our everyday lives. Last month was the hottest February on record, which saw wildfires across the UK due a high deficit in soil moisture. Last year was the world's fourth hottest year on record, adversely affecting crop yields and in turn increasing food prices. Extreme weather has become more frequent, impacting people's lives through flooding, infrastructure damage and its negative effects on human health. Heatwaves sweep our oceans and experts warn biodiversity is on the edge of collapse.
Climate change is palpable, and its effects are set to worsen.
Nevertheless, one positive way in which climate change is being brought to people's attention, is through the courageous actions of school-children across the world who have walked out of class to protest the failure of political leaders to effectively mitigate climate change. These children are aware of how unjust climate change and political mass inaction are, but remain hopeful:
"Climate change is already happening. People did die, are dying and will die because of it, but we can and will stop this madness."
This quote was taken from a powerful letter, written by the young activists, released ahead of a global day of protest that will take place on the 15th of March – children across 50 countries are set to take part in over 500 protests. What these children ask for is that Governments begin to take action to combat climate change through policies that correspond with the severity of the situation as it has been repeatedly delineated by the scientific community. As their letter states: "we finally need to treat the climate crisis as a crisis."
Unfortunately, the disparity between science and policy is huge. The most comprehensive and current climate science available comes in the form of reports released by the Intergovernmental Panel on Climate Change (IPCC). On the 8th of October 2018 the IPCC released its Special Report highlighting the necessity of limiting global warming to 1.5C to avoid the most adverse effects of climate change.
1.5C of warming, as opposed to the 2C, would half the number of people exposed to water shortages, decrease the risk of food scarcity for hundreds of millions of people; the amount of people exposed to extreme heat would drop from 37% to 14% and species and plant loss would be half as severe. This report had 6,000 scientific references and was composed by 91 authors and editors from 40 different countries. Yet, with the current global policies in place, we are set for 3C warming. Emissions continue to increase despite the fact that, as the IPCC report highlighted, limiting to 1.5C requires that emissions are net 0 by 2050.
In the UK, the Ggovernment announced it was going to restart fracking in England in the same week as the IPCC report was released, with our energy minister Claire Perry arguing this would aid "transition to a low-carbon future", despite that fact that the Independent Government Advisor, the National Infrastructure Commission, a month previous warned that the "UK cannot achieve its emission targets whilst relying on national gas." Ex-NASA scientist Professor James Hansen also argued that the UK's fracking programme is akin to Trump's environmental agenda; one that is based on self-interest. This all took place amidst a global heatwave.
In the weeks following the publication of the IPCC's report, on the 19th of October 2018, the Chancellor presented his Budget to Parliament. There was no mention of climate change in his speech. What is more worrying, is that the policies put forward will increase the UK's climate impact, via subsidies for polluters and mass road building. Although it was announced that £600m was to be spent on planting trees (the only environmental initiative of the budget), this was 500 times less than the sum allotted to road building.
Furthermore, it is counterintuitive for the Government to pay to remove carbon from the atmosphere, through planting trees, whilst it actively contributes to increased emissions through high subsidies for fossil fuel industries. The UK has the highest fossil fuel subsidies in the EU. It currently gives £10.6Bn annually – this number signals a depressing stall in forward motion addressing the crisis at hand, as it is the same as in 2008. Fossil fuels receive 44.2% of energy subsidies where Renewables receive only 32.1%. In a published letter to the Government, a group of MP's and members of environmental organisations stated that the budget was an "unforgivable betrayal of future generations." Although this letter appears to have been ignored by the Government, the betrayal that it highlights has not gone unnoticed by those who will make up future generations – the young people of today.
Although Scotland's parliamentary actions in addressing climate change have been far more comprehensive, the Holyrood parliament's latest Climate Change Bill falls short of the net-zero emissions by 2050 target and thus fails to meet the Paris Agreement.
There is no rationality in having all of this credible information and doing nothing to combat the catastrophic narrative it paints. Watching our Government fuss about other political matters of the day is like watching a group of people stacking chairs on a sinking ship – whilst shouting about 'meeting targets.' This is not to say that other important political decisions aren't currently being made to improve people's lives across the world, but this is to highlight that disastrous climate change places all vulnerable groups, that such policies would affect, at risk. Take, for instance, policies that improve women's rights; obviously this is an issue of great importance, and one I care deeply about, but as UN figures indicate, women (due to reduced financial and social status) will be disproportionately impacted by climate change – with some estimates as high as 80% of people affected being women.
Climate change has the ability to cause harm to the most vulnerable people in every society: the elderly, the poor, the marginalised and, most drastically, children. Children are more vulnerable to the water-shortages, diseases, and malnutrition (among other factors) that dangerous climate change will bring. Therefore, it is no wonder these young activists are taking a brave stand – they are the most vulnerable as a result of Government inaction now and in the future.
A spokesman from Downing Street has highlighted how myopic and out of touch the Government really is; in his response to the youth-led climate strikes, he stated that the protests are "disruptions [that] increases teachers' workloads and wastes lesson time." These children are looking to the future, trying to limit the adverse effects of the greatest issue facing humankind – and, yet, our Government can only look to the lesson schedules of next week.
The Government has a responsibility to lead by example. We cannot place the onus on citizens to combat harmful climate change because this could leave vulnerable groups shouldering the greatest burdens of climate change. Furthermore, we cannot expect other countries to comply with international agreements if we have not met them ourselves.
As the IPCC report made clear, we have a little over a decade to avoid climate catastrophe. Greenhouse gas emissions targets must be in line with climate science. We cannot wait for those politicians who are apathetic to be replaced by these courageous and forward-thinking children. I am in full-support of and am inspired by the youth-led climate strikes. I respect their commitment to protecting their future and our planet.
Please join the youth-led protests on the 15th of March, or support them through promoting their post/events on social media or through letters of support.