Sustainability Heroes: Jonathan Hughes
Sustainability Heroes: Jonathan Hughes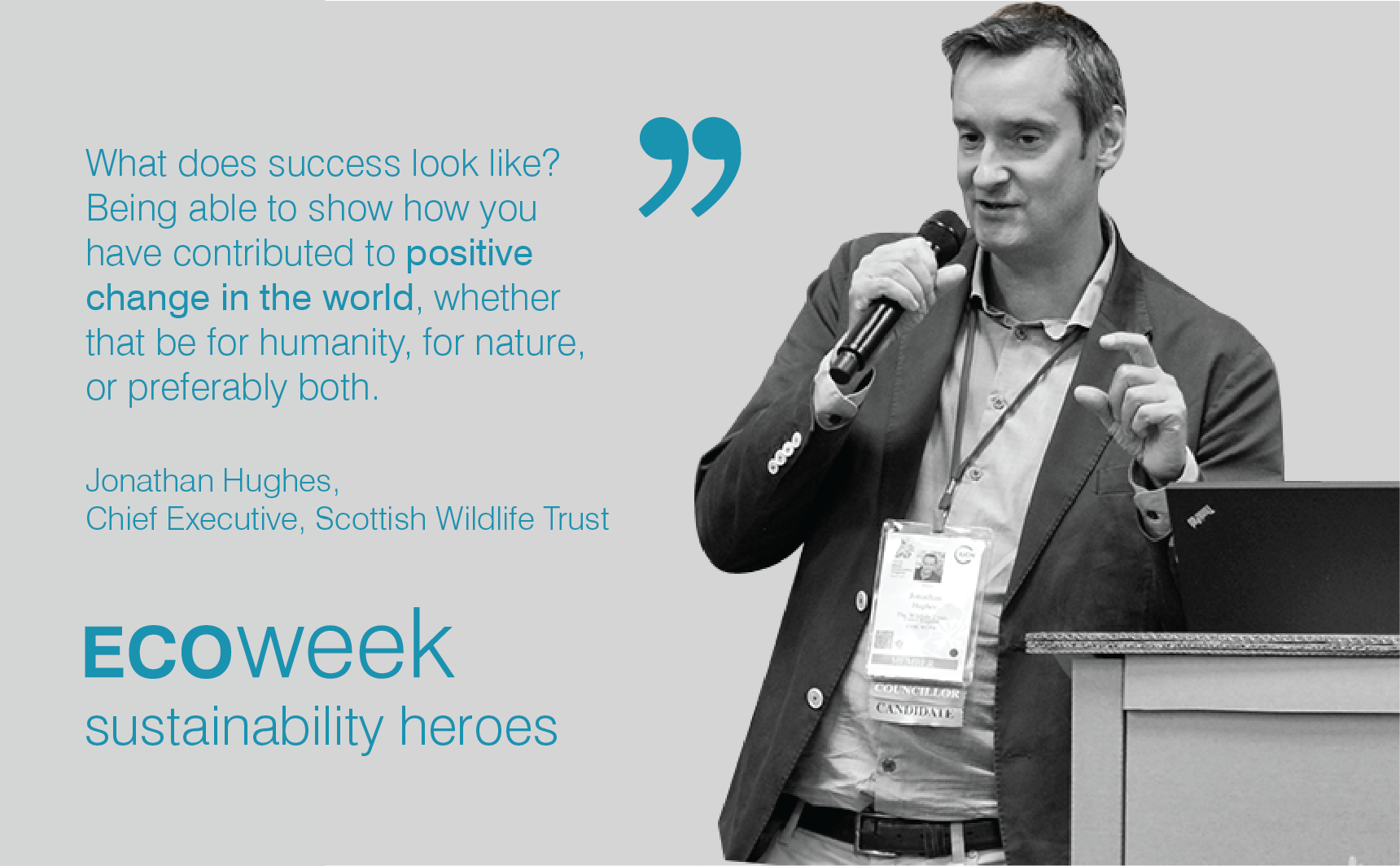 To mark ECO Week 2017, which aims to promote the wide range of careers related to the environment and sustainability, we are profiling a range of professionals who are leading the way within the sustainability sector. We're calling them our 'Sustainability Heroes'!
Throughout the week we will publish a series of short, snappy interviews that give us insight into their day to day life at work, what motivates them, and how they got to where they are.
Our third Sustainability Hero for ECO Week 2017 is Jonathan Hughes, Chief Executive for Scottish Wildlife Trust.
Name: Jonathan Hughes
Job title: Chief Executive
Organisation: Scottish Wildlife Trust
How long have you worked here? 10 years
Previous roles that led to this job? Director of Conservation, Head of Policy
What did you study? Where? Ecology at University of Wales and University of Florence, Italy
Where do you live? Edinburgh
What motivated you to pursue a career within the sustainability sector?
An interest in the natural world from an early age. Being motivated to make a difference for something I am passionate about.
What's the highlight of your working week?
Most weeks I don't get out in nature, however when I do then that is certainly the highlight. Other weeks, the highlight is often a fascinating conversation with a colleague which may lead to tangible action to improve our natural environment. I love the exchange of great ideas and new solutions to old problems.
What traits do you admire in colleagues?
I'm lucky enough to be surrounded by a highly motivated and hard-working team. I'm consistently inspired by the depth of knowledge present within the Scottish Wildlife Trust. I admire innovative thinking but in combination with an ability to focus relentlessly on those things which create the biggest positive impact. Tolerance is also a virtue I much admire in people.
What has been your biggest set back at work? How did you overcome it?
Many years ago I worked for a local authority and found the culture of the place a bit 'can't do' for my tastes. In the end I applied for a job in an organisation I felt was more attuned to my style of working – the Woodland Trust – and never looked back.
What do you consider to be your biggest achievement in your career so far?
The Scottish Wildlife Trust has been at the forefront of some ground breaking conservation initiatives over the past decade and more. For example the concept and practice of landscape-scale conservation has now entered the mainstream and I'm pleased to have played a central role in making that happen. The Trust also showed bravery and leadership in getting beavers back in Scotland – the first time a formerly extinct mammal has been reintroduced to the UK. I'd say my biggest achievement however is being part of a team that has built a strong, effective and respected organisation in the Scottish Wildlife Trust.
What keeps you awake at night?
If I play squash too late in the evening.
How do you juggle the work / life balance?
Not very successfully. I encourage everyone in the Trust to make use of our flexible working hours policy and try and do so myself. I'm not a morning person so start my working days at 10am – that helps the balance a little.
What gives you the 'Friday Feeling'?
When we deliver a project or a campaign on time, on budget and with high impact. Also Friday afternoons give me that Friday feeling!
What advice would you give graduates embarking on a career within the sustainability sector?
If you are genuinely interested in the subject – and I mean genuinely – you will succeed.
What does success look like?
Being able to show how you have contributed to positive change in the world, whether that be for humanity, for nature, or preferably both. For the Trust it means the realisation of our vision for healthy, resilient ecosystems across Scotland by 2030.
---
This post was authored by: Claire Martin